A single goal will be enough for Spain to beat Italy, says Smith
Alan Smith expects Spain to overcome Italy and retain their Under-21 European Championship crown.
Last Updated: 18/06/13 4:26pm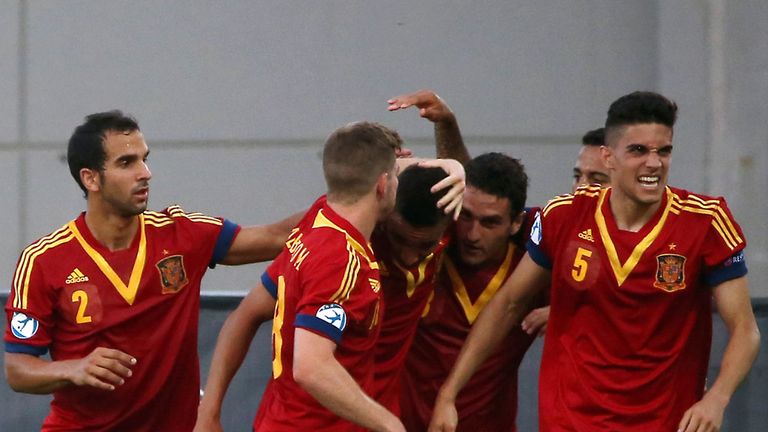 I have to be honest though and admit that I am surprised Italy stand in their way. I expected Holland to be the other finalist, but they just couldn't come up with any answers when the Italians tightened things at the back.
We know Spain are worthy finalists and while the Azzurri were the surprise package, and perhaps the Dutch were more attacking and open, you have to say Tuesday puts the best two teams together.
I am looking forward to it. It will be an interesting final and it should be a good one as well. If Holland had got through it might well be a more open game but there is a clash of styles and I do think Italy will try and hit them on the break. And we have all seen Italy win big tournaments when we least expect it so this is not a foregone conclusion.
When the tournament started we were left thinking the Italian defence was weak, certainly not like we are used to seeing, but against Holland in the semi-final they just shut up shop and were excellent.
The two centre-halves Matteo Bianchetti and Luca Caldirola, the captain, have been outstanding. Their partnership at the back has been brilliant and those two are going to make it extremely difficult for Spain going forward. You cannot expect Spain not to create chances, but this Italy side will be tougher to break down than most they've faced here in Israel.
If Italy were that defensive-minded their central midfielders Fausto Rossi and Marco Verratti would stick close to that back four but these two are creative players who want to get on the ball rather than those who just defend.
Tough
It could well be one of the keys to this final. I expect them to be compact and work as a unit but I do think they will be trying to hit Spain on the counter-attack.
The pace up front is one thing in their favour and, after the semi, the form of Fabio Borini. I have to say, I was surprised to see him start and even in the second half when Manolo Gabbiadini was due to come on, I thought he'd be taken off. But the manager has kept faith in him and boy did he take that goal well.
Borini has had a tough time at Liverpool with two big injuries, but maybe now he has come good at the right time. Ciro Immobile works the channels well and can hold the ball up, so maybe Borini is the man who can drop deep. I would expect those two to start.
That is all easier said than done though because the one thing Italy have to do - and do it consistently - is get the ball. And keep it.
We have all seen the Spain side produce some great football throughout this tournament but their semi-final win over Norway was as good as we've seen. They created so many chances and, but for a top showing from the Norwegian keeper, they could have scored a hatful.
Isco was an absolute diamond in that game and has probably peaked at the perfect time. He is clearly the dangerman. How Italy stop him I'm not sure but I remember that Russia, earlier on in the competition, man-marked him and he couldn't get into the game. I wonder whether if Italy would consider something like that.
When I did see Isco kept quiet and unable to create chances it was the best I have seen Thiago Alcántara so far. He has been fairly quiet and coming from Barcelona we thought he would come and stamp his authority over this tournament, but he hasn't.
Yet, he could well respond in this final and what better stage for him to show Barcelona - and maybe some other clubs around Europe - just what he can do. He can't be taken for granted.
Compact
This Spain side is not a mirror image of Barcelona. Yes, they can pass and will pass, but when they are going forward it is not all about that. They do get behind teams, with Rodrigo playing on the last line and making breaks down the channels.
Not only does that give them pace it pushes teams back and makes it harder for teams to stay compact and close them down as they move the ball around.
Rodrigo gives them a great option and he is a good goalscorer as we saw in the semi-final, so his battle with those two centre-halves, Bianchetti and Caldirola, will be fascinating.
They work so well together and communicate so well and Spain will need Rodrigo to get the better of them, if they are going to have it all their way.
That togetherness runs through the Italian team and I have noticed a great team spirit before games so far, never mind during them, so who knows, it might well be Italy's year.
Let's be honest, at senior level we have seen Spain fail when we expected them to win big tournaments and we have also seen Italy come from nowhere, as the dark horses, and lift the trophy.
But this Spain side have so many good players, a system they know so well and an understanding throughout this under-21 squad. Like most of you, I am expecting the favourites to come through because Italy need everything going their way.
They need that defence to stand firm, they need their counter-attacking to work and they need Spain to have an off-day.
ALAN'S PREDICTION: I don't think it's going to be dull but there is only going to be the odd goal in it. I am going to stick with Spain, 1-0.