Shaw thing for U21s
Luke Shaw may be a newcomer at England Under-21 level but the left-back can play a key role in Israel, writes Jon Holmes.
Last Updated: 17/05/13 4:05pm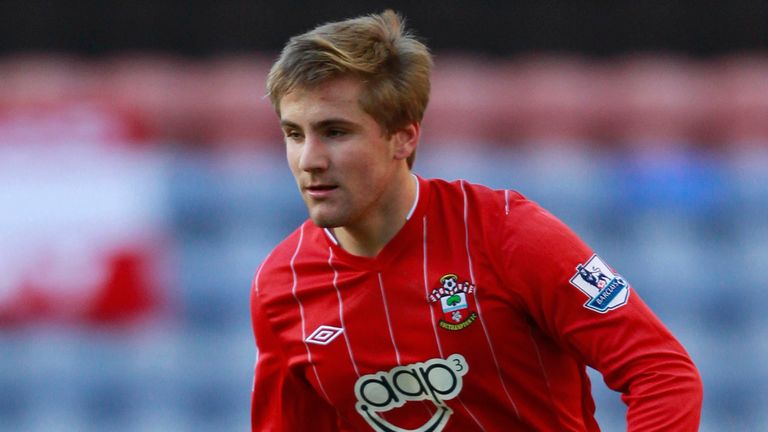 Whatever Stuart Pearce goes on to achieve in his managerial career - and winning the UEFA European U21 Championship next month is a realistic target for the time being - one image will always define him.
Eyes bulging, fringe flopping, air thumping, F-word screaming, demons exorcising... and a nation off its seat to celebrate a penalty that helped keep a dream alive and typified the taker's warrior spirit.
That picture of Pearce is so prominent in my football consciousness that it's a little alarming to note almost 17 years have passed since the shoot-out win over Spain on a sunny Saturday afternoon at Wembley.
For the 23 players named on Tuesday in the England Under-21 squad, any memories of Euro 96 will be sketchy at best and in most cases, non-existent. I suppose Luke Shaw, yet to reach his first birthday at the time, may have been dribbling in the garden when Pearce drilled home his spot-kick but his football future was some way off.
Now Shaw is part of the new breed flying out to the Middle East, having seen off the challenge of Liverpool's Jack Robinson to grab a left-back spot in Pearce's squad - and with Danny Rose banned for the Group A opener against Italy in Tel Aviv in three weeks time, the Southampton starlet looks set to be thrust into the starting XI.
Stats over the season show crossing and, yes, speedy dribbling are his strongest attacking attributes. Shaw's flaws would be his pass completion rate - a concern for England, whose ball retention at the last U21 Euros in Denmark was poor - and the relative lack of chances he creates down the left for his Saints team-mates. However, on the plus side, Pearce will have noted outstanding defensive prowess in one so young - he has an 85% tackle success rate, jumps well and wins the majority of aerial duels, and has outstanding discipline (his only bookings have come away to Newcastle and Sunderland).
The other fresh face in the squad is Callum McManaman, man of the match for Wigan in their FA Cup final victory and a direct squad replacement for thigh-injury victim Raheem Sterling (a shame he'll miss out after his breakthrough season at Liverpool). At the time of writing, McManaman's involvement is in some doubt after he was stretchered off in Tuesday's 4-1 defeat at Arsenal - but for now, let's assume he'll be on the plane.
Like Shaw, McManaman offers pace on the flanks and he's a committed tackler, as Massadio Haidara discovered to his cost in mid-March. That particular challenge was horrendous, and the FA's failure to punish the Latics player enormously frustrating. Fortunately, no long-term damage was done to the Newcastle full-back and McManaman has not blotted his copybook any further. Instead, he has enhanced his reputation with fearless attacking intent, rather than reckless defensive impetuousness.
Getting plenty of game-time over the season matters more to Pearce than anything else, hence his decision to leave Jack Rodwell - who was eyeing his third consecutive finals - at home. Unfortunately, Rodwell's history of hamstring problems has been added to since his move to Manchester City and his omission presents a chance for Andros Townsend. Fielded wide right by Harry Redknapp, the Tottenham man quickly became QPR's best player soon after joining the relegation strugglers on loan in January, scoring superb individual goals against Sunderland and Aston Villa. Townsend has also suffered hamstring strains of late, but shone bright enough in a poor team for several weeks to convince Pearce he is worth taking.
Goalkeeper Ben Amos missed out too; he needed surgery to remove floating bone in his elbow, allowing Norwich's Declan Rudd to take the third goalkeeping spot. Rudd kept an impressive eight clean sheets in 14 appearances on loan at Preston, but is unlikely to get a chance to show his abilities in Israel.
The other 19 players making up the squad were as predicted, with none of the quintet in possession of a significant number of senior caps - Jack Wilshere, Alex Oxlade-Chamberlain, Danny Welbeck, Phil Jones and Kyle Walker - dropping down a level.
Among those overlooked were Nathan Delfouneso, whose loan at Blackpool ended in a three-month goal drought; defensive duo Joe Bennett and Nathan Baker, learning fast but part of an Aston Villa defence that has been leaky all season; and Everton's Ross Barkley and Tottenham's Tom Carroll, both likely to be regulars in the next campaign leading up to the 2015 finals in the Czech Republic.
Speaking on Tuesday, Pearce appeared relaxed as he laid out his aims for the tournament - but he still managed to voice his desire for success in no uncertain terms. "Anything less than winning it, I will be disappointed," he said. "It always will be."
His patriotic zeal is toned down these days, but his commitment to the cause can never be questioned. And where could be more appropriate to build a future for England than Jerusalem - the location for the European U21 Championship final on June 18.
Possible England Under-21 starting line-up v Italy U21s (5 June); Butland; Clyne, Caulker, Dawson, Shaw; Chalobah, Henderson, Lansbury; McManaman, Wickham, Zaha.
Watch the England Under-21 team in action this summer on Sky Sports, who will have live and exclusive coverage of the UEFA European U21 Championship - and for more updates in the buld-up and during the tournament in Israel, follow Jon on Twitter at @jonboy79.