Rewiring for England
Jon Holmes reflects on England's defeat to Italy in their opening game of the European Under-21 Championship and gives us a behind-the-scenes look into his time in Israel in his latest blog.
Last Updated: 21/06/13 1:00pm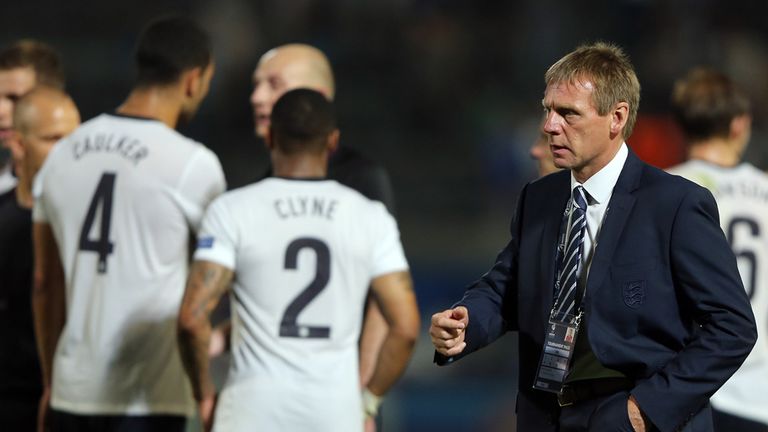 Stuart Pearce sized up England Under-21s' defeat to Italy in a manner befitting of an eager electrician - saying that, despite the lack of spark, this is a problem that can be fixed.
The Azzurini turned it on in the European U21 Championship clash at the Bloomfield Stadium, whereas England short-circuited due to some missing components. However, stick the energy and enthusiasm of Tom Ince and (fitness permitting) Wilfried Zaha back in the team and there is cause for optimism.
Nathan Redmond caught the eye as he switched flanks in the wide positions but his end product didn't match his dribbling skills, and England couldn't get behind the lines enough with the sub-40 per cent possession they had. With Marco Verratti controlling the game from central midfield - one flick which completely foxed Jordan Henderson and Jason Lowe is well worth a second viewing - the step up in class from the opposition England faced during their record nine-match unbeaten run was apparent right from the start.
Stepping forward to speak in the mixed zone afterwards was Marvin Sordell, who was upbeat on England's chances of bouncing straight back against Norway in Petah Tikva on Saturday. The Norwegians will be under-strength again due to senior call-ups (four players will only jet into Israel from Albania that morning) but their midfield triangle of Anders Konradsen, Stefan Johansen and Magnus Eikrem will look to keep the ball just as carefully as Italy did. With their left-back Vegar Hedenstad now suspended after his red card against Israel, and Omar Elabdellaoui always keen to get forward from his right-back position, England must look to stretch Norway on the wings if they are to flick the lights back on in this tournament.
Hospitable hosts
The hospitality and friendliness of the Israeli people has been evident from day one here, a fact underlined by Martin Tyler when he and Alan Smith spoke to me on Sky Sports News Radio before kick-off in Tel-Aviv. Driving etiquette is rather less courteous though - there were a couple of near misses as we drove through the city traffic - and the signposting to UEFA parking at the stadium was a test for the sharp-eyed. I was able to spend the afternoon with our cameraman Andrew in Jaffa, as he filmed the port, old town and other sights for use in our TV coverage. While I'm grabbing shots on my phone, Andrew is lugging around a weighty tripod and an even heavier camera, in the strong Israeli heat, but does so entirely without complaint and was even able to take panoramic snaps for an appreciative American tourist and his girlfriend! The logistics of broadcasting an event such as this in territory unfamiliar to almost all the Sky Sports team is hugely complicated, so it's testament to their hard work and diligence that it all looks so effortless when you're watching in the comfort of your armchair back home. The military planes flying low over the beaches give an indication of life here - you can be casually strolling through town until you reach a shopping centre and a mandatory bag-search checkpoint - but the access on the football front is as open as you're likely to find in the modern game.
Social media
I was with our commentary team of Bill Leslie and Andy Hinchcliffe on Tuesday for press activity at Netanya. One Israeli journalist was struggling to place Jordan Henderson's accent ("he sounds like your Cheryl Cole"), while I was grateful to Norwegian football expert Brendan Husebo via Twitter for the best line of questioning for their coach Tor Ole Skullerud. Social media is a major force at the #U21Euro (that's the official UEFA hashtag, if you were wondering), with almost all the journalists here - both young and more experienced - making ample use of images, video, audio and more tools via their accounts. The traditional routes of delivery are still the mainstay of course, but Instagram, Vine and other apps are becoming more commonplace as a way of telling a narrative around each game. For fans, it's a fascinating way to gain more access to the players they admire (the FA have got Nathaniel Chalobah to contribute a video diary while the team are out here) and also take a glimpse behind the scenes at a tournament that's growing in importance every time it's staged.
I'll be at the Holland v Germany clash tonight in Petah Tikva, so make sure you're following @SkyFootball and myself on @jonboy79 for all the latest news and goings on at the European U21 Championship.