Psycho logical
Jon Holmes looks at the underlying reasons behind England's early exit from the European U21 Championship and fears Stuart Pearce's successor - should he be asked to step aside - will face exactly the same problems.
Last Updated: 09/06/13 12:27pm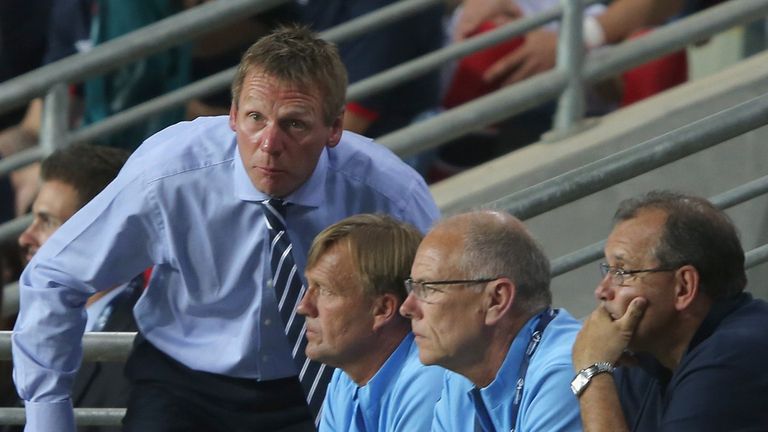 Stuart Pearce has thicker skin than most English managers, and he needed his rhino-hide on in the sweltering heat of Petah Tikva on Saturday night.
Inevitably, the England Under-21 coach's future was on the agenda after his side's dozy defending had somehow allowed Norway U21s to come away as 3-1 winners in a European U21 Championship encounter where they barely scraped over 30% possession.
After six years and four finals tournaments, Pearce has regularly kept the Young Lions in the mix for biennial honours only to see them fly home empty handed. The progress made by semi-final and final outings at Holland 2007 and Sweden 2009 has now been curtailed by uninspiring error-strewn performances in Denmark two years ago and now in Israel.
It's more than likely that Sir Trevor Brooking will tell Pearce it's time for a change after his long tenure in charge, and the latter will step aside without histrionics or finger-pointing. However, waiting in his successor's in-tray at St George's Park will be the same pending documents and reports - the dearth of opportunities for young home-grown talent with our elite clubs, technical shortcomings in the players, the difficulty of blending traditional English values of speed, physicality and directness with more refined continental methods, and the continuing tug-of-war between clubs, players and the FA over post-season international football.
While 16 members of Pearce's 23-man squad were making the majority of their first-team appearances in the Championship last season, the likes of Holland, Spain and Germany (and to some extent, even Norway) have brought parties of players who might not get as many overall minutes as English players but when first-team opportunities do arrive, they come at the top level and often in UEFA club competitions too. The Football League is exciting and entertaining but as preparation goes for international football, those matches cannot compare to a Champions League or Europa League night and what that sense of occasion and focus can teach a young player, even for a lower-key U21 Euro such as this.
I spoke after the game to Norway goalscorer Magnus Eikrem - a former Manchester United youth-team captain who went back to his country to play for Molde, rather than hang around at Old Trafford waiting to be loaned out to Peterborough or similar. Certain differences in his development were clear. He may be 'only' playing in the Tippeligaen, but he has won two titles with Molde and as a result has a string of appearances in UEFA competitions under his belt. More importantly, he has won nine senior caps at the age of just 22 and is still back with the Under-21s at this tournament.
The Norwegian FA's player management is such that they have been happy to use a 19-man squad here until the second half of the match against England, when Havard Nordtveit (another player who chose to leave the security of a Premier League club, Arsenal, and boost his chances of playing regular first-team football at Borussia Monchengladbach) came off the bench. Nordtveit was one of four Norwegians who jetted in from senior duty in Albania at sunrise of the England game; the midfielder himself having played the full 90 minutes in Tirana the night before. Norway's press officer Ole Askeland told me Nordtveit had been able to have a decent nap at the hotel and then join his team-mates in mid-afternoon. Hours later, he was substituted on to help bring poise back to the U21s midfield and see out a victory that, barring two surprise scorelines with almighty goal swings, will be enough for a semi-final berth. Meanwhile, Craig Dawson looked rather bleary-eyed on the Norway goals and Steven Caulker was caught napping on more than one occasion. You can't legislate for sleepiness like that, especially from a defence that had previously been more alert to danger than any previous England U21 side - but the overall picture shows how Norway have geared themselves towards success.
As media and fans, we must be careful to avoid damaging the mentality of our young players after a let-down tournament such as this. The likes of Nathan Redmond will come away from Israel having learned a great deal I feel, whereas for players who have been at previous U21 Euros (such as Danny Rose, for example, who is at his third), it's realistically not going to assist their development as players - and men - as much. That's perhaps why it's such a disappointment that Alex Oxlade-Chamberlain wasn't a part of this squad, especially as he made such a big impact in qualifying and is seen by many working out here as a character and talent that would have lifted those around him and in turn, elevated their individual contributions. He won't turn 20 until August and only made 11 Premier League starts for Arsenal in 2012/13, so it doesn't feel like a huge demand on his time and his club's to have brought him over after his magical Maracana moment.
We've had suggestions of mandatory call-ups, but forcing the matter won't fit with our clubs at all well - the power lines being drawn where they are. Should Pearce be replaced, England need to find a coach on the same wavelength as the FA's new director of elite development Dan Ashworth, playing the long game (and not the long-ball game) with players and clubs, with patience as important a quality as tactical acumen. We've allowed ourselves to fall behind, but 'education, education, education' is front and centre of the FA manifesto once more. St George's has barely opened its doors to the players and coaches of tomorrow; we have to trust in the syllabus, even if we're left scratching our heads over England U21s after the next U21 Euro in the Czech Republic in 2015.
I'll be at the Germany U21 v Spain U21 clash tonight in Netanya, so make sure you're following @SkyFootball and myself on @jonboy79 for all the latest news and goings-on at the European U21 Championship.