Phil Neville says young England stars are not tough enough after U21 Euro woe
Phil Neville feels England's struggles on the international stage are down to youngsters not being 'battle-hardened'.
Last Updated: 02/07/13 6:50pm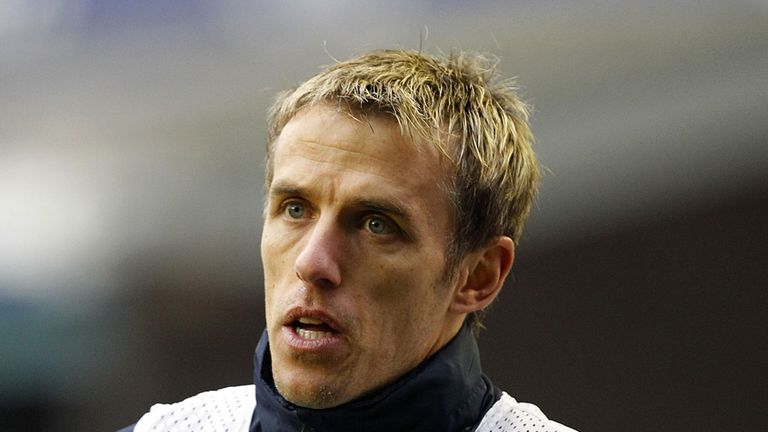 Neville, who has called time on his distinguished playing career, formed part of an exciting crop of talent which graduated out of Manchester United's youth system in the early 90s.
He, along with the likes of David Beckham, Paul Scholes and brother Gary, was thrown into the first-team fold at Old Trafford by Sir Alex Ferguson and entrusted with the responsibility of delivering results at home and abroad.
United reaped the rewards of putting faith in players of promise, but that blueprint has not been followed by other top clubs or by the England national team.
A disappointing showing at this summer's European U21 Championship only served to highlight those deficiencies and Neville says more needs to be done to ensure that the stars of tomorrow are given the right stage on which to showcase and mould their ability.
After forming part of Stuart Pearce's coaching team at the U21 Euros in Israel, Neville said: "Our U21 players aren't playing enough quality football early enough.
"I got my experience at 18. Our lads now are 21, 22, 23 and a lot of them still aren't playing and getting the rigours of 40 or 50 games a season. When I was 21, I'd travelled the world playing football, playing three games a week, so my body and mind were battle-hardened.
"A lot of the kids now aren't battle-hardened until they get to 27 - and that's too late. We'll have missed another generation of international footballers.
"Before I went to the tournament, I got emailed a list of all the squads. Part of me felt then that we have got no chance at this tournament. I didn't say anything, but I looked at the Dutch list and the Spanish list and the number of full international players they had, and then at ours, and thought to myself: 'What chance are we giving ourselves?' People say it's easier said than done, but the Spanish, Germans and Dutch do it.
"We've hopefully got a World Cup in a year's time and a lot of players who didn't come with the U21s won't have been to a tournament before, whereas five or six Spanish players who won the U21 tournament will be at the World Cup."