England U21 boss Gareth Southgate praises West Ham youngster Ravel Morrison
Gareth Southgate believes Ravel Morrison shares an ability with Paul Gascoigne to do things "out of the ordinary".
Last Updated: 09/10/13 9:00am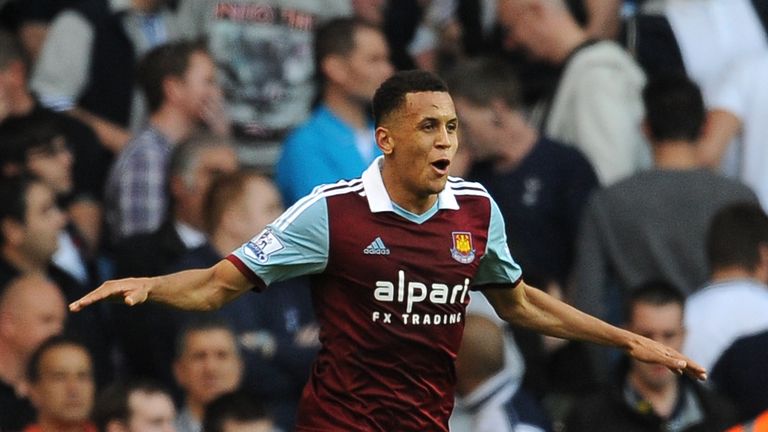 Morrison scored an early contender for goal of the season in West Ham's 3-0 win at Tottenham on Sunday and has this week linked up with England U21s for the first time.
It has been three years since Morrison was last involved with an England side and Southgate has seen none of the disciplinary issues that had previously hampered his career.
"I've not recently spoken to people that have been involved with him in the past, but I've spent time speaking to other people who are involved with him now," the Young Lions boss said.
"There are lots of good people at West Ham that have got him in a good place.
"I think it's for us to create an environment here where he can express himself and feel comfortable, and that he can trust the people around him. He's a charming lad. Anyone who meets him would tell you that.
"How do young people learn? Unfortunately usually by making mistakes. It's what you do thereon that's important. It's lovely to see him playing the way he is."
Asked if Sunday's goal against Tottenham was Gascoigne-esque, Southgate said: "We've got at least three players, maybe more, who have the ability to do things that are out of the ordinary.
"When you're playing at international level, the best players in the world can beat people.
"That's the difference. I was with a Premier League manager who I greatly respect and he made the point that, if you look at the great players in history, they could all beat a man as well as pass and finish.
"That ability to go past somebody, as Ravel did and Raheem Sterling and Wilf Zaha can do.
"They're creative players and we can't develop those skills. I suspect they learnt how to do that in street football, in a park, in cage football, whatever environment."