Striking a balance
Alan Smith says England Under 21s need to perform more than they need to win the Euros in Denmark.
Last Updated: 10/06/11 12:20pm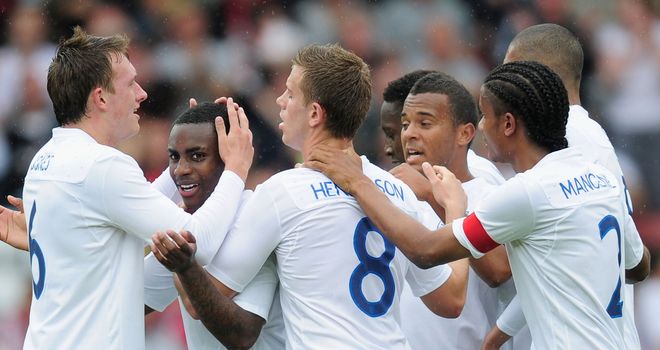 Under 21 tournaments are always difficult to assess. On one hand, we all want England to do well in any game, winning this would look great on Stuart Pearce's CV and any player will tell you they want to win every time they go out on the pitch, never mind take part in a major tournament.
But on the other hand, they are all about development. Going to Denmark is primarily about giving these young lads a taste of tournament football, preparing them - hopefully - for what they can expect in the senior side.
Personally, I think the performances at this level are more important than the results. It is particularly pertinent this year because two years ago England didn't play that well. I can't remember an oustanding team display in Sweden and in fact, the only time they produced some really decent football was in the final against Germany - and we all know what the result was there.
For too long in this country, we got caught up with winning, whereas other nations have focused more on their shape and how they play. How England approach this tournament really depends on what is expected of Pearce.
For example, a country like Spain seem to play the same way right through the age groups, but is Stuart's objective the same? Of course, the Under-21s are all about grooming players for the full side but I'm not sure what sort of relationship he has with Fabio Capello in that respect. I know we started the recent friendly with Norway with that 4-3-3 formation, so it suggests there is some sort of plan for progression.
Certainly as far as the players are concerned, they will have one eye on the seniors and even the full Euros in Poland and Ukraine next summer. They will know that if they have a decent tournament here and then a great season for their clubs, then the door to Capello's squad is fairly wide open.
And this crop will look at the likes of Theo Walcott, James Milner and of course Jack Wilshere and see how well they have done with the full side, having served their time with the Under-21s.
Fatigue
Speaking of Wilshere, I think it's only right he was not considered for this. There's no doubting he is an established member of the senior set-up now and although he is still so young, you have to wonder what he would've learned being in Denmark.
Andy Carroll is somewhat different because, despite his transfer fee, he is still a little bit raw and besides, I don't think there is any way he will be up to full match fitness for tournament football.
Wilshere, as has been well documented, needs a rest too. In fact that would be one concern for England going into this because looking down the squad list, a fair few of these lads have played the majority of league games for their clubs this season.
Fabrice Muamba (32), Jordan Henderson (37), Danny Welbeck (21) and Phil Jones (24) have played a lot of games and although people will always point to the likes of Mesut Ozil who played in the Under-21s two years ago, and then the World Cup last summer before having a decent season for Real Madrid, the Premier League is different to any other league in the world.
The intensity if our game is on a different level to anyone else and it was no surprise to see Capello bringing fatigue up after the Switzerland game last weekend. You can argue that at such a young age, these lads should be able to cope but speaking from experience, I can tell you it is a problem. It's not so much the phsyical side, more of the mental tiredness that starts to creep in after a long English season.
Established
But these lads will want to finish their seasons on a high and win the whole thing. I remember being in Under-21 squads and you do see it as a way into the senior side, so you always try and perform. I was unfortunate enough to be around at the same time Mark Hateley was making his mark at that level and in fact was called back from an end-of-season break with Leicester for the 1984 European Championships.
My manager at the time, Gordon Milne, said I should go but only if I was going to play. Well Mark was injured at the time, but it turned out he was alright by the time I got there. That was just before we went on to be crowned European champions - some 27 years ago!
You would have to put England among the favourites this time round, simply because of the number of established first-teamers in their side. These are not reserves or kids, these are players who compete with the best in the world, week in, week out.
Spain of course, will start as favourites and they have David de Gea, Bojan, Jeffren and Juan Mata, who have all played in La Liga for major sides this season. You know they are going to try and play the same way as Xavi, Andres Iniesta and the rest of the World Cup-winning side and probably will. They had an impressive qualifying campaign and only finished behind a very strong Netherlands - and would've probably won any other group.
But looking down the list of eight, the Czech Republic and Ukraine were both unbeaten and if anyone remembers as far back as Euro 1992 when the full tournament was in Sweden, you'll know Denmark can make local knowledge and support count.
Attitude
If England are even to get through a very tough group, they will need their big players to play well. I'm not so sure that was the case in Sweden two years ago when Walcott at least, I remember, was very disappointing.
I think Phil Jones has all the qualities to emerge as a real leader and show just why Manchester United want him. He is a player I like a lot; he has good technique and a great attitude, which is a rare mixture at his age and I am looking forward to taking a closer look at him at this level.
He and Jordan Henderson will be buzzing given what's happened to them this week, while Daniel Sturridge needs to get our goals because that's where we struggled in Sweden.
Danny Welbeck is just getting over injury and if he and Scott Sinclair can't find their form early on, we are looking Nathan Delfouneso and Connor Wickham to get them this time. Henderson gets up and down well and we have decent talent out wide, but with Fabrice Muamba sitting in there, it's not a midfield that's packed with goals.
England will need to hit the ground running because they have a really tough opener against Spain on Sunday. We kind of know what to expect from the Spanish, but England need to impose their physicality on the game early on. Then, if they can get the ball down and pass it, it will fill them with confidence going forward - providing they don't get beat of course.
SMUDGER SAYS - England 1-1 Spain - It's a tough game to start with but with eight sides in the finals, you'd expect every game to be difficult. England need to hit the ground running and tired or not, they have to produce that same high-tempo performance that Capello likes from the senior side. If they can do that and make it a little physical, they can maybe upset Spain and then start passing the ball themselves. As long as they avoid defeat, I think Stuart Pearce will be more than happy.
SMUDGER'S STAR MAN - Daniel Sturridge - He's done really well for Bolton this season and will bring an incredible workrate to the front line. He gets himself around the park and has a willingness to take on his man and let fly from anywhere. He has looked like a confident young man at the top of his game this season - and one that is really enjoying his football.