Alan Smith looks at Roy Hodgson's England big calls ahead of World Cup
Townsend or Walcott? Cole or Baines? Lampard or Barkley? Alan Smith looks at Roy Hodgson's big choices.
Last Updated: 17/10/13 9:44am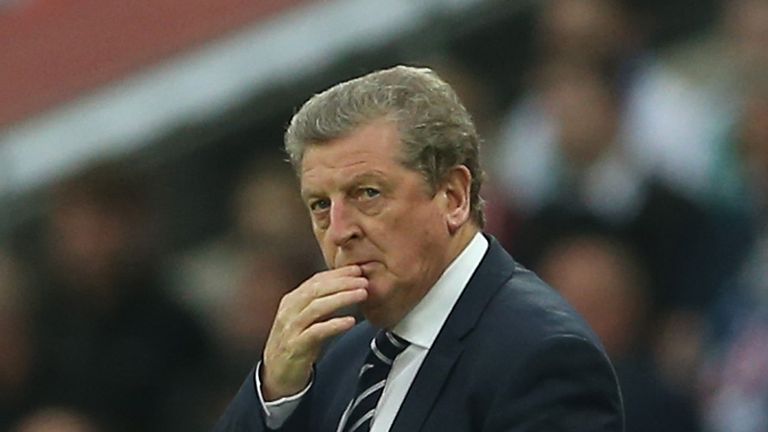 Leighton Baines has been excellent over the last two games and he does offer the team more than Ashley does these days; I think that goes without too much argument. Against Poland he found a lot of space down the left-hand side and used the ball really well. Defensively he didn't get tested too much - I thought he would against Jakub Blaszczykowski - but Leighton Baines is in the form of his career.
I think in certain games you would still pick Ashley Cole. If you were up against Arjen Robben or Cristiano Ronaldo then perhaps Ashley would be the better bet, but to have two of the world's best left-backs is a fantastic situation.
What's the best option on the right wing?
You look at Andros Townsend's situation at Spurs and they have bought a player in Erik Lamela for £25m and he plays on that right side. You have to think at some stage that Lamela is going to get a shout if Andros has a couple of quiet games and it wouldn't be a surprise to see the Argentine lad get in. Then you wonder what kind of season he is going to have, but all credit to him for the way he took to the task and showed no fear whatsoever. He's a real talent. Some players are made for international football; they puff out their chests, aren't scared of it and want the ball. He seems to be one of those and there aren't many about.
There's room for Theo Walcott as well without question. They are different sorts of players; Theo will go down the outside a little bit more with that pace of his, whereas Andros likes to dribble and come inside onto his stronger left foot. To have that choice on the right-hand side is another real bonus for Roy Hodgson and you think James Milner might have to worry now. James is a great utility player, but on the front foot he can't offer what those two lads can.
Lampard's experience or Barkley's youth in central midfield?
More often than not I think we'll play three in central midfield and I'm a big fan of Ross Barkley. He's got a lot of admirers and I think he will play regularly for Everton. Roberto Martinez rates him and trusts him and that's a great thing to have on your side. If he concentrates on his game and I think he will - he's down to earth and is a determined boy in the mould of Wayne Rooney and Steven Gerrard as a proper Scouser and has a bite to his game - then he and Jack Wilshere can rightfully hope to get a place in England's midfield or at least be a key part of it.
Lampard is 35 and has shown signs of tiredness. It's difficult to keep your standards as high as his have been when you're in your mid-thirties and has got so many miles on the clock. I wouldn't rule him out because he's such a great professional, but if you're looking at any of those midfielders then Steven Gerrard as captain, in the form he's in, is a certainty. Frank is probably the most vulnerable when you've got the likes of Wilshere and Barkley pecking at his heels. Gerrard plays a more conservative game now. He sits there and goes at times, but not in the way that he did in that swashbuckling fashion of old. He won't be the one to get up alongside the strikers as much, but Ross Barkley can do that with his legs. It's all about the shape of the midfield that Hodgson wants to pick. It's horses for courses, depending on the opposition.
Rickie Lambert or Andy Carroll... who's the best impact striker?
I like Rickie Lambert as an international. He's a good footballer in a way that Andy Carroll isn't, but once Carroll comes into the mix at West Ham and scores a few goals then what he would be is a very good impact player for Hodgson and England. I don't see him as a starter but if we're pushing for a winner or an equaliser in the last 20 then he is something a bit different in international football. We're going from a stage where we didn't have too much to choose from up front at the Euros to quite a few options right now. You just hope they are all there and available for Roy Hodgson come next May.
Are Gary Cahill and Phil Jagielka the right duo in central defence?
Gary Cahill and Phil Jagielka looks like being the number one partnership for Hodgson. They've played six games together on the trot and have done really well. I like them as a pair and I think the understanding has grown with each game and I thought Cahill did well in particular against Poland with a couple of important blocks and interventions and he's always got a goal in him as well. They are quite similar players and they get on well on the pitch, but in all honestly they are not in the class of Rio Ferdinand and John Terry as a partnership, but it might be one of those that grows with games and confidence.
There are one or two issues about pace down the sides, but we haven't got too many options in that area. We all thought at this stage Chris Smalling and Phil Jones might be vying as a partnership for Manchester United but it hasn't quite happened yet. If they were playing together for United that would make them a serious consideration, but that has not happened yet. We need the Cahill-Jagielka partnership to work really.
Should Hodgson include any of the Under-21 stars in the senior squad?
Ravel Morrison has got his chance under Sam Allardyce at West Ham and has really grabbed it with both hands. What he has to do now is stay in the side and stay at a level and keep his standards up. He must behave himself off the pitch because he is a bit colourful and has got into one or two scrapes to say the least. He needs to mature on that side of things in order to play well on a Saturday. But he's very talented, he played well for the Under-21's and if he can keep his head down then you wouldn't write him off making the squad.
Saido Berahino is scoring goals for West Brom and for the Under-21's. I saw him against Arsenal last week and he's a boy with a lot of abilities - and not afraid to accept the ball on the big stage as he did at Old Trafford [scoring against Manchester United in the Premier League]. He's come over to this country as a refugee, which is a great story and if he can stay in the West Brom side - Steve Clarke has obviously got a lot of faith in him at The Hawthorns - then he can get a lot of game time under his belt and is one you shouldn't write off. They've got a lot to do to get into the seniors, but it's good to have those kinds of boys coming through and showing ability.