Arsenal, Chelsea and Celtic: Alan Smith previews Champions League ties
Alan Smith says Arsenal are capable of getting a result, Chelsea should win but Celtic may struggle.
Last Updated: 07/11/13 2:20pm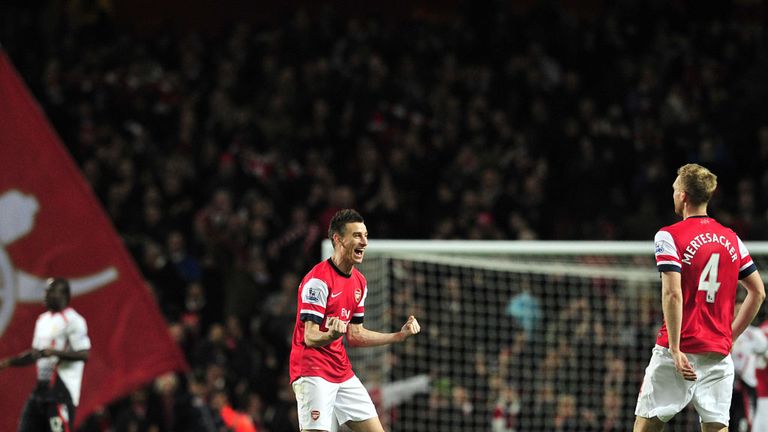 Arsenal are in great form after the Liverpool win and the atmosphere will be good and the confidence high. They'll go in to the game feeling they can get something out of it.
Mathieu Flamini's not available which isn't ideal and maybe Jack Wilshere and Kieran Gibbs won't make it, but apart from that it could be the same starting XI we saw against Liverpool, so it should be a strong side. Most important is that they defend well, then they're capable of getting something.
The Mertesacker and Koscielny partnership has been very important for Arsenal this season and has been a real bonus.
The pair seem to have a good understanding and they were hugging at the end of the Liverpool match. They seem together as a partnership after playing together quite a lot, which helps that understanding.
It also helps that they haven't been exposed too much and have defended better as a team with Flamini and Mikel Arteta - who did it really well on Saturday against Liverpool - in front of them. It gives the team a solid base.
I think the squad would have had a chat after the defeat to Dortmund at home; Arsene Wenger said they were naïve the way they committed men forward. Being away from home they've got to guard against the counter-attack.
All the top German sides are brilliant the way they throw men forward at pace. I think when you've got the ball and going forward that's sometimes when you're at your most vulnerable. They've got to be careful and obviously Robert Lewandowski is a man who's going to take his chances so they can't afford to give him any like he got at the Emirates for the goal.
I don't think Arsenal need to win, but if they were to get a point and then beat Marseille at home - which you expect them to do - that's almost ten points which is normally enough to get you through. Whether it will be enough this time I don't know.
If they lose then the pressure is on to get something against Napoli in the last game over in Italy which will be another tough one. Ideally they'll want to get something on Wednesday night.
Arsenal got a win in Germany last season, but that game against Bayern Munich was a bit of a game on its own because Bayern were virtually through after beating the Gunners comfortably in London. But it did start Arsenal's fantastic run of away wins and better defensive performances, so whatever you say about Bayern's attitude they had some fantastic world-class players in the team that night and Arsenal shut them out so they can take confidence from that.
CHELSEA v SCHALKE
I would imagine Jose Mourinho will be kicking a few people up the backside after that performance at Newcastle on Saturday. But they should win their game against Schalke on Wednesday.
I commentated on this fixture over in Germany and Chelsea really took charge of the game and never really looked in danger. If they put the effort in and play the way that they can then I don't see any problems but they had a slip up on Matchday One so they can't afford another.
I think these days we talk a lot about best starting XI's but managers don't always have a best eleven and they pick according to the opposition.
Going forward Mourinho tends to go with Ramires and Frank Lampard in the holding positions in midfield and I also think Juan Mata is playing his way into the first XI. He's got players like Andre Schurrle, Kevin De Bruyne and Willian to pick from - he has so many choices.
Fernando Torres has done enough lately to claim that he's the number one choice for centre-forward, he had a really good performance out in Schalke. Unfortunately he won't be fit for the game because if he continues playing the way he has been it would have given the team a real lift.
AJAX v CELTIC
Celtic need to win and having beaten Ajax at home in what was a fantastic night at Celtic Park they might fancy their chances. There is also the Europa League to go for as well.
Neil Lennon can tell his lads to go out there and give it a good go and see what happens. They've got great spirit within that team and they've clearly got a good manager. They'll take confidence from that game at home to Ajax.
They were drawn in a tough group with Barcelona and AC Milan and Neil Lennon has said that's why he stays at Celtic because of these kind of big occasions in the Champions League.
The Scottish Premiership wouldn't be enough to keep him there because it's a procession really - it's Celtic or nobody now Rangers are out of the top flight.
But these are the nights, the occasions and the challenges that he'll be pumped up for and he'll be hoping he's there again next year.
I can't see wins for all of the three British teams. I do think Chelsea will win, I'm hoping Arsenal can get themselves a draw and unfortunately I don't think Celtic will win either.