Alan Smith: 'I'd love to see Danny Welbeck at Arsenal'
Could the Manchester United striker fit Arsene Wenger's striking brief?
Last Updated: 27/08/14 11:21am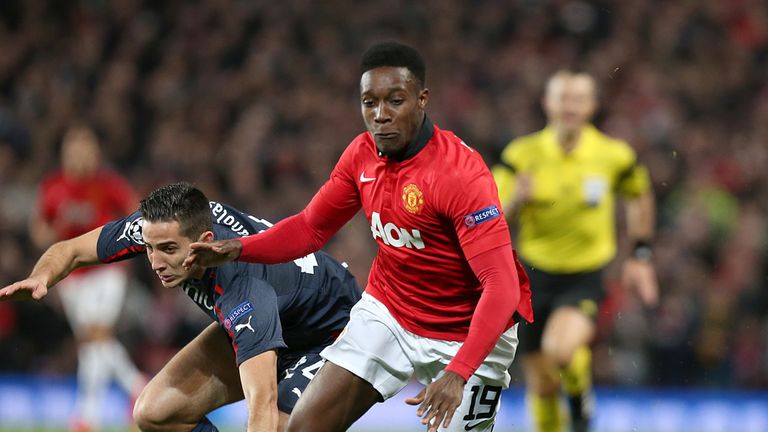 Alan Smith says Danny Welbeck would be an excellent signing for Arsenal to cover for the injured Olivier Giroud.
Frenchman Giroud was injured in the last minute of injury time during the 2-2 draw at Goodison Park on Saturday and faces a lengthy lay-off if further testing proves he has broken a bone. Manager Arsene Wenger informed press at Tuesday's news conference that the 27-year-old would go for further scans on Wednesday.
Former Gunners striker Smith told skysports.com that the injury may force Wenger's hand in the transfer market and that out-of-favour Manchester United forward Danny Welbeck could be an ideal target 
"If Giroud is going to be out for two or three months then you'd want Wenger to go in to the transfer market and get somebody else" said Smith.
"I think he would make an excellent signing for somebody, he's had unfair criticism over the last couple of years really, he's been playing out of position at United and shunted around the park.
"Yes, his finishing hasn't been up to scratch at times but that comes from not playing in your regular position regularly. I think if he was given an extended spell through the middle where he likes it you would see a really top player develop. 
"I would love to see him at Arsenal.
"Danny Welbeck's got most attributes. Olivier Giroud is a very good target man and is a very good header of the ball, and he'll get you 20+ goals, so that's not to be sniffed at, but Danny is different. He's very good technically as he's shown with England and he is a bit quicker.
"He'd probably make a very good partner for Giroud but Arsene Wenger isn't overly keen on playing two up top."
Desperate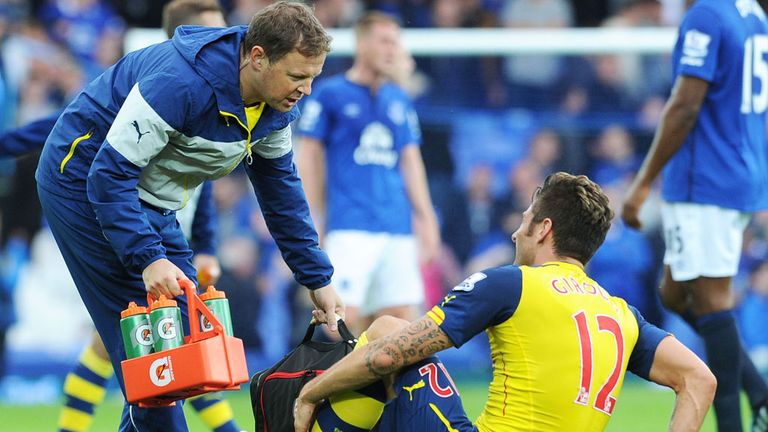 Smith, who scored 115 goals for Arsenal, added that a lack of strikers on the market could see clubs make ill-judged and desperate signings to ensure they have options come the close of the transfer window.
"It's going to be interesting with not long left in the transfer window," he added.
"We've seen with Liverpool and the signing of Mario Balotelli that there's an element of desperation there – there's not too many forwards available and as the clock ticks down there's a danger that you get somebody that you don't actually want, or is not ideal.
"Wenger is notoriously cautious over these things anyway but he may mind that his hand if forced if Giroud is going to be out for some time."
Confident
The North London club face a Champions League qualifer against on Besiktas on Wednesday night with the score at 0-0 following the first leg in Turkey a week ago.
Wenger has key players missing, including Giroud and suspended midfielder Aaron Ramsey, but Smith believes Arsenal should find it realtively easy to beat the Turkish side.
He added: "Aaron Ramsey has been the club's talisman over the start of this season with the goals he's got and he's turned in to a top-class player and a midfielder that can get goals on a regular basis and those are worth their weight in gold.
"They will miss him, but Besiktas are a team that Arsenal should beat at the Emirates. I covered the game out in Istanbul and the pitch was half the problem. It was a really ropey surface, they couldn't get the passing going on it but back at the Emirates when they start knocking it about it shouldn't be too much with or without Aaron Ramsey.
"They've got be careful, Demba Ba was a handful at times out in Turkey but they should have enough. I really believe that.
"I was surprised at Arsene Wenger the other day when he said that he thought Alexis Sanchez was low on confidence and that's why he brought him off – he played through the middle, which isn't his position.
"Over in Istanbul last week he was Arsenal's best player in the first half. He was attacking the Besiktas defence, he was carrying the ball and was a real threat. There's a lot to come from him. The fans have already taken to him and he plays with a lot of heart as well as a lot of ability. 
"You can never be overly sure but I am confident. I just think if you look at the two line-ups Arsenal are much, much better than Besiktas – I really believe that if they play anywhere near to the level that they can.
"With an early goal they could win 3-0 or 4-0. If things stay 0-0 past half-time there might be a few nerves and a bit of tension within the ground and then it becomes difficult, but I am confident Arsenal will get through."
Arsenal v Besiktas is live on Sky Sports 5 from 7pm on Wednesday evening.