Baggies the best
West Midlands football fans are the nation's savviest when it comes to predicting Premier League scores.
Last Updated: 19/08/11 5:03pm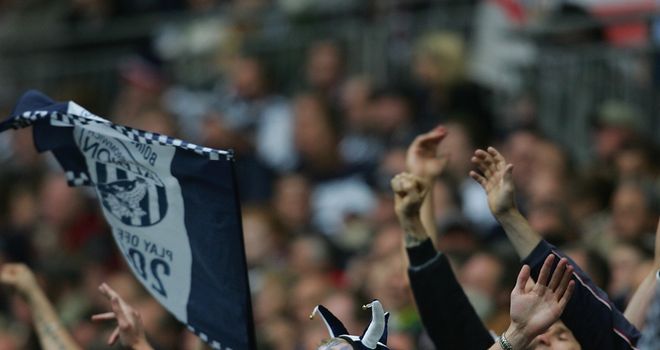 West Midland's football fans are the nations' savviest when it comes to predicting Premier League scores, according to Super 6.
Last season's stats from the free-to-play Sky Sports football prediction game, played by over 100,000 people each week, revealled that West Midlands clubs - West Brom, Birmingham and Wolves - snaffled the top three places in the fans' predictor league.
So whilst the midlanders have bragging rights over all other Premier League fans, followers of both Manchester clubs will want to improve on last year's embarrassing revelation that they finished 12th (United) and 14th (City) in the standings.
The table doesn't make happy reading for the passionate Geordie fans either, where Newcastle are 18th, alongside Fulham and West Ham.
Fans of Tottenham, Arsenal and Chelsea can at least console themselves in making the top 10 of football tipsters, while Everton and Liverpool followers have saved the blushes of the city with a respectable 4th and 8th place finish.
Super 6's Dale Tempest said: "The stats don't lie. Baggies fans are the savviest in the land and have absolute bragging rights over their peers - there must be something in the water up in the West Midlands it seems.
"I think that the gauntlet has been thrown down for fans in London, Manchester, Liverpool and Newcastle to up their game! And if West Brom fans use our Super 6 top tips for the season ahead, I'm sure they'll be in a good position to keep hold of top spot by the time the 2011/12 season has finished."
The ultimate test of players' Barclays Premier League football knowledge, Soccer Saturday Super 6 continues this week.
There's a jackpot prize of £100,000 for any player who can correctly predict the scores of all six games and a guaranteed £5,000 prize for the highest scorer of the week.
This week's games are: Aston Villa v Blackburn, Everton v QPR, Swansea v Wigan, Southampton v Millwall, Nottingham Forest v Leicester and Hull v Crystal Palace. Play now.
Watch Jeff's weekly Fantasy Football video preview.