Former Rangers and Birmingham manager Alex McLeish picks his One2Eleven on Fantasy Football Club
Ex-Birmingham and Rangers chief Alex McLeish picks a dream team from the players he has managed.
Last Updated: 09/02/13 12:55pm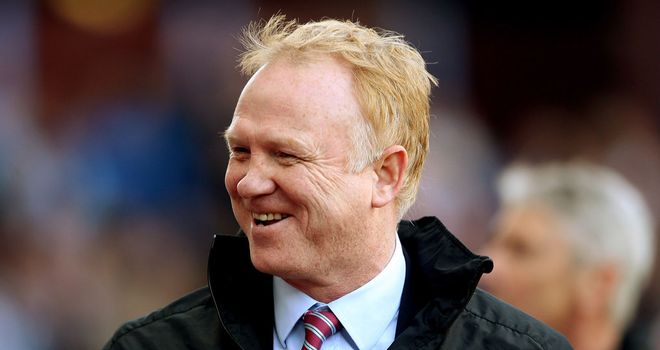 The Scot guided Rangers to the SPL title in 2003 and '05 and Birmingham to the League Cup trophy in 2011 while he has also enjoyed a period leading his national team.
But who does the former Aberdeen centre-back class as the best players he has managed? That what the question posed to him by Fantasy Football Club, and read below to see which men made McLeish's One2Eleven...
Goalkeeper: Joe Hart
ALEX SAYS: At first I thought he had some bad habits, as he tended to punch balls that came into the box, so I talked with (Birmingham goalkeeping coach) Dave Watson and we decided that being a lad of six-foot-three, Joe should start catching the ball and in the next game he soared above everybody from an early corner and caught the ball. His chest came out and his game changed - and he has never looked back.
Full-Backs: Stephen Carr and Arthur Numan
ALEX SAYS: Carr, my right-back, was a dynamic full-back who got forward and put in great balls, but he was also a tenacious defender and a great guy - if a little bit grumpy! I managed left-back Numan at Rangers and he had a bit of culture; he was a winger in his early days but became a classy full-back. He could score goals and defend, and he was a really strong character, too.
Centre-Backs: Lorenzo Amoruso and Craig Moore
ALEX SAYS: Amoruso was a long-haired Italian who spent more time in front of the mirror than he did in training! He was a bit like David Luiz, where he would go wandering forward, but he shot a lot of balls into the car park, so I made sure car wasn't anywhere near the ground when he was playing! He was a really solid defender, though, as was Moore, who was a very underrated player.
Holding-Midfielders: Franck Sauzee and Barry Ferguson
ALEX SAYS: I would have these two anchoring my midfield. Sauzee came to Hibernian at the twilight of his career but the fans loved him as he could ping the ball 60 yards and land it on a 50-pence piece. Ferguson was of a similar ilk; I would have played Barry in any stadium in the world but there was one season at Rangers where I think he scored 20 goals because of his dynamic box-to-box play.
Attacking-Midfielders: Seb Larsson, Ronald de Boer and Claudio Caniggia
ALEX SAYS: Seb practiced free-kicks and corners all the time and is probably worth six to 10 goals a season in terms of assists, as well as pitching in with one or two himself; De Boer could take the ball, wrong foot defenders and slide in balls for the forwards; while Cannigia was so clever, scored his fair share of goals and had a change of pace that would frighten you. I didn't realise how good he was until I worked with him as I thought he was all about speed, so it was a pleasure to work with the guy.
Centre-forward: Michael Mols
ALEX SAYS: Michael dipped the hip and turned centre-halves and all of a sudden he was in front of goal. That combination of Mols and De Boer would have frightened any defence and is one that completes my side, which is very strong footballing-wise and would be a match for anybody.