On the lookout
The Sky Sports News experts discuss Blackburn and Burnley's search for a new manager.
Last Updated: 15/10/12 2:10pm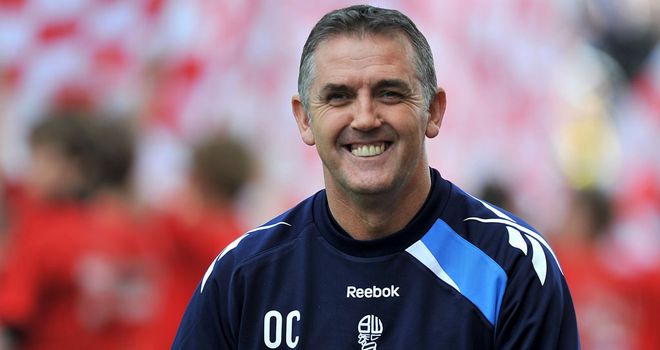 There is a distinct lack of managers in the North West.
Steve Kean resigned as Blackburn boss in late September, while last week Owen Coyle was axed as Bolton chief and Eddie Howe left Burnley to return to former side Bournemouth.
And one-time Blackburn striker Kevin Gallacher and ex-Burnley manager Stan Ternent gave Sky Sports News their thoughts on their respective side's hunt for a new head honcho...
Kevin Gallacher: Blackburn - 1993-99
"I think it puts pressure on Blackburn (that Bolton and Burnley are also searching for new managers); when Steve Kean resigned you thought they had time to work on it but then Owen Coyle and Eddie Howe go. The three teams are very close together and you think there could be a choice for certain managers and one or two have been mentioned.
"You could go for the experience of Ian Holloway and he could take you up and bring you back down, or you could go for a younger manager like Tim Sherwood. Sometimes managers need a bit of luck and if you get it, you can get on a roll.
"I don't think (the abuse Kean received from the Blackburn fans) would put someone off as managers look at the job in hand, and it is a great place to come for anyone who wants it and a great time, too.
"You can come and work with the players, see them and understand them and then build towards January when you can speak to the board and say: 'These are not my players, I need a couple of extra ones to help us on our way'.
"It is massive appointment with the way finances are and to get back (to the Premier League) at the first time of asking would be brilliant. I think Rovers should be there and have the squad capable of being there. It's just about getting the right results."
Stan Ternent: Burnley - 1966-68; Manager - 1998-2004
"I haven't really got an idea of who the board have got in mind but the last two appointments - other than Brian Laws - have been up-and-coming managers and I wouldn't be surprised if they went that way again.
"However, at a club like this you need experience because expectation levels are high - they were in the Premier League not so long ago - and the supporters know their stuff.
"Owen Coyle is a successful manager and he did fantastically well whilst he was here; he had a good side and played attractive football. He left under a cloud when he decided to go to down the road to Bolton, which he probably though was a better opportunity
"But my view was that he should have stayed here and not been allowed to leave. If he comes back and he does well they will have him, but I know the Burnley fans and they were let down by that."