FL72 Preview: Burnley focused on three points against Blackburn
Sean Dyche is confident his Burnley side won't be distracted by the occasion against rivals Blackburn.
Last Updated: 13/09/13 12:07pm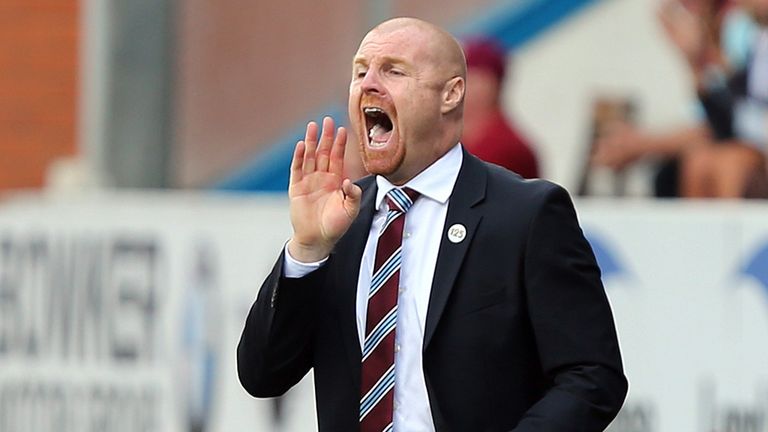 The East Lancashire derby is renowned for volatile atmospheres and plenty of passion on and off the pitch.
However, Clarets boss Dyche believes his side can remain focused on their plans and maintain their excellent start to the Championship season, which has seen them gather 10 points from their first five games.
And, with the carrot of topping the table - if only for a short time ahead of the 3pm kick-offs - with victory over their neighbours on offer, Burnley have plenty of motivation to perform at Turf Moor this weekend.
"It's a great game, great for the two clubs and great for the supporters - but it doesn't change anything for myself: the aim is to perform, to win and get three points on the table," Dyche told FL72 Preview.
"The match is at home at Turf and we've enjoyed our time at Turf last season and this, with good performances and good wins. So, we go into it with that clear focus.
"Most of the players are aware [about the strong rivalry] and the fans aren't shy in letting you know what it's about.
"But the players know a performance leading to a win is the key thing, no matter who you are playing."
On target
Burnley's eight strikes this season place them fourth in the goal-scoring charts, which indicates the team have had little trouble adapting to the summer departure of last term's top-scorer Charlie Austin to QPR.
Frontline pair Danny Ings (four) and Sam Vokes (three) have looked impressive up top and Dyche is pleased with the way his side have responded to the transfer of the talented Austin.
"Charlie was a loss for the group and we enjoyed working with him," said Dyche. "He was a very pleasant young man and has got a lot to offer on the football pitch.
"But time changes quickly and football changes quickly - and the players have adapted very quickly.
"I made it clear when people leave - and high profile people leave - it's a great opportunity for people to go and play and enjoy what they're doing and Danny and Sam are two people who certainly have done that."
Excellent
Former Leicester and Crystal Palace striker James Scowcroft was in the Sky Studio Café on Thursday night for FL72 Preview, and he applauded Burnley's start to the season.
With the club currently sitting third in the Championship, after just missing out on the top ten in 2012/13, Scowcroft says Dyche deserves plenty of credit for his work with the Clarets.
"This has been a great start by Sean Dyche and Burnley and what better example to beat your rivals and go top of the league," he said.
"Sean Dyche has done a really good job. He did an excellent job at Watford, where he was a little bit unlucky when new owners came in and wanted to go down a different route, but he went to Burnley and has done a great job, considering they've lost Charlie Austin this year as well.
"A good start is really important in the Championship because it's a long season. Every team at some stage will have a little bit of a blip, with suspensions injuries, and go three, four, five games without winning. But if you can have a good start it just gives you that safety valve to recover and then get going again."