Fletcher 'can go far'
Former Wolves boss Mick McCarthy says Steven Fletcher could play for a top-four Premier League side.
Last Updated: 15/08/12 5:16pm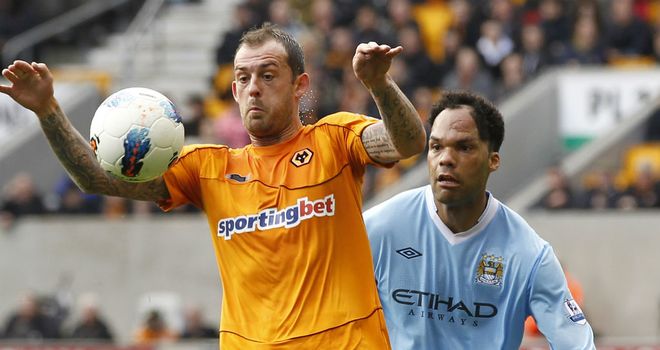 Former Wolves boss Mick McCarthy says want-away striker Steven Fletcher is good enough to play for a top-four Premier League side.
Fletcher, 25, handed in a transfer request last week after Championship outfit Wolves rejected a £12m offer from Sunderland.
The Black Cats had already submitted bids of £10m and £12m, which were rejected. Read the story here.
McCarthy, who was sacked as Wolves manager in February, told Sky Sports News that club chief-executive Jez Moxey is right - and strong enough - to hold out for a higher offer.
"I think Fletcher could play for one of the top four, top six teams. I think he's that good," he said.
"He was playing in a team that was struggling to score goals last year and he got them. He's got decent pace, a great touch and he's fabulous in the air. He's a very, very good player. If he was playing in a better team, he would shine.
"I'm giving him all that toffee, so that's not going to help Jez because Steven will be in him telling him that and he'll want to leave! But I'm just being brutally honest about them both. Fletch is different class; he's a really good player.
"The thing is with Wolves that they are in really good shape financially and they don't have to sell and so they will play hardball.
"They want to get back, they want a piece of that £90m-100m for next year's promotion and to do that they will have to keep their best players or get as much as they can so they can replace them. It's a dilemma and a fine balancing act, that."
Mick also shared his thoughts on a number of subjects including...
His Wolves exit...
"I didn't leave because everybody was unhappy and the place was in disarray; I left because we'd had some bad results and we'd just dropped into the bottom three and they changed it around. So there was a lot of 'should it have happened, should it not have happened?'
"I feel a little bit sorry for Stale [Solbakken] coming in because he's inherited what was essentially a real happy bunch and is probably thinking that I shouldn't have gone. He's got to turn it around, get his own players and staff in; he's got a number of players who are wanting to leave, he's got a number of players who think they should be playing in the Premier League and not in the Championship."
His respect for Moxey...
"I've got huge respect for Jez because he really works hard for the club and takes a lot of stick, actually, from both sides - from the players and from the fans. From everybody! I used to say he was like the pantomime villain - everybody used to boo him.
"But that is the job of a chief executive, unfortunately. But he will do what is best for the club and I'll tell you what, he's tough; he'll hold out and I've got huge respect for him and the way he runs the club.
Why he rates Reading...
"I think they'll maintain their image, what they are: they are a fantastic club and Brian McDermott is a great guy. He's run the club really well. He's got both feet on the ground and is full of humility.
"He'll go and continue doing what he's done by winning the Championship - and didn't they come up with some force, by the way. From early on in the season when they kept drawing games they were brilliant. I just wish him and the club well because Reading is a great club.
Portsmouth's plight...
"It's awful for Portsmouth but it's dreadful for football as well because you see how it could go. They are a fantastic club and the supporters are great; whenever you go down there they are 1-0 in front because the noise is amazing. Their situation isn't like Rangers, who are so big and would be so good in that lower league and able to attract players.
"I think that will galvanise their fans and they'll get back. You just want Portsmouth to survive in the league, whatever and however that might be. I think that's first and foremost for them rather than thinking they can get back to the Premier League. Survive, start again and rebuild."