Solbakken revolution
The appointment of Stale Solbakken as Mick McCarthy's successor at Wolves was a surprise move. But the Norwegian manager has brought new ideas to Molineux and the early signs are positive, argues Adam Bate.
By Adam Bate - Follow me @GhostGoal
Last Updated: 11/10/12 2:33pm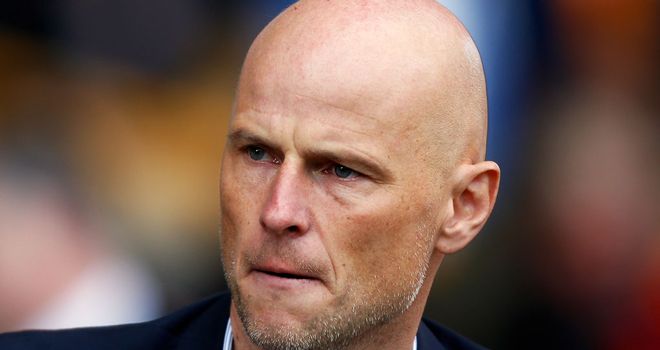 "Wolves did many things well over the last few years under Mick McCarthy so I'm not going to disrespect things he did at all," Stale Solbakken told Wolves' official website in the summer. "But there are several things I want to give to the team. The first is that I want to create a style of play where everyone can recognise Wolves from game to game."
Ten matches into the season and with his team third in the Championship, it seems that the Norwegian coach is making good progress in achieving his goal. And while some will point to Wolves' wage bill and claim it is no less than should be expected from a recently-relegated side bolstered by Premier League parachute payments, it is worth noting this has been a period of uncertainty at Molineux.
Most obviously, there have been the changes of personnel. The bright spots of a dismal top-flight campaign - Steven Fletcher, Matt Jarvis and Michael Kightly - have gone and been replaced by players from Mali, Togo, Iceland, Austria and Poland. But the most remarkable shift has been the overhaul of McCarthy's long-established tactics in a matter of months.
The oft-repeated mantra of "putting in a shift" had become the watchword of the McCarthy era. But the policy of pressing has been all but abandoned under the new Wolves boss. "Solbakken renounced pressing in midfield," explains German tactics website Spielverlagerung, discussing his time at Cologne. "The goal was not winning the ball quickly by closing down in numbers, but instead the opponent should be isolated from each other and forced to give the ball away with bad passes."
New ideas
With just one win from the first four Championship games of the season, it evidently took time for the new ideas to be taken onboard. But the players were at least willing to listen, as club captain Karl Henry explained. "When you bring a new man in I think you want him to have new ideas," the experienced midfielder told the Birmingham Mail. "The manager has certainly got that and the players have embraced what he wants us to do - I am enjoying training and listening to those ideas. I'm generally open-minded and embrace different ideas and I always love a good debate."
The turning point came after Wolves were fortunate to hang on to claim three points at home to Leicester. It was only the team's second league win at Molineux since the first week of December and restored some much-needed belief. The players promptly went to Ipswich and kept their first clean sheet of the campaign in a 2-0 win and Solbakken was encouraged that the transition was on course.
"I saw that the distances between each department were right in the team, and although we lost the ball at times, the players tried to adapt to something new," Solbakken told the Express and Star. "So I can see we're going in the right direction. I don't know how close we are but the understanding is much better now. I don't have to convince them this is the smart way - it's being put into practice and they can see the benefits of it."
Wales international midfielder David Edwards may have been a stalwart of the McCarthy regime but he is sold on the new approach. "It was a really professional performance at Ipswich, and one which showed the manager's tactics are starting to shine through," he told the Express and Star.
Edwards added: "It's a more continental way of playing. As a midfielder it's better because there's less running involved. It's less about running around and trying to close people down all the time. There's no need to do that in games like Wednesday (at Ipswich) where you stay in your shape and make sure they have no way through. We're nice and narrow and, if we're like that, the opposition can't hurt us and I think this way of playing is starting to come to fruition."
Edwards' assessment highlights the fact that the change in approach from the previous management can hardly be overstated. It was not a personality clash or a lack of loyalty that saw Solbakken effectively demand that former interim boss Terry Connor be sacked as assistant manager early in September. The reality is that their footballing principles were simply incompatible.
Asked about the credentials he will be looking for in Connor's replacement, Solbakken told the Birmingham Mail: "The important thing when I talk to this man is that I see he can go in the same way with his football thinking - not exactly the same way but the ideas being more or less - if not 100 per cent then 80-85 per cent and we can discuss the last 15-20 per cent and understand."
Philosophy
Central to this philosophy would appear to be a change of emphasis for the team's forward players. While Connor, as a disciple of McCarthy, wanted the whole team to run hard and track back to support the defence at all costs, the new man has a more relaxed approach. It cost Solbakken his job at Cologne. "The Norwegian manager tried to get by with an experimental, radical zonal marking system (no doubling up, no defensive movement between the lines) all over the pitch but treated fitness as a mere afterthought," wrote Raphael Honigstein in the Guardian.
The Spielverlagerung website added: "Unlike most managers, Solbakken was not interested in his wide midfielders supporting their own full-back against the opposing winger. He would rather they take up a central position to prevent passes through the middle." Solbakken himself acknowledges that the team's creative players such as four-goal Bakary Sako must be given freedom. "If you want these guys to do extra going forward, sometimes they need breathing space and we have to re-organise," he explained.
The tactic of conserving energy before striking has been successful in the error-strewn world of the Championship with Peterborough boss Darren Ferguson noting: "They're prepared to sit tight and wait for the opposition to make a mistake before pouncing." Whether the approach is the right one to take Wolves forward in the long-term is yet to be seen - although the impressive 1-1 draw that Solbakken's Copenhagen side managed against Barcelona in November 2010 suggests it isn't completely useless at the highest level.
But for now those questions are for another day. "I want people to recognise our style," said Solbakken in the summer. With his Wolves team having picked up 15 points from their last six games it seems his own players have identified that style. And that's half the battle won after a period of transition at Molineux.