Deano debacle
Dean Saunders has been sacked by Wolves following the club's relegation to the third tier of English football for only the third time in their history. Adam Bate looks at the decisions that have led to the club's spectacular demise.
Last Updated: 07/05/13 1:45pm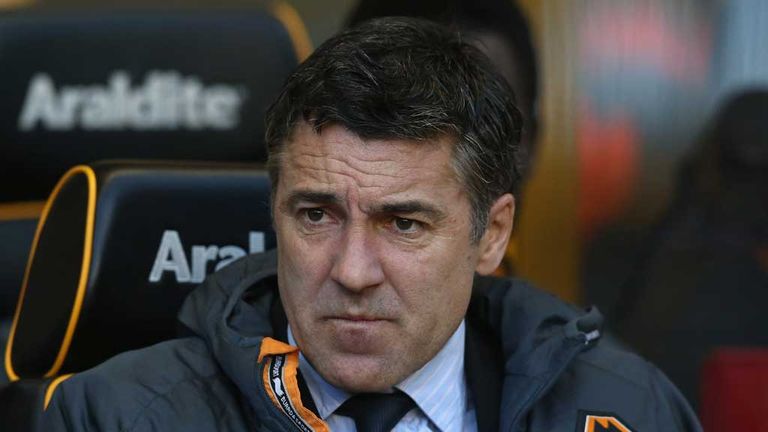 Portsmouth had become the standard bearers for incompetence in English football. A warning to everyone of the dangers of financial mismanagement. Supporters would gather in pubs and moan about their team until a certain sage would utter the name of the south-coast club in hushed tones and the knowing nods made it clear that things could be worse.
Then there was Blackburn Rovers. The astonishing antidote to the prevailing belief among football supporters that what their club really needed was foreign ownership. Any foreign ownership. But now there is a new name on people's lips. The phenomenon alluded to by Harry Redknapp last week as 'doing a Wolves'.
As football clubs go, Wolverhampton Wanderers are financially sound. A look at the accounts of Premier League clubs for last season reveals that Wolves were one of eight to make a profit and one of only three in the top flight not to be in debt. The problem for the men from Molineux is that woeful decision-making has proven just as potent as bankruptcy in the race to the bottom.
Owner Steve Morgan is the man ultimately responsible for those decisions. It seems customary to take the starting point for the club's decline as the sacking of Mick McCarthy in February 2012. Given that Wolves were only in the drop zone on goal difference at the time, it is that axing which provides the over-arching narrative to explain away the subsequent malaise.
But taken in isolation it was not necessarily disastrous. It is important to note that, even after the bizarre appointment of Terry Connor took Wolves out of the Premier League, the collapse that followed was far from inevitable. It has required a series of catastrophic decisions since then for Wolves to become the first club since Swindon in 1995 to suffer back-to-back relegations from England's top division to the third tier of the game.
The appointment of Norwegian coach Stale Solbakken last May was perhaps a brave attempt to do something different. McCarthy had kept Wolves in the Premier League twice but there were indications that the constant grind had left both players and fans exhausted. There was a belief that there had to be more to life in the big league. Like many others, Wolves looked on enviously at Swansea and wanted to find their own vision of how to go up and thrive rather than battle.
Vision
So with Steve Bruce ignored, Solbakken sold the club on that vision. It is just a pity he couldn't sell it to the playing staff. A complete change of philosophy confused the players. "It's a more continental way of playing," midfielder Dave Edwards told the Express and Star. "It's less about running around and trying to close people down all the time." Not ideal when running is your best asset. Surely even Pep Guardiola would not have preached a patient build-up if left with the Wimbledon midfield of the 1980s.
Solbakken did bring in Malian and Togolese midfielders from France, a Pole from Germany and youngsters from Iceland and Austria. He appeared to go about his business in the naïve belief that time was on his side, frankly describing Wolves as a "bad Championship team" in December. He was sacked later that week after a 1-0 FA Cup third-round defeat at non-league Luton Town. Tellingly, only one of his signings was in the team that day, Bakary Sako - the club's player of the year.
The decision to replace Solbakken with Dean Saunders represented a lurch back to the approach abandoned the previous summer. "Morgan hired me because he wanted to build a new culture, create a new identity and make sure the club wasn't ridiculed if given another chance in the Premier League," said Solbakken last month. "It was surprising that he thought this would be done in 15 minutes. My intention was to build a team over three transfer windows and get the right balance in the squad. But he got tired and went back to the previous culture."
And so, Wolves were left with a pale imitation of McCarthy, the man they had dispensed with less than a year earlier. Saunders came with a quirky reputation and a curious perception that he was an up-and-coming manager despite being a little over five years younger than McCarthy. The Welshman's friends in the press spoke of his infectious enthusiasm but in failing to win any of his first nine games in charge it was clear the Wolves players were not among those infected.
As it turned out, just 24 points from his 20 games in charge would have been enough for Saunders to keep Wolves in the Championship. He fell four points short with only Bristol City sparing the club the ignominy of back-to-back bottom-place finishes. Long-ball football and incomprehensible interviews alienated supporters and Saunders leaves the club with the worst win percentage of any permanent Wolves boss since they dropped into the fourth division in 1986.
Concern
The familiar calls for continuity will follow Saunders' sacking. But sticking with the wrong man is surely not the answer either and the chief concern for Wolves fans will not be the man who is leaving but the many problem figures who remain. After all, the bulk of this squad have now accounted for four managers in 15 months and endured consecutive relegations. Roger Johnson even has three in a row to his name.
Of course, the vast majority of those players will be on their way in the summer with their inflated wages no doubt subsidised by the only League One club bolstered by Premier League parachute payments. It seems likely that Morgan and chief executive Jez Moxey will stay. Fans might well get more apologies, further claims of lessons having been learned and appeals for trust. But can they have any expectation he will get the next decision right when his judgement thus far has been so lacking?
This might not be a Portsmouth with their well-documented financial meltdown. And it might not be a Blackburn with the amusing foreigners and their silly chicken adverts. The demise of Wolves has been a little more straightforward. It's just a good old-fashioned tale of British incompetence.