Second chance
Stale Solbakken left Copenhagen as a hero after guided the team to multiple league titles. But difficult experiences in Cologne and Wolverhampton mean he has a reputation to rebuild. Adam Bate is wishing the Norwegian well as he prepares to face Real Madrid on Wednesday evening.
By Adam Bate - Follow @GhostGoal
Last Updated: 30/09/13 10:17am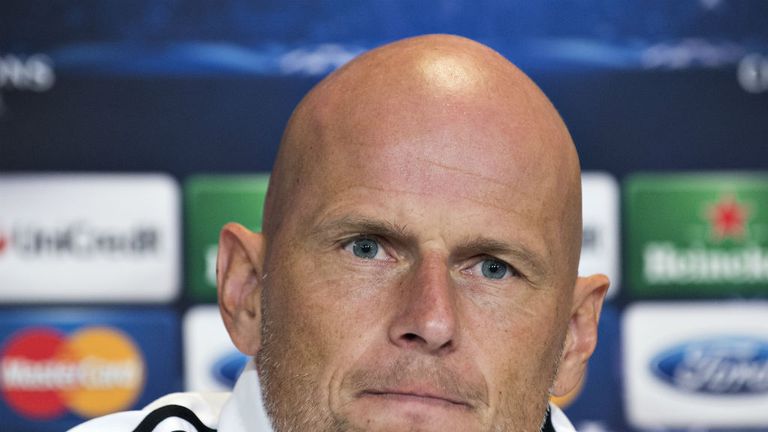 Two years ago a point at Villa had briefly put Wolves top of the Premier League three games into the season. A fortnight ago their supporters were watching Andy Butler's late header give Walsall the points in what passes for a derby game in League One. Nobody at Molineux is quite ready to call it rock bottom. They've made that mistake before.
At the same time, 900 miles away in Copenhagen, Antonio Conte was trudging off the turf. Juventus had been forced to settle for a point in the Danish capital. The home crowd saluted their heroes. Stale Solbakken took the acclaim for a job well done. It's fair to assume his thoughts were far away from Wolverhampton and the job he lost just nine months ago.
Solbakken is back at the club where he rose to prominence as a manager. It was at FC Copenhagen that the Norwegian won five Danish Superliga titles, even reaching the Champions League knockout stages in 2011 and rattling the uber-cool Pep Guardiola along the way. His stature has since fallen somewhat following two miserable adventures outside of Scandinavia. There is a reputation to rebuild.
The initial decision to leave Copenhagen for Cologne was a poor one. Internal unrest at a club notorious for its strife is nothing new but a presidential power struggle added to the sense of impending doom. Sacked in April with survival in the balance, FC Koln were relegated after he left and subsequently failed to win promotion back to the Bundesliga last season.
Inherited problems
His appointment was still considered a coup for Wolves, then in the second tier of English football. Unfortunately, Solbakken had unwittingly traded the ever sizzling frying pan of the Rhineland for a burning blaze in the Black Country. He was inheriting a club at civil war. An unloved captain with a penchant for alcohol-related indiscretions. A toxic mix of factions and apathy.
At least there was an appetite for change. Those in the stands and the boardroom had grown tired of Mick McCarthy's methods and aspired to a more progressive style that offered greater hope for the future. But Solbakken barely made it past Christmas. Owner Steve Morgan panicked. Dean Saunders arrived to reintroduce McCarthy's methods and relegation followed.
"It's Steve Morgan's money, it's Steve Morgan's stadium, it's Steve Morgan club," said Solbakken, quoted in an interview with Danish newspaper Tipsbladet. "He owns it 100 per cent so you must accept it. But him as a football man, him as a club officer and club man, I totally lost respect for. I also believe that he destroyed much of the club, because they were worse off after we disappeared. I would be very surprised if he does not regret it, because he made a huge mistake."
So had Solbakken. The man who'd mixed it with Guardiola had made two disastrous choices and knew opportunities would now be limited. Fortunately, his reputation at Copenhagen remained intact - and his availability proved problematic for his successor. Despite winning the league last season, when the team failed to win any of their first five matches, Ariel Jacobs was sacked. Solbakken was back.
Methods
And just in time. A Champions League group featuring Juventus, Real Madrid and Galatasaray is not a task for a team sitting second bottom of the Danish league. At least Solbakken is used to fighting fires now. However, the most alarming aspect of his time at Wolves was the way that he appeared to lose faith in his own methods.
Having arrived at Molineux preaching tight defensive lines, an emphasis on shape and a patient build-up, all that seemed to be abandoned as he became cowed by the demands of the situation. After trying to shake things up with a series of new signings from abroad, the team that lost 1-0 to Luton in the FA Cup - sealing his fate - included 10 British and Irish players, none of whom he'd bought. The other, Bakary Sako, was the club's player of the year.
Having reassessed the circumstances, Solbakken is defiant. "Although I would love for it to have gone better in my last two jobs," he adds. "I am even more sure that the way I play football and organise teams defensively and offensively is the way forward." The difference is that he is now at a club where many of the players have already been convinced that his way is the right way.
Results have improved. Copenhagen have lost just one of their last eight games and Solbakken has a European campaign to plan. So as Molineux awaits a tie against Notts County in the second round of the Johnstone's Paint Trophy, their former manager is going to the Bernabeu to face Real Madrid in the Champions League. Few would begrudge Stale Solbakken a bit of luck.