Montpellier board have faith in boss Rene Girard, but expect results to improve
Rene Girard will be given time to turn things around at Montpellier before a contract extension is considered.
By Patrick Haond
Last Updated: 03/11/12 7:25pm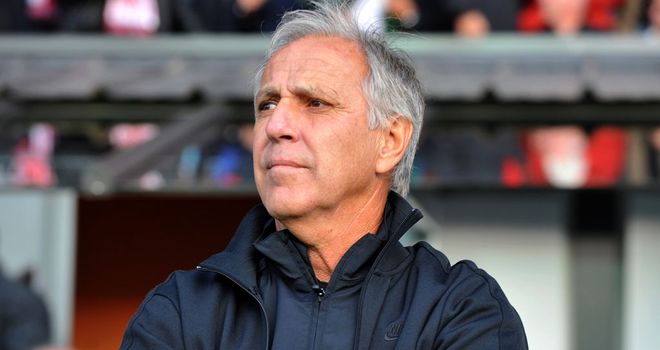 The reigning Ligue 1 champions have made a shocking start to the defence of their crown, with 10 games bringing just 11 points.
Montpellier have already fallen 11 points adrift of league leaders Paris St Germain and need to find inspiration from somewhere if they are to fire themselves back into the title race.
Girard is still considered to be the right man for the job, having upset the odds last season, but he must prove that he is deserving of an extension to a deal which is due to expire at the end of the season.
"Rene is under contract until the end of the season and we will see during the winter transfer window if we want to renew it," Montpellier chairman Louis Nicollin told L'Equipe.
"I have always done things this way with my other coaches. I am in no rush.
"If his future was linked to our current position (14th) he would be in trouble. Of course I am not satisfied with the results, but it is not only about that.
"If he wants to leave, he will leave.
"There are a lot of coaches out there, but that is not something we need to discuss at the moment. I still believe he is the right man."