Old Versus New
Ahead of Sunday's north London derby, Chris Burton takes a look at the clash of managerial minds.
Last Updated: 28/02/13 10:34pm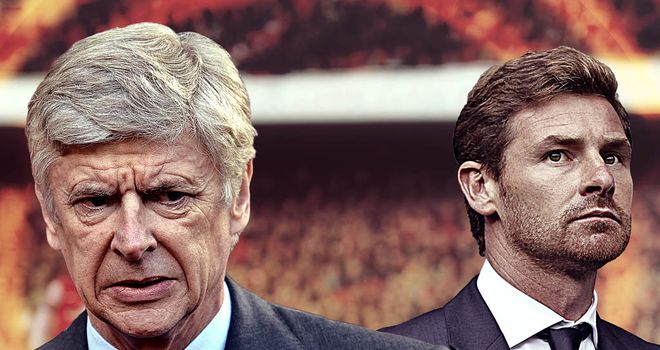 Arsene Wenger possesses one of the finest managerial minds the Premier League has had the pleasure of welcoming into its ranks, of that there is no doubt. He may not be everyone's cup of tea, but you cannot argue with his record or what he has done for Arsenal Football Club.
There are, however, signs that a man fondly known as 'The Professor' is starting to turn a little nutty.
Unfortunately for Wenger, his alter-ego is more unrequited love than Buddy Love.
We are seeing less of the sophisticated, smiling Dr Jekyll and more of the angry, easily antagonised Mr Hyde.
Managers are entitled to mood swings, things cannot go their way all the time and there will be occasions when the mask slips.
Wenger, though, appears to have misplaced his altogether, with his press conference rant in the aftermath of an FA Cup humbling by Blackburn and prior to a UEFA Champions League lesson from Bayern Munich offering an unwelcome insight into the current mind-set of a troubled genius.
Why has he become so prickly, so quick to reach boiling point? Take your pick from any number of reasons.
An eight-year wait for major silverware. Unrest in the stands at the Emirates. Failings in the transfer market. An owner who is rarely seen and is even less heard. And, perhaps most telling of all, the rise of local rivals Tottenham as a serious threat to the Gunners' standing as top dogs in North London.
Throughout Wenger's reign at Arsenal, red has dominated one particular corner of the capital.
A white cloud is threatening to sweep in, though, and leave its arch-rival in the shadows.
Stylish image
Spurs have a long way to go before they can claim to be kings of the manor, but they are certainly heading in the right direction.
Harry Redknapp, a coach as wily and as seasoned as Wenger, deserves immense credit for having turned the good ship Spurs around, but he was perhaps a little too stuck in his ways and maybe not brash and bold enough for a club that has always prided itself on being among the more stylish outfits in the top-flight boutique.
They now have a manager that fits that image.
Andre Villas-Boas looks the part, with the Portuguese tactician having learnt plenty from his former mentor Jose Mourinho.
Complete with fitted suit, designer stubble and a side parting which would not look out of place on the Only Way is Essex, AVB is doing A-OK.
Chelsea may have decided that taking a punt on a man younger than certain members of their first-team squad was ill-advised, but their loss has been Tottenham's gain.
Villas-Boas, who lasted just nine months at Stamford Bridge before finding himself the fall guy in Roman Abramovich's latest round of Russian roulette, returned to English football last summer with a point to prove and invaluable lessons learned.
After getting the bullet at Chelsea, his age became a stick to poke him with. How could a man in his mid-30s expect to stand toe-to-toe with the Wengers, Fergusons and Redknapps of this world?
Well, Villas-Boas never played professionally and has been working in football since the age of 16 - when Sir Bobby Robson handed him a role at Porto.
Now 35, that means he has been in the game for almost 20 years - more than enough time to learn the ropes and pick up a trick or two. After all, football can be made incredibly easy if the right approach is taken.
Quick learner
Villas-Boas appears to be a quick learner. He has been offered a second shot at the Premier League, and has grabbed that opportunity with both hands.
Here is a man on the rise, a man who wants to make a name for himself and prove that he deserves a standing among the managerial elite. He won top honours at Porto, but knows he must replicate that success away from his homeland if his CV is to divert attention away from his birth certificate.
It is that hunger and desire which, at present, sets him apart from Wenger.
Heading into a potentially pivotal North London derby on Sunday, one manager is ready to take on the world, while the other thinks the world is against him.
Wenger has been there, done it and assembled an enviable collection of T-shirts. He is not used to being a target for his own supporters - loyal followers who once worshipped the ground he walked on and believed he could do no wrong.
He must prove to them that he is still that man, that he has lost none of his powers and that the Midas touch has not deserted him for good.
Victory at White Hart Lane would go some way to proving that point. A win in the backyard of neighbours who have started to become a little too vocal for the Gunners' liking would allow Wenger to believe that a top-four finish is very much on the cards and that his perfect record when it comes to Champions League qualification will be maintained.
Lose, and Wenger will find himself fending off more awkward questions.
Eight different managers have come and gone at Tottenham during his 17-year tenure at Arsenal, but the odds of Villas-Boas becoming number nine will lengthen considerably should the home side be left celebrating on Sunday.
You do not need to be a professor of anything to realise that.