World Cup Scout
The Sky Sports Scout has been keeping an eye on rising talent for several seasons, and has already found many players who have gone on to become big hits. This will be no different at the World Cup and here, in association with Wyscout, the Scout looks at Australia's Adam Taggart.
Last Updated: 24/05/14 9:35am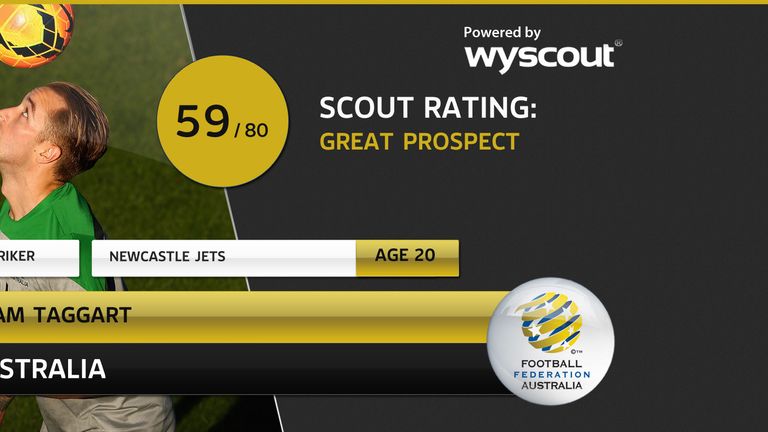 In the build-up to the World Cup finals, the Sky Sports Scout will be taking a closer look at up-and-coming players staking a claim for national-team action this summer.
The Scout is on the hunt for talented stars of tomorrow who could shine in Brazil and make a name for themselves on the biggest stage.
Using the world's leading scouting resource Wyscout (for more information, read our full feature here), he will seek to highlight each selected player's key qualities and provide some additional background knowledge.
Some of the youngsters chosen will be contenders for FIFA's Best Young Player Award at the World Cup, won in previous tournaments by Germany duo Thomas Muller (2010) and Lukas Podolski (2006). Those born on or after 1 January 1993 are eligible for this honour.
You can nominate a player by emailing here, and please check our archive to make sure we have not already covered the player). You can also interact with the Scout via his Twitter feed, @SkySportsScout.
On the Scout's radar in this report is Australia striker Adam Taggart.
The Scout reports...
If you listen to some pundits - such as former Australia captain Paul Wade - the Socceroos are in for a miserable World Cup campaign.
Wade has gone on record with his fears that the national team will get "absolutely smashed" in Group B, which contains 2010 finalists Spain and the Netherlands and also Chile, ranked 13th in the world by FIFA.
The Aussies are way down in 59th in those rankings, so progress to the round of 16 does seem unlikely. However, the main aim for coach Ange Postecoglou, who only replaced Holgier Osieck in October after qualification had been achieved, is to blood some young players in preparation for January's AFC Asian Cup tournament on home soil.
With that in mind, Adam Taggart is a serious contender to make the Socceroos' final cut for Brazil, having finished as top scorer in the A-League campaign just gone.
The talented striker, who will celebrate his 21st birthday early next month, has only won four senior caps to date but has made a huge impact at club level, despite the Newcastle Jets failing to make the post-season play-offs.
Taggart had only scored three goals in the Australian top-flight before last November, but his match-winner away to Adelaide United (a cheeky chipped finish over goalkeeper Eugene Galekovic, now a Socceroos squad-mate) was the start of a hot streak that saw him amass 16 goals in 25 appearances for the Jets - almost half of their total league tally.
That sort of strike rate begs attention in itself, but it was the diversity of Taggart's goals - and particularly his long-range shooting ability - that has helped usher him towards the World Cup finals. Australia are sure to need the odd bolt from the blue if they are to have any chance of making an impression in such a tough group, when possession of the ball will be at a premium. But the Perth native is also a composed goal poacher, quick on the dribble and has ingenuity to go with his athleticism.
He's not short of ambition too, having already told the press that his management team are actively looking into the possibility of a switch to a European club ahead of next season. "It's no lie that I want to challenge myself with the best players overseas," Taggart told the Sydney Morning Herald. "So that is a priority once this campaign is over."
The experienced Tim Cahill and Joshua Kennedy look like lock-ins for two of the striker spots in Postecoglou's final 23-man squad, so Taggart's main rival for the third berth is Mathew Leckie. It may even come down to a straight shootout between the duo in the forthcoming friendly in Sydney against a weakened South Africa side.
'Buzzing around'
"Going onto the pitch, I just want to be as energetic and buzzing around as much as possible," Taggart told reporters this week. "I'll try to annoy and pester all the defenders and sneak a goal. That's what I'm all about. I only want to score goals."
Taggart was aged 17 and six months when he made his debut for hometown club Perth Glory and he showed his determination to get on the scoresheet on his first start the following February, slotting home in the six-yard box after a knockdown by team-mate Jamie Harnwell. He was able to watch Robbie Fowler at close quarters and learn from him during the Liverpool legend's year in western Australia, and in late 2011 he was already making his debut for the Under-23 Socceroos side as they missed out on qualification for the London 2012 Olympics.
Champing at the bit and still not yet out of his teens, Taggart was frustrated at the lack of first-team opportunities with the Glory so transferred to Newcastle Jets in March 2012. Initially, he had to play the waiting game again as the Jets' imports from England - Michael Bridges, Francis Jeffers and then Emile Heskey - were favoured up front. However, he did keep getting chances in an Australia shirt and after being part of Paul Okon's squad that reached the AFC U-19 Championship semi-finals in the UAE in November, he made his full Socceroos debut in the EAFF East Asian Cup qualifying tournament the next month and scored twice in an 8-0 win over Chinese Taipei as Osieck's team comfortably made it through.
He ended the 2012/13 campaign with two A-League goals for the Jets, before another busy international schedule saw him play for Australia's Under-21s in Holland, score a hat-trick for the U20s in a friendly in New Zealand, play in the U20 World Cup in Turkey and then join Osieck's senior squad again for the East Asian Cup finals in Korea, in which he scored a consolation goal against China in his only substitute appearance.
Once Taggart got his eye in at Adelaide in Round 5 of the A-League season, the goals flowed for him in a Jets shirt. Later that November, he scored twice against eventual champions Brisbane Roar, outmuscling defenders and showing a sure touch on a sodden pitch, and then followed a hat-trick in a 3-1 home win over Melbourne Heart with all the goals coming from outside the box. The first was smashed over Andrew Redmayne and the second two stroked to the Heart goalkeeper's left and right sides in a classy display of finishing.
Taggart soon signed a one-year contract extension with the Jets and after another international break (playing for the Under-22s in the AFC U-22 Championship finals in Oman in January), he was back to hit 10 more goals for his club. In particular, his three goals home and away against A-League runners-up Western Sydney Wanderers were noteworthy - a 25-yard effort that curled away from Ante Covic, a last-gasp equaliser that showed his predatory penalty-box prowess and a run-and-shot across the box after using his strength to hold off Nikolai Topor-Stanley.
The Jets could only finish seventh so did not make the A-League Finals Series, but Taggart did pick up both the Golden Boot (he scored four more goals than his nearest rivals) and the Young Footballer of the Year Award.

The Scout says...
Taggart is not short on self-belief and determination, and will he need those qualities - as well as his shooting boots - if he is to persude Postecoglou to take him to Brazil. But even if he fails to make the final Socceroos squad, his outstanding goal rush for the Newcastle Jets should ensure a European club takes a chance on him. Many of the best young Aussie footballers choose to move to German or Dutch outfits such as FC Utrecht (where Tommy Oar and Adam Sarota both ply their trade) and a similar switch looks to be on the cards for Taggart. Wherever he ends up, this 20-year-old's impressive all-round game and infectious will to win suggest plenty more goals lie in store. Australia are moving on from their golden generation; now comes the new breed.
The Scout rating...
Shooting: 8 out of 10
Passing: 7 out of 10
Tackling: 5 out of 10
Heading: 7 out of 10
Pace: 9 out of 10
Vision: 8 out of 10
Current ability: 7 out of 10
Potential ability: 8 out of 10
Overall Scout rating: 59/80
Current value: £3.5million
Potential value: £12million
Your opinion...
You've read the Scout's report on Adam Taggart - now we want your views. Have you seen Taggart in action? Do you agree with the Scout's assessment? How do you rate his World Cup and future prospects? Get in touch, either using the form below, email or the Scout's Twitter feed - @SkySportsScout.