Here we go
Jonathan Greening offers his take on what to expect from the Championship and Nottingham Forest.
Last Updated: 27/05/13 10:59am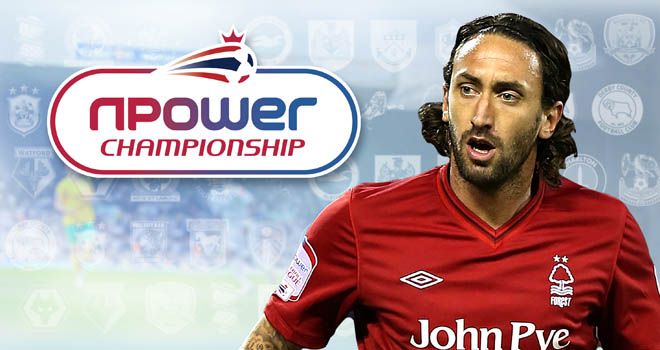 The new season is upon us, with the 2012/13 campaign set to get underway on Friday evening.
Here at Sky Sports we will look to take you to the very heart of the Football League over the coming months, with our Spotlight features intended to give you a greater insight into the clubs and players that keep us on the edge of our seats.
We hope to bring you the views and thoughts of a representative from each of the 72 teams over the course of the season, with those involved asked to give their take on the division they compete in, the club that pays their wages and those we should all be keeping an eye on.
Nottingham Forest's Jonathan Greening helps us to kick things off, with the experienced midfielder taking time out from a busy summer at the City Ground to talk all things Championship with Chris Burton.
Looking at the summer activity around the division, which clubs are you expecting to go well this season? Who will be there or thereabouts?
The clubs that have been relegated look pretty strong. They have got the parachute payments as well. They haven't lost too many players, so they are going to be strong. Hopefully we'll be good. There are some good squads out there - Ipswich are a good team and Cardiff are always up there. I think it's going to be a really interesting season in the Championship this year and you've got the clubs that have been promoted from League One as well - Charlton are back in the Championship. It's not going to be easy and I think it's probably the toughest Championship for a lot of years.
There is always a surprise package, who do you think that could be this year? One of the promoted clubs?
Yeah, I think so. Norwich and Southampton have been promoted from League One to the Championship and straight up to the Premier League, so they'll be thinking 'If we can keep on winning we'll go straight back up'. They will be challengers.
There are a lot of good players in the Championship but who do you see catching the eye, at Forest and elsewhere?
We have got players in, some good players. There are some good players in the Blackburn squad, and in a lot of squads. (Craig) Bellamy going back to Cardiff is a big plus for them and he showed his quality at the Olympics. It's going to be a good Championship.
Are there any youngsters we should be watching out for?
Jamaal (Lascelles) has done well in pre-season, he's signed a new contract and he's one for the future. I think the gaffer will go steady with him. He's definitely an exciting prospect for the future. He's got everything - pace, strength, decent on the ball and he's only 18. Hopefully he's got a big future at Forest.
What does it take to be successful in the Championship? What are the keys to success?
I think you have to be well organised and you have to be lucky with injuries. A massive thing is team spirit and having a game plan for all the games, as they come thick and fast. You have got to be lucky with injuries, keeping key players fit, but most importantly I think you have to be well organised, know your jobs and have a good spirit. That's a major part of getting promoted, that's what we found at West Brom. We had a good squad but we were well organised, knew our game plan and were a good football team. We had good team spirit as well, when the chips were down we fought for each other, so we need to get that this year.
Spirit is vital, it's so important to have characters around the camp who can keep things upbeat - do you think Forest have got that?
Yeah, I do. A few of the lads that have come in are good characters - Danny Collins and Greg (Halford) have played at a higher level as well. I think we're getting there. There is a good bunch of lads here and if we can get off to a good start, hopefully that will stand us in good stead.
It's been a hectic summer for Forest but the club appears to be building towards an exciting future, with stability established now. Would you agree?
Nigel Doughty, the chairman, passed away sadly last year and the club was up in the air but now we have got the new owners from Kuwait who are trying to push the club forward. They have got a four or five-year plan and we have made a few good signings. We are looking quite strong for the start of the season.
Forest are still probably a few players short and there are a lot of new faces to bed in, what are the ambitions for the club this season?
It will take time for the new players to settle in. The manager himself has said that he is maybe two or three players short, but I'm sure the owners will help with that and will be trying to get the players in he wants. I think if we can get a few more players in, given time and with hard work on the training ground, I think we have got a good chance of having a good season, or at least a better season than last year.
Ultimately, the club is being geared towards Premier League football - it has been away from that level for too long hasn't it?
Of course it has. Forest are a massive club and that's one of the reasons why I came here in the first place. The history has gone, though, and now we have to do our talking on the pitch and really give it a good go. There is a four or five-year plan, but we are desperate to do well this year and try to get in the mix. Last year didn't go to plan, but the two seasons before that the club got to the play-offs, so why can't they do that this year? That's what we're aiming for.
Finally, are you looking forward to getting going again?
I can't wait. Having most of the summer off after having an operation on my ankle, I'm raring to go now and really looking forward to it.