Onwards and upwards
Rachel Griffiths discusses Huddersfield's bright start to life in the Championship with Lee Novak.
Last Updated: 27/05/13 11:00am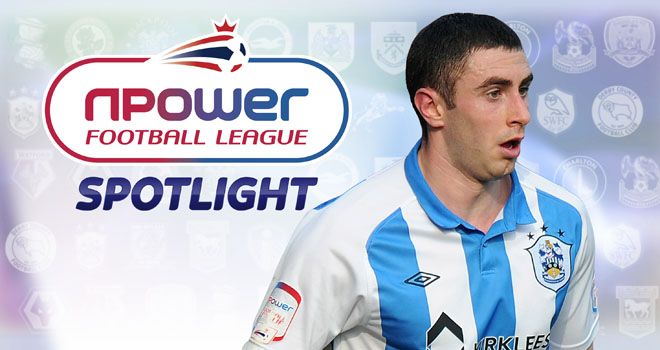 The 2012/13 campaign is now well under way, with divisions beginning to take shape.
Here at Sky Sports we will look to take you to the very heart of the Football League over the coming months, with our Spotlight features intended to give you a greater insight into the clubs and players that keep us on the edge of our seats.
We hope to bring you the views and thoughts of a representative from each of the 72 teams over the course of the season, with those involved asked to give their take on the division they compete in, the club that pays their wages and those we should all be keeping an eye on.
After helping Huddersfield to promotion to the Championship last season, striker Lee Novak is the latest player in our hotseat as he discusses the Terriers' bright start in the second tier and life without Jordan Rhodes with Rachel Griffiths.
Huddersfield have had a great start to the campaign and currently sit sixth in the table. Do you think you've surprised a few people with your impressive early form?
It's been a good start. Obviously I don't think a lot of people expected us to be as high as we are, but we're just taking each game as it comes and hopefully we'll stay around the play-off spots, if not higher.
Has the club carried the momentum from last term's promotion success into this season?
Obviously it gives you a lot of confidence, getting promoted and we've started the season very well. All the lads are playing with confidence and all the new players have come in and settled in really well. They're all great lads and great players and the team's gelling well on and off the pitch. As long as we keep working hard, hopefully it will be a successful season.
One of those new players is on-loan Leicester striker Jermaine Beckford. How do you rate what you've seen from him so far?
Beckford is a great lad and a great player - his goalscoring record speaks for itself. He's got the Premiership and Championship experience which can only help the team. We can only learn from him as well.
How do you think the departure of last season's top-scorer Jordan Rhodes to Blackburn has impacted on the club?
To lose a player like Jordan is obviously disappointing but the players we've brought in are brilliant strikers as well. It's just as tough to get in the team now as it was when Jordan was here. When you get your chance you've just got to take it and just hope you stay in the team and keep scoring. Jordan is one of my best friends, he's a great guy and one of the best strikers around. That's why Blackburn have paid all this money but we've got to move on now. Jordan is doing well at Blackburn. Obviously he'll always be a friend but when we come to play against each other we'll have the rivalry on the pitch. After we'll shake and be friends again.
Has Huddersfield's bright start without Rhodes gone some way to silence those who suggested you were a one-man club last season?
We knew when Jordan was here we weren't just a one-man team and I'm sure Jordan would say the same thing as well. He didn't score all the goals himself. It was an unbelievable goal-scoring record that he had, but we're definitely not just a one-man team, whoever it is. We work as a team and everyone wins and loses together.
You're out of contract with the Terriers at the end of the season. Do you ever think about moving on?
I'm really happy here. I've been here since Lee Clark signed me three or four years ago. My contract's up at the end of the season but I don't want to move on. I'm really settled with my family here so I really want to stay.
You played a key role in Huddersfield's promotion success last year. What are your personal aims for this term?
I had a good season last year and this season I want to score as many goals as possible. I want to start a lot more games and keep my place in the team. As long as I'm helping the team in any way that I can, whether that's on the bench or starting, but preferably starting, will be good for me.
You've worked your way up from non-league with Gateshead to the Championship with Huddersfield. Is Premier League football the next obvious step?
If someone had said to me when I was playing in non-league that I'd be playing one league below the Premiership then I'd have thought they were mad. But I take every step at a time and if the Premier League ever does come about it's every boy's dream and every man's dream to play in that league. Hopefully I will get a chance at some point to play in that league and show that I can play at the highest level.
Teams like Norwich have enjoyed back-to-back promotions to the Premier League in recent seasons. Is that a realistic target for Huddersfield?
We're obviously not thinking that far ahead. It's an inspiration what teams like that have done and we're not ruling that out, but we've got to take every game as it comes. We're realistic. It's everyone's ambition, whether you're a player or manager, to get in the Premiership so hopefully we can do that with Huddersfield. But there are some big teams in this league, so if we're near the top we'll be very happy.
Which of those big teams do you think will be fighting it out at the top come the end of the season?
I think there's going to be a lot of teams up there - you can count half the league really. Everyone seems to be beating everyone at the minute. You've got to look at the likes of Leicester and Cardiff and Blackpool. Every team that we play is a tough game, Saturday is going to be really tough against Wolves.
You recovered from back-to-back defeats with victory against Birmingham last time out. Has that steadied the ship?
The two defeats were disappointing, the way we played. But the game against Leicester the lads scored two unbelievable goals, we've probably not scored two better ones. Now we've got back to winning ways and hopefully we'll keep winning, starting on Saturday.