Hope springs eternal
Chris Burton discusses a bright opening and all things League One with Crawley Town's Hope Akpan.
Last Updated: 27/05/13 11:32am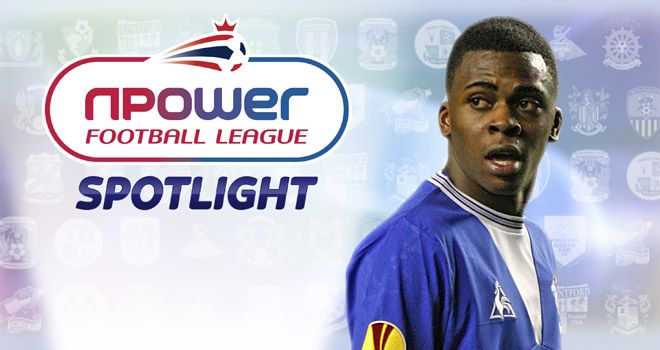 The new season is upon us, with the 2012/13 campaign starting to take shape.
Here at Sky Sports we will look to take you to the very heart of the Football League over the coming months, with our Spotlight features intended to give you a greater insight into the clubs and players that keep us on the edge of our seats.
We hope to bring you the views and thoughts of a representative from each of the 72 teams over the course of the season, with those involved asked to give their take on the division they compete in, the club that pays their wages and those we should all be keeping an eye on.
Crawley Town's Hope Akpan is next in the hot-seat, with the promising midfielder taking time out to discuss a promising start from the Red Devils and all things League One with Chris Burton.
The season is a few weeks old now, who do you see going well in League One?
It's difficult to say off four games, but there are definitely a lot of strong teams in the division. There are a few surprise teams who have started well, so we will see if they can maintain that. Then there are the big clubs like Sheffield United, Notts County who have got the players to mount a serious challenge. All across the league there are strong teams. You have to go into every game 100 per cent or you will get turned over.
There are a lot of good players in the third tier, who do you see catching the eye - both at Crawley and elsewhere?
We made a few good signings - Nicky Adams - obviously you have got Gary Alexander, you have got Kyle (McFadzean) at the back. We look okay. From what I've seen, from the teams we've played against, Matt Ritchie at Swindon played really well against us. There are a lot of good young players in the league who can definitely play higher.
A lot of youngsters appear to be dropping down now don't they, with there little point sticking around at a Premier League club if you aren't going to get games.
A pal of mine James Wallace from Everton, he's done the same sort of thing as me this season (joining Tranmere Rovers). Another pal, Adam Forshaw, has gone to Brentford. We were all the same age group at Everton. A lot of players are deciding now that they need to go and find first-team football, and I think that's the best thing to do.
Having got a taste of what League One is all about, what do you consider to be the keys to success? Is it much different from League Two?
Obviously there is a step up in the quality of players, they are definitely a bit better. There is the same level of commitment as there is in League Two, but I think fewer mistakes are made and if you do make mistakes then you get punished.
Crawley appear to have settled pretty quickly after making the step up, taking three wins from four. Would you agree?
We have started well again. We have stepped up and in the few games we have played we have done alright. We have given a good account of ourselves. Hopefully that will continue.
Has the momentum established last year been carried over into the new season?
To be honest, last year we didn't finish too well. But we got the promotion, we got up, everyone's still buzzing and there is a good feeling about the place. There is a positive feel around the club.
There was an odd situation on the manager front - Sean O'Driscoll left without taking charge of a game and Richie Barker was drafted in. That doesn't appear to have troubled anyone.
Obviously we had the manager change, but the new manager came in and he's instilled belief in the players. We have got a system, we're trying to play, and it's working. Long may that continue. Sean came in and was only with us for a week, but he already installed some ideas in us. He left and the new gaffer came in and the new gaffer has been great with the lads. He has kept everyone focused and ready for the task ahead.
There are big expectations at Crawley, even in League One. How easy is that to handle?
As a player you want to be in a team that is trying to win things. For me, it's the best situation. I wouldn't want to be in a team that wasn't trying to be at the top of the league.
You must be delighted with your decision to join the club. Was it a case after leaving Everton of taking one step back to take two forward?
Definitely. I had clubs last year in League One who maybe didn't do that well or are now in League Two that were different options. But I chose Crawley and at the moment it seems to have been an okay choice. I just want to play as many games as I can, do well and see where the team can finish in the league.
Crawley's next league game is live on Sky Sports, against Portsmouth on Sunday, are you viewing that as an opportunity to put on a show and prove how far the club has come?
Yeah. Playing at home, hopefully we can play the right way and win the game and have a big club like Portsmouth come to Crawley and get beaten.