Level playing field
Walsall skipper Andy Butler discusses the competitive nature of League One with Chris Burton.
Last Updated: 27/05/13 11:33am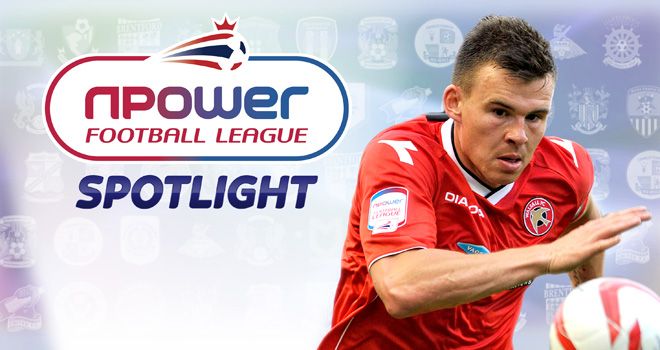 The new season is upon us, with the 2012/13 campaign starting to take shape.
Here at Sky Sports we will look to take you to the very heart of the Football League over the coming months, with our Spotlight features intended to give you a greater insight into the clubs and players that keep us on the edge of our seats.
We hope to bring you the views and thoughts of a representative from each of the 72 teams over the course of the season, with those involved asked to give their take on the division they compete in, the club that pays their wages and those we should all be keeping an eye on.
Walsall's Andy Butler is next in the hot-seat, with the Saddlers' skipper taking time out to discuss his future and all things League One with Chris Burton.
We're four games into the season now - who do you see going well in League One?
There have been a few different sides this year, with Tranmere and Yeovil at the top of the league. I assumed that Preston would be up there with the amount of players they have signed, and Sheffield United, but it's not the case at the moment. It will definitely even out. You need to get the first 10 games out of the way and then look at your position then. The three main clubs will be up there - Doncaster, Sheffield United and Preston. Maybe the MK Dons as well. They have signed a good player in Jimmy Bullard, he's not finished by any means.
It looks like a very competitive division, is that because some of the so-called 'bigger clubs' went up last season?
They did. Sheffield Wednesday, Charlton and Huddersfield went up. We all know what kind of trouble Portsmouth are in at the moment, and they are struggling a little bit. Coventry have had transfer embargoes placed on them, but I expect them to pick up. Donny, they will do pretty well. There's not as big a gap between the teams this year and it's pretty competitive.
There are a lot of good players in League One - who do you see catching the eye?
We have got quite a few good players here, young lads. Ashley Hemmings has signed from Wolves and he's doing really well, and Jamie Paterson has come through the club and is really maturing now. It's Jamie's third season, but he's looking really good now. George Bowerman as well has looked good up front. They are all young but are eager to learn. Will Grigg as well is away with the Northern Ireland U21 team at the moment. It's all promising for us.
And looking away from Walsall, who has impressed you?
The lad (Kyle) Bennett at Doncaster Rovers looked bright when we played them. He looked sharp. I can only really comment on players I've played against and (Chris) Brown for Doncaster as well was a tough guy to play against - strong, competitive. Basically you know the players that are around you and can see them like-for-like.
You've been in the division for a few years, what does it take to be successful in League One?
It's about organisation and consistency. It's about making sure you pick up a couple of points every couple of games. As long as you can bounce back from defeats with a win, you will be there or thereabouts. It's all about consistency. Last season I think we drew about 20 games. If we had turned a few of those into wins we would have been a lot higher up the league. It's about consistency and knowing how to win games.
Walsall have made a steady enough start this season, do you feel things are starting to click?
We have started well, playing some good football, and we have played against some tough teams. We can take plenty of positives from how we have done so far.
Last season was more of a struggle than you would have liked, are you confident this year will be different?
I'm not going to start shouting about how well we are going to do, but you have got to believe in yourself and your team-mates and I think we will do OK.
You've been with the club for a couple of years now and have entered the final year of your contract, are you happy where you are?
I am in the last year of my contract, but I'm still enjoying it. I will always be grateful because they saved me from the football wilderness, really. Since I have been here the gaffer has been really good to me and so have the fans, they took to me straight away, so it's been good and I've really enjoyed it.