Flying high
Ed Upson discusses Yeovil's flying start and the keys to success in League One with Chris Burton.
Last Updated: 27/05/13 11:33am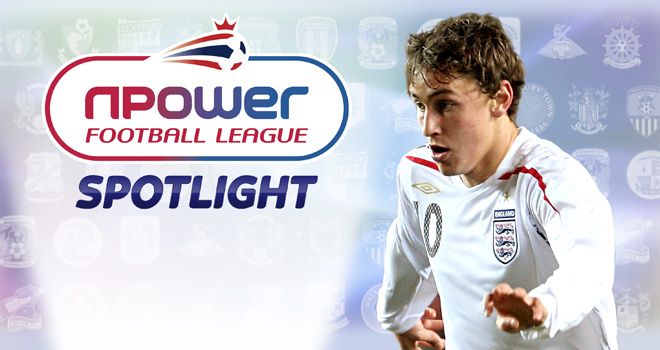 The new season is upon us, with the 2012/13 campaign starting to take shape.
Here at Sky Sports we will look to take you to the very heart of the Football League over the coming months, with our Spotlight features intended to give you a greater insight into the clubs and players that keep us on the edge of our seats.
We hope to bring you the views and thoughts of a representative from each of the 72 teams over the course of the season, with those involved asked to give their take on the division they compete in, the club that pays their wages and those we should all be keeping an eye on.
Yeovil Town's Ed Upson is next in the hot-seat, with the midfielder taking time out to discuss a flying start by the Glovers and all things League One with Chris Burton.
Apart from Yeovil, who do you see going well in League One this season?
There are a few good teams in the division at the moment. We have got Bournemouth at the weekend, they are a good team that likes to pass the ball. Our main priority is that if we beat the teams around us and the teams that are looking to do well - such as Doncaster, Coventry and the teams that have come down - then we should be up there because we'll be taking points off everyone else.
It's a very competitive division isn't it? Do you think that will allow a surprise package - a Yeovil perhaps - to make an impact?
Last season we had Charlton and Sheffield Wednesday, we had some big teams. There are still some big teams in it this season - there is Sheffield United, Portsmouth have come down. They are in trouble at the moment, but they are a big name. We had Southampton a couple of years ago. If we can beat the teams around us, it is quite an open division this year. There's no reason why we can't stay up there and keep playing well.
Are there any players you expect to catch the eye this season?
I'm not too sure, to be honest. Our main thing is that we do our research on the opposition - how they play and their players. The main thing for us is to concentrate on ourselves. We are making other teams worry about what we're doing, rather than worrying about what they are doing too much. There are a lot of good players in the division, as there always is, but all we have got to do is match them and make sure we are at our best.
What about youngsters that could impress?
We have got quite a young team. Gozie (Ugwu) has had a good start (since joining on loan from Reading). He's got three goals now, and all off the bench I think. We have actually got quite a spread of goals at the moment, we aren't relying on one person to do it. We have got a good spread between the midfielders and strikers and defenders - Richard Hinds has got two already.
What does it take to be successful in League One?
Organisation and hard work. It's all the things you need in every division, but in League One especially you need hard work first of all and you need to be organised. Then you need that little bit of flair. The gaffer always says that 75 per cent is organisation and hard work and 25 per cent is flair play, your innovation.
Yeovil appear to have found the right formula - four games played, three wins, 10 points and joint-top of the league, can't ask for much more than that can you?
No, you can't. It's something we actually planned for. It's something we have worked towards, set our targets, and we are on target at the moment.
You've been winning well too, which must be pleasing - three against Brentford, four against Scunthorpe and two against Doncaster?
We have got a good bunch of lads here and we have beaten some good teams already, away from home and at home. We have actually only lost once this season and that was to Premier League opposition, in the cup to West Brom, and we played well then as well. We are confident as a team and it's been a good start.
You finished 17th last season, can you put your finger on what has changed?
I think we got a bunch of lads in early doors. Yeovil always have quite a big turnover of players, so to get everyone in early and have the whole squad put together early, rather than have players turning up further down the line, was good for pre-season. We all got to know each other during the practice matches, we went away and gelled together as a team. When the start of the season came we were playing as if we had known each other for a while.
Yeovil don't tend to work with the biggest of squads, but that can help to promote squad unity can't it?
Exactly. We are a close-knit group as well. Everyone is good friends with each other and it's like playing with your friends. You always want to do better for your friends than anything else. Everyone down here is really enjoying their football at the moment. We are winning and everyone wants to keep it going, and there is no reason why we can't.
That is the question isn't? Can you keep the run going and how do you set about doing that?
We have got to keep our standards up and keep our hard work. Everything we're doing at the moment is working for us so we have to keep that up. It's about belief at the moment so if we can keep that - we know we can do it, we have proved that in the first few games - there is no reason why we can't go the whole season.
Will you be looking to break the season down into small chunks and work towards short-term targets?
We set a 10-game target at the start of the season. It's a case of see where we are after those 10 games and if we have hit our target or if we haven't. Then we will set another 10-game target. I think we will take it in stages, but always keeping an eye on the bigger picture as well because that's something you have got to do. When you are up there, there is nothing better than staying there and there is no better feeling. I'm sure the lads want to keep the team up there as long as we can.