Fresh start
Rachel Griffiths discusses how the new League One season is treating Sheff Utd with Kevin McDonald.
Last Updated: 27/05/13 11:33am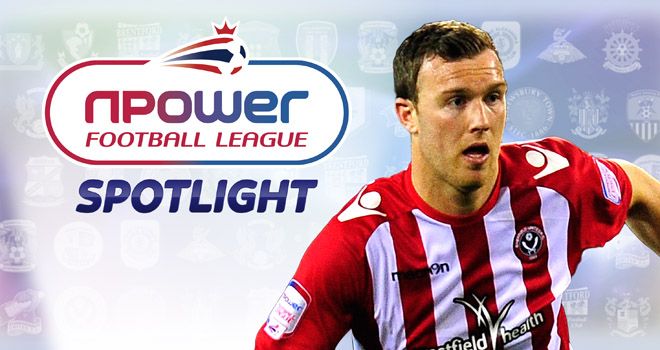 The new season is upon us, with the 2012/13 campaign starting to take shape.
Here at Sky Sports we will look to take you to the very heart of the Football League over the coming months, with our Spotlight features intended to give you a greater insight into the clubs and players that keep us on the edge of our seats.
We hope to bring you the views and thoughts of a representative from each of the 72 teams over the course of the season, with those involved asked to give their take on the division they compete in, the club that pays their wages and those we should all be keeping an eye on.
After signing a new deal with Sheffield United in the summer, midfielder Kevin McDonald is the next player to come under the microscope as he talks moving on from last season's play-off disappointment at Wembley and making sure the Blades stay unbeaten with Rachel Griffiths.
Sheffield United are unbeaten this season so far but five out of your seven games have ended in draws. Are you satisfied with how things are going?
It's been a bit of an odd one so far. I feel we've been the better team in pretty much every game we've played apart from Shrewsbury, who we beat, so it's been a strange start. But at the end of the day, we're still undefeated and we'll continue to try and stay like that. When we get a chance we've got to take them, and as midfielders we've got to create those chances as well. That's all we can do and we're trying our best, but I'm sure soon enough it'll click and we'll go on a winning run.
Your latest result was a goalless draw at home to Doncaster in Tuesday night's derby. Were you frustrated to only take a point?
They came here to get a draw and we threw everything at them in the second half, but unfortunately we didn't manage to score. Doncaster are a top team and they'll be up there this season, so sometimes when that happens you've just got to take a point. I enjoyed the derby atmosphere of it. Our fans always create a good atmosphere, and it must be hard for the teams that come and play here. We had 17,000 fans and obviously Doncaster had their fans, so it was a good atmosphere and a good game to play.
There's been some surprises at the top of the table early on, such as League One newcomers Crawley. Who do you think will be up there come the end of the season?
I'm not too sure right now. We saw this week that Doncaster are a well-organised team, while Crawley have thrown a bit of money around and we're expecting Coventry to do well. Then there's Stevenage, Notts County, MK Dons - there's a few teams you could say.
Is another promotion push on the cards for the Blades?
We'll definitely be up there. I'll be very surprised if we're not round about the top six area. I don't think the league is as strong as it was last year, so we'll have to see.
Obviously the heartbreak of Wembley from last season isn't going to be forgotten in a hurry. Can the club bounce back from that?
Of course. It's not ideal, losing out on promotion at Wembley, but you take it on the chin and you come back stronger. We've lost three or four massive players from the squad, who played week-in, week-out, but that's football. It's all about how we react and we've brought in some great players. The team's starting to gel and everyone knows it will do, it's just taking a bit longer than expected. The boys have looked good in pre-season and the start of the season, it's just turning draws into wins and after that we'll be fine again.
After the way last season turned out, is there more expectation on the club now to do well?
I think so, because of the teams that left the division last year. Out of the four main ones three of them are gone - Sheffield Wednesday, Huddersfield and Charlton. Now every home game we play we're expected to go and win three or four nil for the fans, but it's not like that. We've just got to take whatever we can; if we win we win. All we can do is give it 100 per cent.
With the likes of local rivals Sheffield Wednesday and Huddersfield in the tier above, does that provide even more motivation to get back up there?
You want to be playing in the big games every week, but every second week at Bramall Lane there's a 17,000, 18,000 crowd. It's a great atmosphere and every one of us thrives to play in that stadium every week. We do miss the big games, but you can't do much about that.
How is manager Danny Wilson approaching this season - is he even more determined to get over the line?
Last year the manager got us playing the way he wanted us to be playing football and I'd say he proved a lot of doubters wrong. Again, we've started off well this season, we've not lost a game. If we can't score, we can't score, and we'll have to look at that. But I'm sure the manager and the squad will do well again this season.
You mentioned several key players left in the summer and you were among those being linked with an exit before you signed a new two-year deal. Were you ever tempted by a move?
There was a point over the summer where it looked like I was never going to get the contract that I wanted at Sheffield United, so I was looking elsewhere and I was speaking to clubs, but then as soon I got offered the contract I wanted it was a no-brainer for me. I signed it straight away and that was that. It just kind of dragged on over the summer.
How much are you feeling the absence of the likes of Stephen Quinn and Nick Montgomery in midfield after they moved on?
At the end of the day, we need to cope without them. They've gone now. There's also Matty Lowton that's gone to Aston Villa, Willo (Lee Williamson) went to Portsmouth and obviously what happened with Ched (Evans). They were all massive players for us last season. But we've just got to adjust to what we've got now and just try and kick on again, and I'm confident we will do.
Do you think the new faces that have been brought in this season, such as Manchester United loanee John Cofie and Nick Blackman, can step up and fill their shoes?
The two strikers who have come in have done well. John is still young so it's a learning curve for him as well, and he's happy to come in and get games. The more he plays the more experience he'll get. All of them look good, even the ones that haven't played as much. Once they get their chance, and take their chance, they'll do well.