Looking up
Stevenage skipper Mark Roberts talks promotion pushes and being the boss with Chris Burton.
Last Updated: 27/05/13 11:34am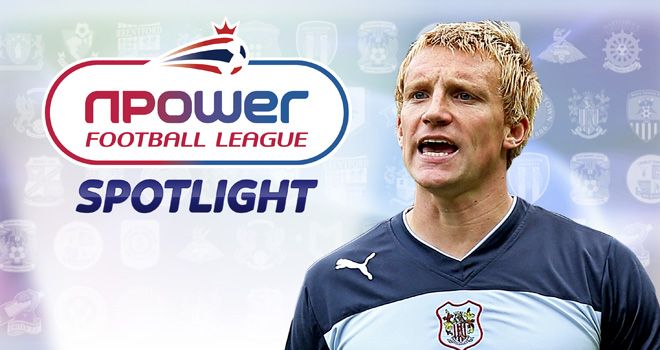 The 2012/13 campaign is now well under way, with divisions beginning to take shape.
Here at Sky Sports we will look to take you to the very heart of the Football League over the coming months, with our Spotlight features intended to give you a greater insight into the clubs and players that keep us on the edge of our seats.
We hope to bring you the views and thoughts of a representative from each of the 72 teams over the course of the season, with those involved asked to give their take on the division they compete in, the club that pays their wages and those we should all be keeping an eye on.
Stevenage's Mark Roberts is next in the hot-seat, with the Boro skipper taking time out to discuss promotion ambitions and all things League One with Chris Burton.
You are hoping Stevenage will be there or thereabouts this season, but who else do you see being in the mix?
I think the usual candidates are gathering towards the top of the league. Tranmere may have taken a few people by surprise, but they are a club that has brought in a lot of players and have responded brilliantly. Credit to them for the start they have had. It does tend to be in this league the teams with the bigger finances that tend to be towards the top, but there is an opportunity for teams like ourselves, Tranmere to get in the mix. Teams like Crawley have made a really good start as well after winning promotion, so I think it's a very competitive league this year. But there is an opportunity for a number of teams.
Has anyone caught your eye so far player-wise?
I'm concentrating on myself and my team-mates, really. There are some good players in this league and you can see why teams in the higher leagues are looking down at the talent in this league and the league below, because there are a lot of good players. There is an opportunity for anyone in this to make a good impression and improve their careers.
From what you've seen of League One, what does it take to be successful?
It's about ambition and a hunger to win. Stevenage have been in leagues where they haven't been the biggest financial power but if you have that determination and team spirit, it goes a long way. Continuing to drive the club forward and be successful, it means working hard every day. The harder you work, the more you profit from that. Hopefully, we'll keep working hard and be successful come the end of the season.
Things are going pretty well at the moment for Stevenage, I imagine it must be a happy camp?
We've had a really good start to the season. Losing in the play-off semi-finals last year, we wanted to go one better this time out and we have made a really good start. At the moment it is just that, it is just a good start, so it is important now after the FA Cup game on Saturday that we kick on. We have got some big games coming up and going into Christmas we want to be right up there and in the mix.
What was the feeling in the squad heading into the summer? Obviously gutted to lose in the play-offs but you must have been proud of how far the club has come in such a short space of time.
Yeah, exactly. To miss out on a third consecutive promotion by the finest of margins is a credit to everyone involved. That's the previous management and also the gaffer when he came in and took over and did so well with us. It was agonising but for the lads that remain here, I think it has made them more determined to succeed. The new lads have come in as well and been fantastic, they have brought a lot of enthusiasm to the club and it has made for a very good start to the season.
Determined to go one better this time around to prove that last season was not a flash in the pan?
Exactly. The new lads coming in have seen what the older lads have achieved and they are very ambitious too. When you get new people in the squad who are enthusiastic and determined to succeed as well, it's important that they want to take the club forward. The last three or four years have been nothing but success at Stevenage, so they don't want to let the club down and they want to take it forward. That can only be a good thing for the football team.
Stevenage are an ambitious club. How far can they go?
At the moment we are just concentrating on the here and now. I know that the squad is very ambitious - ourselves, the gaffer and the chairman as well, he is working really hard to improve things outside the football club. We have got a brand new training ground, which is a fantastic facility, and there have been improvements to the ground. We do need to try and get more people supporting the club but because we haven't got the history of other clubs in this league, that takes time. All we can do is concentrate on matters on the pitch and I'm sure the club will continue to grow.
One of the challenges you face is that success attracts attention doesn't it - Graham Westley left last season and people start looking at your players?
Michael Bostwick and Lawrie Wilson have both gone to Championship clubs, and fully deserve that chance. There are more players in the squad capable of playing at a higher level and that is what we are all setting out to do this year. We need to prove that we can build on the success and we can take the club forward. There are a lot of players who are not just ambitious to play at a higher level, but are actually capable of playing at a higher level. That can only be a good thing because it means we must be doing something right.
You had a stint as boss last season and did alright, is there a future in coaching for you?
It was a surreal experience. It wasn't something I was expecting. It was thrust upon me a bit, but it was something that I really enjoyed. Fortunately the lads that were working with me for that short period of time had been with me for two or three years and were lads that I could rely on and trust. They did an unbelievable job for me while I was in charge. I was happy to pass over the reins to Gary Smith because it was a lot to take on as a player-manager. It was something I really enjoyed, though, and it gave me an insight into what might be in store once my career is over. But I'm concentrating on playing and I want to help Stevenage and myself to the highest level possible.
Was it weird going from one of the boys to being in charge?
They were lads that I have been with for a few years and I had a rapport with all of them. They respected me as captain of the football club and I tried not to change too many things from when Graham was in charge. It was a case of continuing that good work and fortunately we got some good results in the process. It was a very enjoyable experience and something that maybe I will look to do again in the future.
Playing is the priority at the moment and I take it you are hoping to be the man to skipper Stevenage into the Championship?
It would have been an amazing feeling to be the first captain in history to lead the club to three consecutive promotions and go up into the Championship. That's where my career began at Crewe Alexandra and it's a division that I have always aspired to get back to. This year, if we can continue to pick up wins, that might be a possibility. We are just concentrating on the next game, and that's Yeovil on Tuesday. We have got a big FA Cup game and the history that the club has had in the last couple of seasons, that another good opportunity for us all.