Survival bid
Hartlepool skipper Sam Collins talks basement battles, fresh faces and star turns with Chris Burton.
Last Updated: 27/05/13 11:35am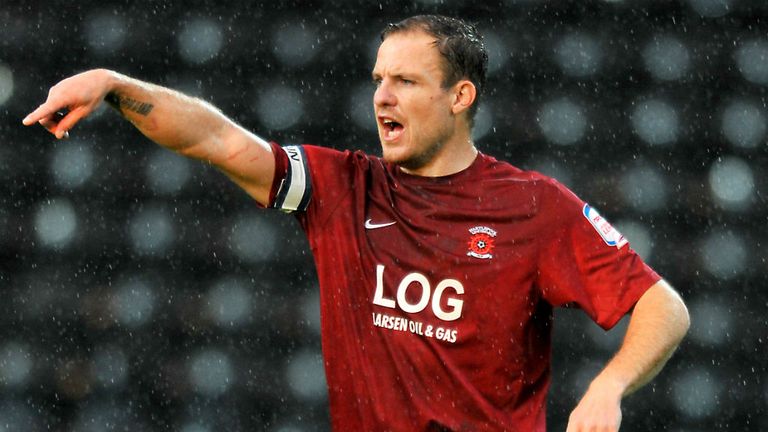 The 2012/13 campaign has passed the halfway stage, with promotion pushes and relegation battles starting to take shape.
Here at Sky Sports we continue to take you to the very heart of the Football League, with our Spotlight features intended to give you a greater insight into the clubs and players that keep us on the edge of our seats.
We are hoping to bring you the views and thoughts of a representative from each of the 72 teams over the course of the season, with those involved asked to give their take on the division they compete in, the club that pays their wages and those we should all be keeping an eye on.
Hartlepool's Sam Collins is next in the hot-seat, with the experienced defender taking time out to discuss basement battles, fresh faces and all things League One with Chris Burton.
What is the overriding emotion around the place at the moment? Is it one of frustration? Disappointment?
Obviously, we never expected or wanted to be where we are at this moment in time. There is a lot of disappointment there, but there is still a determination to get out of it. We have got a run of games coming over this next month or so where we feel, with the way we have been playing in the last few weeks, that we can pick up results and get wins. We can then get ourselves back in a position where we think we still might have a chance of getting out of it.
What has gone wrong this season? Is it just a case of getting stuck in a rut?
That's been part of the problem, when you're not winning games then people are low on confidence. Even in quite a few of the games that we did actually lose, we have played well in general and there has been nothing in the game - whether it then be mistakes or giving goals away at bad times. That's what has cost us really. When you lose that momentum, and we had a spell where we were losing week in, week out, then that confidence does really lower and it is hard to get back. But since the new manager has come in, performance-wise, it has been a lot better. The biggest thing now is we need wins. We can't really afford to draw too many games, we need wins to put ourselves in a position where we can try and get out of it.
As one of the more experienced players at the club, and captain, do you feel a responsibility to help keep heads up?
You have got to. There are quite a few senior players there, so we have got to take on that responsibility to try and help the younger ones and pull them through. To be fair, since the new manager has come in, he has put some of the younger players in and some of them have done really well. They don't look daunted by the situation that we are in and sometimes that helps because when they get into the team it's a new experience for them and they don't really understand the other side of it - losing games and where we are and what could happen if we do go down. The younger ones have taken on that burden, so to speak, and we are trying to pull them through with us.
It's far from over, though, is it? You are 12 points adrift of safety, but that's doable if you can get on a good run.
That's the thing. There are teams down there that are struggling and we feel that with the way we have been playing for a number of weeks, we are still in with a chance because we know that if we can get these wins on board and turn performances into wins, we feel we have got a really good chance of getting out of it. We know that there are a number of teams down there that are struggling to get wins, so we have got to try and get on a run now and hope that our bad patch is over and we can have a good run between now and the end of the season and see where that takes us and see if we can get out of it. We have got nothing to lose now.
It has been tricky for John Hughes hasn't it? He's come in with the club struggling and is taking in his first taste of coaching in England, that's difficult isn't it?
It is. Obviously the situation he has come into, I'm sure he would say it wasn't ideal but what he has tried to do is to try and instil confidence and a bit of belief and not let us go through the motions week in, week out, he wants to see us go out and pass the ball and actually enjoy playing. He feels that is the best way for us to get results. I'm sure in the long run, the bigger picture is, with John Hughes in charge, that will happen and we will go on to do well in the future. But we need to do that now and we need to stay in this division. These performances that we are putting in, because in every game that we have played in recent weeks we have been in there and have only lost by the odd goal when we have got beat. We went to Sheffield United away and won, so we know we can do it. We just can't wait anymore, we have got to do it now.
Is it just a case now of trying to find some stability, regardless of what happens, and all stick together?
That's it. That's what every team is trying to do. Those teams at the top of the league, there will be a togetherness in the squad and that's what we have got to try and find. When you are losing games, you have got to pull everyone together and get everyone pulling in the right direction. That's one of the things that the gaffer has tried to do and I'm sure in the long run, he will have a nucleus of players that he wants, as well as having new ones to bring in, and we have to try and stay in this division because that will give him a better budget for next year and will put the club in a much stronger position financially. We have got to try and do everything we can between now and the end of the season to still be in the league that we are.
Would a few fresh faces help during the current window?
I'm sure when you look now, every team in every league are trying to strengthen - whether that is at the top of the league or at the bottom. It gives everyone a boost and it is good sometimes to see a few fresh faces. I'm sure the manager is trying to push the club to give him some money to try and bring in a couple of new additions that will hopefully give everybody a boost and try to kick-start a run of results where it puts us in a position to get out of the bottom four.
Looking at the division as a whole, who has impressed you this season?
I would probably say Coventry. When they played us at home they were very strong and they had a lot of good players all over the pitch. We played Bournemouth away earlier on in the season and got a really good result on the day, it finished 1-1 but they scored with the last kick of the game. You could tell that they were going to be right up there. Since we have played them they have brought in a new manager and have gone on a really good run and signed a couple of really good players, so I'm sure they will be in with a good chance. Then there are the obvious ones, Sheffield United and teams like that are always going to be up there with someone like Danny Wilson in charge. Those three are the sides I'm expecting to be right up there.
Looking closer to home, who at Hartlepool do you feel has done well in difficult circumstances?
The goalkeeper (Scott Flinders) has done really well, he's kept us in games at times. He's probably been a bit busier than we would have liked as a team, but he's had a good season. The young lad at right-back, Jordan Richards, has been doing really well since he came into the team. Another one at centre-half who has been in and out, Jack Baldwin, I think he has done really well. We brought Jonathan Franks in from Middlesbrough in the summer. It's not ideal the situation we are in, but at times, and especially since the new manager has come in, I think he has done really well in games.
Finally, on a personal note, are you looking to play on for a few more years before turning your hand to something else?
Yeah, I am. I still feel good fitness-wise and I still feel as though I can carry on. I know I am getting old in football terms, but I still do all the right things and look after myself. I try to compare myself to some of the younger lads in the team and see how they feel after games and after training, and I'm no different to anyone else. I feel like I can play on for a few more years yet. That's what I want to do and in the meantime I want to get my coaching badges as well. I have just got my A license to do between now and when I finish and I would love to one day go into that side of things.