Never a dull moment
Oldham's Jonathan Grounds discusses survival bids, the impact of a new boss and a memorable cup run.
Last Updated: 27/05/13 11:39am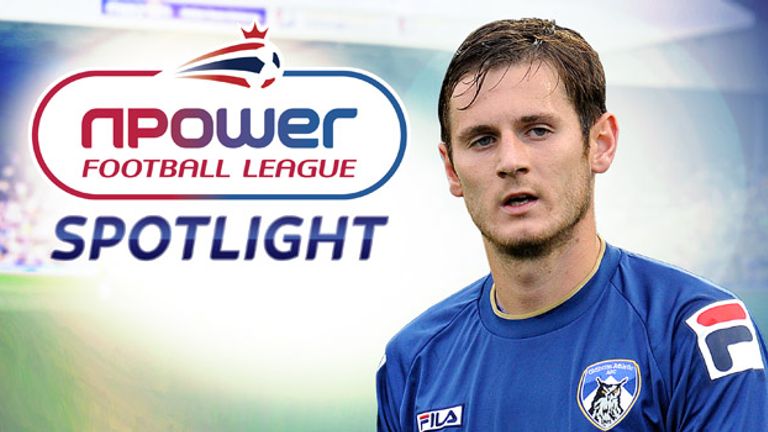 The 2012/13 campaign is about to enter the final straight, with promotion pushes and relegation battles now in full swing.
Here at Sky Sports, we continue to take you to the very heart of the Football League, with our Spotlight features intended to give you a greater insight into the clubs and players that keep us on the edge of our seats.
We are hoping to bring you the views and thoughts of a representative from each of the 72 teams over the course of the season, with those involved asked to give their take on the division they compete in, the club that pays their wages and those we should all be keeping an eye on.
Next in our hot seat is Oldham's Jonathan Grounds, with the Latics full-back taking time out to discuss survival bids, the impact of a new boss and a memorable cup run with Chris Burton.
Things have picked up of late - three unbeaten - you have found a bit of form at just the right time haven't you?
To say the least, it's been a little bit frustrating for a lot of us - we have been really inconsistent. But at the stage where we are at now, just one place outside the relegation zone, we need to put a run together where we are going unbeaten for five or six games to get us out of that little bit of trouble.
The new boss has come in and seems to have the Midas touch doesn't he?
Yeah. He seems to be bringing a lot of positivity with what he wants to do. On his first day, he had been to see a lot of the games we had played previous, he got straight down to it on the training ground - putting in the work with the things he wanted to change and the things he wanted to keep the same.
A change in manager midway through the season can often destabilise things further, but Lee Johnson appears to have had the opposite effect doesn't he?
Sometimes it can go the other way. This way, some of the players that weren't playing have thought, 'This is my opportunity to come back in now'. I don't think we have really had a settled side all season, I think that could have been one of the problems. For the last three games, I think we have started with the same team, which always bodes quite well. Successful teams, they usually have seven or eight players that play most of the season. That's been the case in the last three games. Barring suspensions and injuries, I think it could be quite a settled team until the end of the season.
That's a big thing isn't it, you get a change of manager and it offers a clean slate to everyone at the club?
I think so. Another situation at our club is that a lot of players are out of contract. With a new manager coming in, that gives them an opportunity to impress for next season. If they can put a good six or seven performances together and they buy into what the manager wants to do, there is a good chance that they will be here next year as well.
The club have taken a gamble, though, haven't they on an untested 31-year-old?
I think anyone's first job, someone has got to take a chance on them. Being the age the manager is and not having any real coaching experience, being his first job, I think it's always a risk, but somebody has got to take that risk for someone to do well. Hopefully the risk in appointing him will be good for the club.
If he manages to keep you up, does it then become a productive season?
I think so, especially with the FA Cup run that we had. That got a lot of fans on board and added a lot more support. I think the summer will be busy for the manager. If we stay up, I think he will have a lot of rebuilding to do and he will want to put his own stamp on the team for next season. With seven or eight games left that is definitely the main objective, to stay up.
Taking into account some of the performances you put in during the cup run, against some big teams, can you put your finger on what has gone wrong in the league?
I don't think so. I think I would be the manager if I could do that. I don't know. I don't know if it's pressure. Playing against the big teams you expect to be beaten, so maybe the shackles come off and people go out and express themselves, whereas there is a little bit more pressure in the league. I don't know if it's because there are more eyes on you, I'm not too sure. Hopefully the manager has seen that in the games, he's managed to speak to people and they are now doing the business with us being unbeaten in the last three.
It's important you don't let the season fizzle out isn't it, or the cup run will count for nothing?
Yeah. It's a massive experience for some players, they will never get that opportunity again, they will never get the chance to play Premier League teams and be on Sky. But sometimes it can work the other way - when you get knocked out of the cup, everybody's emotions are still running quite high from the run and that distracts a little bit from the league. I don't know, maybe that was our situation with the results we had in the league while we were going in the cup. It got us in the situation we are in, being just outside the bottom four. With the new manager coming in, hopefully he's refocused us on the job in hand for the next seven or eight games.
You have got a couple of games in hand on those around you, but that isn't always a good thing is it when you consider how many fixtures you have got to fit in before the end of the season?
Until the end of the season we are midweek every week, Saturday-Tuesday-Saturday-Tuesday for the next few weeks. You would always rather have the points on the board than games in hand, but the fixtures that we have got are against teams in and around us so it is in our own hands. We can beat the teams in and around us, we haven't really got any more games against any of the teams in and around the play-offs. You could say that we have got one of the easier run-ins, but there is never any easy games and we have got to go out there and do the business and pick up the points.
You have got Carlisle, Preston and Bury in your next three, they are all huge games aren't they?
Yeah, they are. I think they will all be six-pointers. I don't think anyone down the bottom is in that great a form. We have got one win from three games, but we would like to get the points on the board as quick as we can. Saying that, with us playing Saturday-Tuesday-Saturday-Tuesday, I think the manager has to look after us a little bit training-wise. I'm sure he will do that, but it will always give other players opportunities because there will be suspensions and injuries with that amount of games in a short space of time.
On a personal level, are you happy enough with how the season has gone?
Yeah. It's been the first season that I have always been in the team. Monday was my 45th game of the season, so it's what I've always wanted - to be a regular. It's been a little bit frustrating, there is always that bit of inconsistency that we've had, but definitely the highlight was the cup run.
Are you happy that you made the right decision in joining Oldham last summer and that the club can look forward to a brighter future?
Definitely. As I said, I think the manager is going to have a busy summer. If he can keep the majority of our better players at the club, I think we can have a real good push. The manager seems to be that kind of way, a winner, and he gets that from his dad - having worked with him. They are both winners and he will get his scouts out there to bring in that kind of player, where we can be successful as a team.
Finally, who has impressed you this season as I imagine there will be a few players being watched heading into the summer?
I imagine so. Obviously Jose Baxter has had a really good season for us. To be in the position that we are in, to have scored that many goals and got that many assists, I don't think there are too many players better than him in the league, to be honest. Also Lee Croft, I know he hasn't scored this season, but he has chipped in with a lot of assists - he's probably in double figures for assists. There are a lot of good players at Oldham, it's just a case of putting it all together and working as a team.