Shrews in vogue
Shrewsbury striker Marvin Morgan discusses consolidation and fashion design with Chris Burton.
Last Updated: 27/05/13 11:40am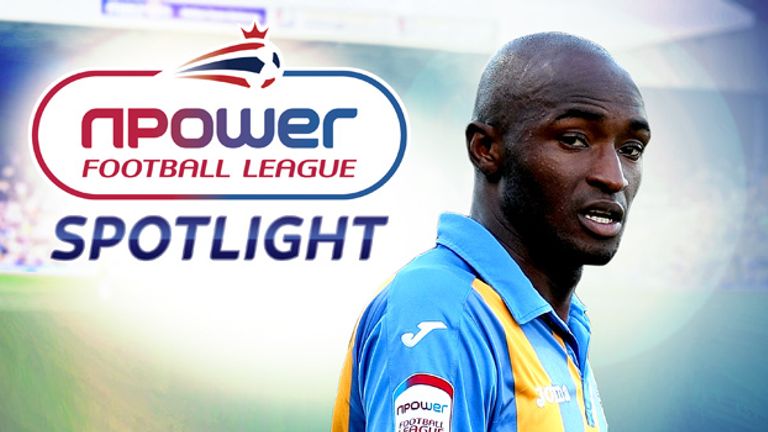 The 2012/13 campaign has entered the final straight, with promotion pushes and relegation battles now in full swing.
Here at Sky Sports, we continue to take you to the very heart of the Football League, with our Spotlight features intended to give you a greater insight into the clubs and players that keep us on the edge of our seats.
We are hoping to bring you the views and thoughts of a representative from each of the 72 teams over the course of the season, with those involved asked to give their take on the division they compete in, the club that pays their wages and those we should all be keeping an eye on.
Next in our hot seat is Shrewsbury's Marvin Morgan, with the experienced frontman taking time out to discuss third tier consolidation, the future and fashion design with Chris Burton.
You haven't quite got over the line yet - back-to-back defeats have frustrated you somewhat haven't they?
It's been a disappointing kind of campaign. If you look at it overall, it's been quite disappointing, but the objective of any team getting promoted, whatever league you are in, is to stay in that league. We haven't got vast amounts of money like some of the other clubs have - like Swindon who have thrown a lot of money at it, can offer their players good contracts and have spent a lot of money. If you haven't got that kind of money, the objective is to stay in the league. Tonight, we might not even play and be safe. That was the objective. We are confident we can stay in the league. There is a big game for Scunthorpe tonight, so let's see what happens.
Was this year only ever about consolidation, then look to build in your second year as a League One club?
In my eyes, we lost our better players from last season. If you look at the team we had, we were only four points behind Swindon. If you look at Shrewsbury and Swindon last season, we had a chance to win the league at one stage. We were only four points behind them, but if you look at the massive gap now, I think we are four or five players away from having a play-off contending team. I believed in the squad we had, we had a great squad, but we lost key players - if you go down the spine of our team from the goalkeeper, to our centre-halves, to our midfielders, to our strikers. So, any team that gets promoted and loses the core and spine of its team, they are going to struggle the following year because it's hard to replace those players without spending the kind of money that you need to. Ideally, we should have kept all our players. It's hard, obviously, when other teams are offering better contracts, but it's hard to try and finish in a high position in League One when you lose virtually all of your team.
Do you think a few too many draws have held you back - 15 so far?
Yeah. At the beginning we were doing very well, then we went through a stage where we were conceding so many goals. We were going from winning positions or drawing positions to lose and were conceding so many goals in the last five minutes. You can say it was unlucky, it was a mistake, it was bad play, but we have had an up and down season. I've enjoyed the whole of the season - the lows, the highs. I know there haven't been a lot of highs, but I've enjoyed going to new stadiums and it's been a learning curve for me. For me coming into football so late in my career, at 24 as a professional and now 30 playing in League One, it's been an okay campaign. If we can stay in the league, that will be a major thing.
It's such a competitive division isn't it - a very level playing field with the likes of Sheffield Wednesday and Charlton gone?
Look at teams like Brentford, they have been in the league now for about four years. They have consolidated, brought players in at the right time, improved the club at the right time and they are up there now looking like they could even try and win the league, never mind get promoted. I think the fans will be frustrated and it has been a bit of a bad season, but the budgets for the top five or six are absolutely massive and then as you filter down the league it shows what's going on with money. The teams that have done well have bought at the right time, brought the right players in. It might be a learning curve for Shrewsbury about the type of players they need to bring in. I don't know what the chairman or the gaffer is going to do next year, but they need to think about what they want to do - do they want to consolidate or have a go at it? In this league, anyone can beat anyone on their day.
On a personal level, you've hit seven goals so are you hoping to get to double figures?
We have got four games left. The way I look at it, I have never been a prolific goalscorer in my career, but I have always got double figures. I would like to get to double figures, but it's a tough thing to ask. It sums up how we play that I'm the top goalscorer, and I have got 12 assists as well. I would like to score more goals, but you have to think that we have brought in players that haven't done well but have then gone on to other clubs and done very well. I would like to get double figures, but I can't be selfish. I would have to analyse it and say, as long as we don't get relegated this season then it's been a good season - regardless of how people might look at individual players or how we have done as a team and a club. We haven't got the massive amounts of money to sign players and we have brought in players on loan that haven't worked out - but they have then gone on to other clubs and done well. I think we just need to consolidate, stay in the league and then it's up to the club, the chairman and the manager to think about next season and the type of players they want in and not making the same mistakes that we have done this year.
What does the future hold for you? Is it just a waiting game?
Yeah, basically. I was very close to going to a Championship club in January and it was only because a manager left and went to another team that I didn't go. It came out of nowhere, you just never know in football. People might think, 'Championship club? He's only got seven goals this year', but if a manager likes your style of play, he likes your style of play. The manager liked me and how I play, but then he left for another team in the space of a week. It was a done deal and then it didn't happen. That's football. Every footballer can tell you a story about a club being interested and it falling through at the last minute. I was happy to stay, it wasn't like I wanted to leave. The club had to be realistic about the situation, the manager spoke to my agent and I only had six months left on my contract, so it was a no-brainer in business terms. On a personal level, me and the club haven't spoken yet, but it's one of those that is a waiting game. I think I have had a good time at Shrewsbury, I've had two seasons here and in my first season we got promoted into League One and in my second season we have consolidated and looked to stay in League One. I can say I have had a good two years here and enjoyed my time. Sometimes you are thinking about moving on, but you never know in football what could happen.

Away from the pitch, how's the fashion label going?
It's going really well. It's been absolutely crazy. I never expected that in two years, well 18 months, that I would be in the position that I'm in now. It's absolutely crazy. It's hard talking about it, it's mad. I didn't expect to be where I am today. It shows again what hard work can do. I did have a lot of frowning faces when I started because of what's happening now with footballers and the football industry, it's all evolving and changing - goal-line technology, that's changing and you never thought that would happen and come in. That's the thing about footballers now, they don't just eat, breathe, sleep football now, they have hobbies. Especially if a footballer has got a family, it's not the be-all and end-all. When I first came up with the clothing line, it was because I was bored. I have said this so many times about footballers being bored. There are a lot of footballers that are alcoholics, gamblers, doing stupid stuff, because in general they are bored. They go to football nine, ten o'clock and they finish at two, three o'clock. They do that Monday, Tuesday, Thursday, Friday - if they haven't got a game on Tuesday. There is a lot of time on a footballer's hands. If you haven't got anything else in your life - haven't got a family, haven't got a job, or a wife - there is a lot of time. That's what I had. The reason I came up with the clothing line was to eat up my time, and it has. It makes me focused because when I'm doing my football, I'm focused on football, when I'm away from football, I can focus on other things. I have found that it has helped me to be a better person. I haven't used my brain so much as I have since setting up my own business.
You've got the JLS boys involved and the Little Mix girls, it must have been a great experience?
Everyone says how did it all happen? When a thing is going good for you, good things happen - it's the same in football. When you need a goal and you are a striker, when you are scoring goals you end up shooting and it goes in, when you aren't scoring you try so hard and it doesn't happen for you. It's kind of the same with this kind of business. If you have got something that everyone likes, it opens doors for you. I have got a product that people like and it's opened doors for me and got me to meet some really important people and some really interesting people. I hope it continues. I'm enjoying my time in football and enjoying my time in the fashion industry. I can't see why people think you can't do two things because you can, especially if you are a footballer. When things are going well, people won't say a word, but the minute something goes wrong and you aren't scoring, they say it must be because you're focusing too much on the business. Sometimes you can't win. I just get on with it, it's life. I want to carry on doing what I'm doing and hopefully it all continues. Hopefully we can finish the season strongly, not get relegated, and if we stay in League One I can say I've had two good years at Shrewsbury and in those two good years, in my spare time, I have come up with a business that has done well. It's been a good time.
To check out Marvin's fashion line - Fresh Ego Kid - click here.