Perfect start
Accrington's Padraig Amond offers his take on Stanley's flying start and League Two as a whole.
Last Updated: 27/05/13 11:45am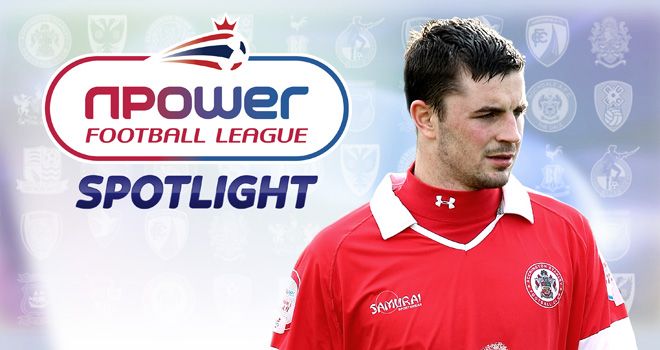 The new season is upon us, with the 2012/13 campaign starting to take shape.
Here at Sky Sports we will look to take you to the very heart of the Football League over the coming months, with our Spotlight features intended to give you a greater insight into the clubs and players that keep us on the edge of our seats.
We hope to bring you the views and thoughts of a representative from each of the 72 teams over the course of the season, with those involved asked to give their take on the division they compete in, the club that pays their wages and those we should all be keeping an eye on.
Accrington Stanley's Padraig Amond is next in the hot-seat, with the Irish striker taking time out to discuss his career to date and all things League Two with Chris Burton.
The season is up and running now, who do you see going well in League Two?
There are a couple of teams that are spending quite big money. Rotherham are spending quite a bit on some very good players. Then there are the teams that came down - Chesterfield are decent. Fleetwood, who came up, will be there by the end of the season. The thing about this league is that there are a lot of teams that are going to have a big say in what happens in the play-offs and who goes up automatically. Every game is a big game, which is brilliant because you don't get caught complacent. You look forward to every game because everyone can beat everyone in this division. That's the important thing for us, that we just look forward to the next game - against Exeter. They are a team that has just come down, so they have been playing in the division above, but that's what we need to do, keep trying and keep our form good. But you would expect some of the bigger spending teams to be up there come the end of the season.
It looks to be a very competitive division, with Southend - a team which did so well last year - yet to get off the mark. Would you agree?
Obviously we have contributed to that, one of their defeats. Last season they were a very good team and still are a very good team. They will be there or thereabouts come the end of the year, it's just about getting on a run. They have got some good players over there and play a good brand of football as well. It is a very competitive division, anyone can beat anyone, and that's what keeps you on your toes and keeps you looking forward to games. Every game is a must-win game for us, simple as that, and if we take that attitude into games we will probably do a lot better than people might think.
Which players do you expect to shine this season, both at Accrington and further afield?
Further afield? As I'm a striker I look at other strikers. There was a lad who scored a lot of goals in this division last year - Marc Richards, who scored a lot for Port Vale last year. Jack Midson did the same, Danny Kedwell as well. The aim for me is to try and score as many goals as them. They are players that when you play against you have to be really alert, especially as defenders because if you switch off for one second those players will punish you. At Accrington? You could pick any the squad, honestly. It's such a talented squad and it's a little bit scary that I'm the third oldest in the squad and I'm only 24. If you are looking at the youngsters, you could pick anybody in the squad. We have some very good players, Karl Sheppard has come in and is a very good player - come in on loan from Reading. James Gray, the other striker, has done well so far and has been impressive. We have a good squad and a think a lot of people will need to watch Accrington towards the end of the season because I think we might have a big say in what happens.
What do you consider to be the keys to success in League, it's not a long-ball division any more is it?
No, it's changed completely. It's a passing league now and that's brilliant. There are times in games when you are under the cosh and you just have to get rid of it as quick as you can, but when you have the ball you are in control. It's all come from Spain winning things with passing football and everyone is trying to replicate that with different formations and that. It's a very competitive division and it's changed quite a bit. I was quite surprised last year at the style of football. It was naïve of me coming in and you hear a lot of things about League Two. I hadn't seen much of it and it was a passing league, which surprised me a bit. Everyone wants to get out of the division. We just need to keep looking at the next game. We win as a team and we lose as a team. The manager always has our feet on the ground and keeps us prepared for the best and the worst. To be successful you just have to take each game as it comes. I know it's a cliché, but that's the way you have to look at it. If you get caught looking too far ahead, you are in trouble because someone will play you at the weekend and you'll get a spanking.
For Accrington, two wins from two and no goals conceded - you can't ask for much more than that can you?
We have had a really good start to the season. It's important that we keep our heads down and keep doing what we've done through pre-season. We know things can change very quickly. At Christmas last year we were pushing towards the play-off places and then we had a run of games where we didn't win enough. It's been nice to get a couple of clean sheets, a home win and an away win at the start of the season. We have had a good start but we aren't getting carried away with it.
What were the club's ambitions heading into the season?
We have our own ambitions amongst the squad and the management. The first thing the club always does is make sure that it stays up, that's the very first thing the club aims for. But as a squad and management, we have our own ambitions. We'll see at the end of the season whether we meet them or not. We have got a very good squad, a young squad, but it's ambitious and we could potentially have a very good year.
Last season ended on a disappointing note but Paul Cook has now had a full summer to put his own stamp on things, which should help?
The end of last year was more about the gaffer finding out about a lot of players that he had and trying to get his own stamp on things. John Coleman and Jimmy Bell had done an absolutely fantastic job for 12 years and everyone at the club couldn't thank them enough for what they've done, but now it's a new era. I have worked under the gaffer before in Ireland and I really enjoyed it. He has brought in a lot of young players who have a lot to prove to people. It's a very ambitious squad and it's a very talented squad. I think you are going to see the way the gaffer wants to play football and the will to win that he has. I think that's coming out in the players as well now.You played under Paul Cook at Sligo Rovers so you must have been delighted to see him come in last season?
I knew John before he went as well through the gaffer. When I was with Sligo, John came over to do his coaching badges over there, so I met him over there. But probably the best thing for me when the management changed was when the gaffer came in. It was brilliant for me, I played my best football under him and he knows exactly what I bring to the team, the dressing room and the squad. I was able to tell some of the lads about him, because some of them have only worked under one manager in their career at Accrington. I could say what his qualities were, so it was brilliant for me when he came in. We have started really well this year and I think there are a couple more singings coming in, he told us the other day. Fingers crossed they are going to be really good players that add to the squad.
It was a productive first season for you at Accrington and you are already up and running this year, but I take it you will be looking to really kick on in 2012/13?
I honestly don't think they saw the best of me last year. I missed a lot of the season because of injuries and suspensions and things like that. I was also played out of position for a lot of the season as a winger, but the gaffer has come in and seen me playing up front and that's where I want to play. It was great to get off the mark the other night, but it's good that all of the strikers have got off the mark nice and early. There's good competition between the three of us and that adds to the squad, it helps to keep us on our toes. We have a really good squad this year, whereas before Accrington has always had a good starting XI but a couple of injuries has put them down to the bare bones. At the minute we have a really good squad and there is a lot to look forward to.
You have gone from turning out for Pacos de Ferreira, a team which recently competed in the Europa League, to Accrington in League Two - it's a different career path isn't it?
I wasn't playing really, so it's a step up in some ways. I loved my time in Portugal, don't get me wrong, it was a fantastic opportunity and one I couldn't turn down and one I'm delighted I took. I got the opportunity to play in some big stadiums, in front of 50-60,000 people, in a cup final, and against some really good players that have come over to the Premier League. This is a fresh start for me again. I want to do as well as I can for the club and as well as I can for myself and who knows where that will lead in the future.
Not many British and Irish players head abroad, but do you feel your time in Portugal will help to make you a better player?
I think so. I think a lot more should. Maybe the opportunity hasn't been there for them. Before me I think there was only four or five other players that have played in Portugal from Ireland. There isn't many that go abroad, but the style of football would suit a few of them. There are a few that the Portuguese and Spanish game would suit. It's something that I would recommend to players to have a look at. You never know, it could end up being a great career choice for you. As a lifestyle it's very good over there - the food is very good, the weather as well. For me, I'm not a big fan of the weather and I'd rather have the rain in Accrington than the sun in Portugal!