Down Dale
Jason Kennedy discusses his Rochdale rollercoaster ride and life in League Two with Chris Burton.
Last Updated: 27/05/13 11:47am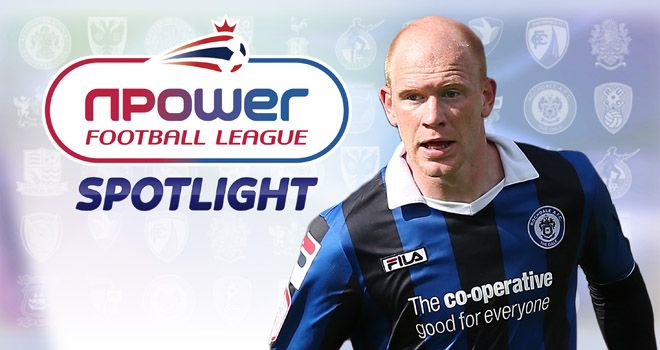 The 2012/13 campaign is now well under way, with divisions beginning to take shape.
Here at Sky Sports we will look to take you to the very heart of the Football League over the coming months, with our Spotlight features intended to give you a greater insight into the clubs and players that keep us on the edge of our seats.
We hope to bring you the views and thoughts of a representative from each of the 72 teams over the course of the season, with those involved asked to give their take on the division they compete in, the club that pays their wages and those we should all be keeping an eye on.
Rochdale's Jason Kennedy is next in the hot-seat, with the midfielder taking time out to discuss his rollercoaster ride at Spotland and all things League Two with Chris Burton.
You are hoping Rochdale will be there or thereabouts this season, but who else do you see going well in League Two?
We have played a few good teams so far. You would expect the likes of Bradford and Gillingham to be up there, they are teams we have come across so far that have been impressive. Port Vale have done well after everything they've been through to be up there towards the top.
Who has impressed you so far player-wise?
Player-wise, at Rochdale, Andrew Tutte is a great player. He's a young lad and he's got bags of ability. I think he can do well and push on to go and play at a higher level.
How would you sum up how things have gone so far? Are you pleased with the start Rochdale have made?
I don't think we have been performing to the best of our ability as a squad, but we are up and around the play-offs so we have got to look to push on and hopefully climb up the table even further.
You did get off to a slow-ish start, was that purely a case of things taking a while to settle down after what happened last season?
Yeah, I think that was the case. The whole squad is completely different from the previous season. There are a lot of new faces, so obviously it's going to take a bit of time to gel as a squad.
There have been a lot of new players come in and it is the first full season in charge for John Coleman, so it's going to take a while for him to get things working his way as well isn't it?
The manager's come in and brought in the players that he wants. He has got a style of play that he wants us to play in this league and it takes time for him to get everyone on the same wavelength about how he wants us to go into games - formations and things that he wants from us.
Are there any areas you feel still need to be worked on?
Basically, we play some good football, we just need to be more ruthless in both penalty areas. When we get our chances, we have got to finish more and we have got to put our bodies on the line to stop us from conceding.
Do you feel that the experience of two years spent in League One has benefitted the club as a whole?
Yeah, I do. As a club we would have enjoyed being in League One a bit longer but, for me personally, I think the experience was good. We now need to do well this season, we have got to look to bounce back. It's a lot of different players so it's hard to say what will happen, but I have got to draw from my experience of playing in a higher league and look to bounce back and get the lads back into League One.
Like you say, with there so many new faces you can't say, 'you know what it takes to win promotion out of League Two because you did it not all that long ago'?
It's a completely different squad and everyone has come from different backgrounds, so it is difficult. But I think we are all striving for the same thing, so as a squad we have got to look to push on.
You are obviously hoping this season will go well. Every season you have been with the club you have either been battling towards the top or scrapping at the bottom haven't you?
The first season we got promoted, then we had a good season in League One, then the following season was a dogfight and we didn't get out of that. It's all experience, but it has been a bit of a rollercoaster since I've been here.
You have experience of life in League Two, what does it take to be successful in that division?
I think you just need to stick in there. Every game is a tough game, there is no easy game in this league. You just have to perform to the best of your ability on Saturdays and pick up results even if you have to scrap out there. Sometimes it's not about the football, you have to roll up your sleeves on occasions to get the results.
You do need to be able to scrap, but there is a lot more football played in League Two now isn't there?
It's definitely improving. We have come up against quite a few teams this season that have surprised me because they are looking to get the ball down and play good football. Obviously it's changing. The standard of football has gone up from previous seasons that I've played in that league.
Finally, it's still early days but are you confident that Rochdale will be inside the top seven come the end of the season?
Yeah, I would like to hope so. There is a lot of ability in the squad and we have got a lot more to show and prove. I think if we stick at working hard we should be around the top seven.