Rockin' Robins
Scott Brown discusses Cheltenham's response to play-off heartache and League Two promotion hopefuls.
Last Updated: 27/05/13 11:47am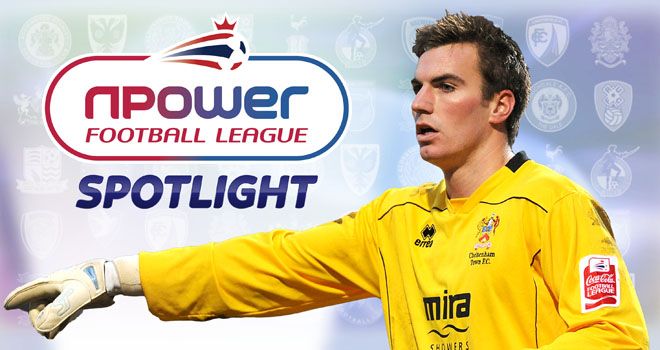 The 2012/13 campaign is now well under way, with divisions beginning to take shape.
Here at Sky Sports we will look to take you to the very heart of the Football League over the coming months, with our Spotlight features intended to give you a greater insight into the clubs and players that keep us on the edge of our seats.
We hope to bring you the views and thoughts of a representative from each of the 72 teams over the course of the season, with those involved asked to give their take on the division they compete in, the club that pays their wages and those we should all be keeping an eye on.
Cheltenham's Scott Brown is next in the hot-seat, with the long-serving goalkeeper taking time out to discuss the Robins' response to play-off heartache and all things League Two with Chris Burton.
You are hoping that Cheltenham will be there or thereabouts this season, but who else do you expect to go well?
We have played Fleetwood and Bradford who will probably be up there. I think Bradford have got the best team they've had for a long time. They are quite direct and have got Hanson and Wells up front who caused us all sorts of problems. It's still early days, though. You look at Rotherham who were down in the bottom half, but a win has put them back up there. It's a tough league and on their day anyone could be up there at the end of the season. At the moment you have to look at Gillingham and try to catch them because they have started like a house on fire.
Who has caught your eye so far player-wise? You mentioned Nahki Wells already and he's someone who is attracting plenty of interest.
Him and Hanson work really well together. Hanson wins about 98 per cent of his headers, which he is going to do, and Wells buzzes around him. He was a real handful on Saturday and I thought those two were a very lively front two. The left winger for Fleetwood (Junior Brown), I was very impressed by him as well. There are a lot of good players at this level and a lot are going on to a higher level because people are realising that.
And for Cheltenham, who has impressed there?
Marlon Pack has been brilliant for us but of everyone that has come in, Darren Carter has been a breath of fresh air. He's played in the Premiership but he is the most down to earth professional you'll ever meet. He comes in and gets on with his work, he's always in the gym and is a great professional. He's one all of the lads look up to.
You have played plenty of games in League Two now, what does it take to be successful at that level?
You need to keep as many clean sheets as possible. You need to defend set-plays well as 60-65 per cent of the goals at this level come from set-plays. It's all about cutting out individual errors and things like that. But set-plays are massive at this level and you need to keep them out at one end and do your best to convert them at the other end.
Last season ended on such a low for Cheltenham, but that doesn't appear to have affected anyone does it?
Last season we were all gutted after the Wembley game and I can't describe how disappointed we were to get so far and have it taken away in the last game. But we have come back this season and not really spoken about it, we have just got on with our jobs and carried on from last season. We now want to take it one step further.
Is it important to reflect on the positives rather than wallow in self-pity after suffering a play-off final defeat?
Yeah, definitely. I'm sure that when we were lying on our sunbeds in the summer we were all still a bit disappointed, but when we look back in the season as a whole it was really positive and shows how far we have come in a short space of time. We want to kick on and push for the top three this season. If we fall just short, we have got the experience of the play-offs, but we know we are good enough to compete at this level in this league. We have got some quality players in the squad who are more than capable of playing at a higher level.
What has changed over the past couple of years, because the club have come a long way since battling relegation?
It's difficult to put a finger on it, really. I think we have got better quality players. I had a friend who came to the game the other night from Plymouth who said 'Your squad's very small isn't it?' It might be small, but we have got 20 players who could all come in and do a job in the first XI and you wouldn't notice the difference. I think that's a big thing for us.
I take it you are all delighted with the start you have made this season?
We have had a great start to the season but it's only a start. We need to kick on and that starts again on Saturday with a tough game against Exeter, who have just come down and we know we are going to be in for a tough game. We are pleased with how things are going, but you can always do better. It can always be better.
Would a few more goals be one area you could improve, with five wins from seven coming by the odd goal?
I think one of the big encouragements we've had this season from last season is that we've scored a lot more goals from set-plays. We are a big, strong side and have got Billy Jones who is going to put balls in with great quality. We have scored a lot more goals from set-pieces, corners and free-kicks, but maybe we could get a few more from open play. But that's not just on the strikers and midfielders, it's a team effort and we all need to create chances. It's a team game and we all need to help each other out.
You've been with Cheltenham for a long time now, are you still enjoying it?
I'm enjoying playing my football and have had a good start to the season, but I'm just taking things one game at a time and then moving on to the next one.
You made your 200th appearance on Tuesday night, that's a nice landmark to have reached. You must be pleased?
I keep saying to everyone that I only class it as my 199th because one of them was a sub appearance and you can't really count sub appearances when you come on for one minute. We had a player last year who came on in about 40 of the 50 games we had last season and half of them were for only five minutes. I don't think you can really count sub appearances in your overall career stats. That's why Ashley Cole's England stats are unbelievable, the vast majority of his 99 caps have all been starts and that's a fantastic achievement.
It's a mark of consistency isn't it that you have been able to take in so many games?
When you are a little kid growing up you dream of playing one professional game, let along 200, so it's something I'm very proud of. I'm sure that when my career finishes I will look back on it very fondly, but at the moment I am just thinking about Saturday's game and getting three points and hopefully a clean sheet.