Ambitious Kedwell
Gillingham striker Danny Kedwell chats with Graeme Bailey about his late charge into the professional game.
Last Updated: 27/05/13 11:48am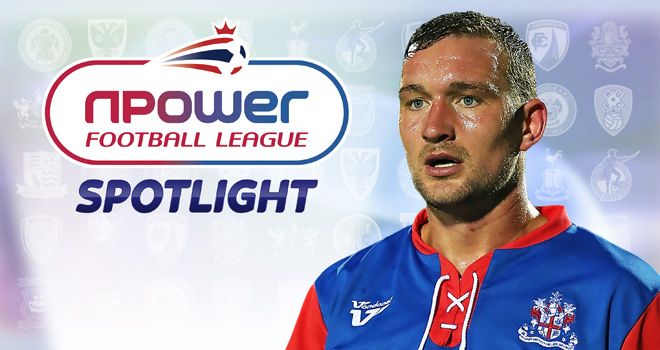 The 2012/13 campaign is now well under way, with divisions beginning to take shape.
Here at Sky Sports we will look to take you to the very heart of the Football League over the coming months, with our Spotlight features intended to give you a greater insight into the clubs and players that keep us on the edge of our seats.
We hope to bring you the views and thoughts of a representative from each of the 72 teams over the course of the season, with those involved asked to give their take on the division they compete in, the club that pays their wages and those we should all be keeping an eye on.
Gillingham's Danny Kedwell is next in the hot-seat, with the Gills striker taking time out to discuss his unusual career path to date and his hopes for the future with Graeme Bailey.
You have had a real unusual path into the professional game, how did that come about?
Well I started playing as a youngster, but never got spotted or picked up and went into non-league. I think it was a bit harder back then to get spotted. Then I just progressed did well, especially at Herne Bay. That saw me move to Welling United and from there it was to Grays where I became full time.
So for most of your career as a footballer, you have not been full-time?
Not at all, I used to work on the roads and that was really hard, having to do a full day's work, then train afterwards - but you do what you have to do.
Now you're at Gillingham, is that something of a dream as they are your hometown club?
Definitely, I remember watching them from the terrace when I was young and it was always an ambition I had - I always wanted to play for the club so to get that chance was too good for me to turn down, but it was hard leaving Wimbledon.
Gillingham became your first league club, but it looked like that would be AFC Wimbledon?
Yes I joined Wimbledon from Grays and I had a great time with them, obviously I helped them to promotion and then Gillingham came in, it was a tough decision but as I said one I could not turn down.
How different is life in the league to non-league?
It is very different, but I think with the players it is more in terms of fitness - you would notice in the Conference those sides who were part-time, especially late on in games.
Gillingham and you personally have had a great start to the season, is promotion the only aim this season?
Yes, it has to be. We have been very good so far and I am pleased with how I have been playing. The gaffer has come in and he has been top-class with us, now we have to make sure we keep going and carry this on through the rest of the season. But I know this is now a League Two club, I remember watching us in the Championship and I feel that is where we should be, and hopefully I can help us back there.
Your form since moving to Gillingham has obviously seen you linked with moves to bigger clubs, would you like to play at the highest level?
Obviously I would, I am 29 now and I realise I don't have as much time as some left in the game. I would like to play in the Championship, even the Premier League, and I think I am capable of doing that - but my main focus is on Gillingham and getting promoted and moving up the levels with them.
You say you feel you could play higher, is it the likes of Grant Holt and Rickie Lambert - moving from lower league and now playing at the highest level - that give you the confidence?
Very much so, I look at those two guys particularly and feel I could offer something similar. A lot of people have said to me I have a similar game, and I think that is true - but I just have to keep proving myself with Gillingham and hope I can keep improving.