Vicente del Bosque admits Spain deserved to lose friendly to South Africa
Vicente del Bosque had no excuses following Spain's shock defeat to South Africa, admitting they deserved to lose.
Last Updated: 20/11/13 11:28am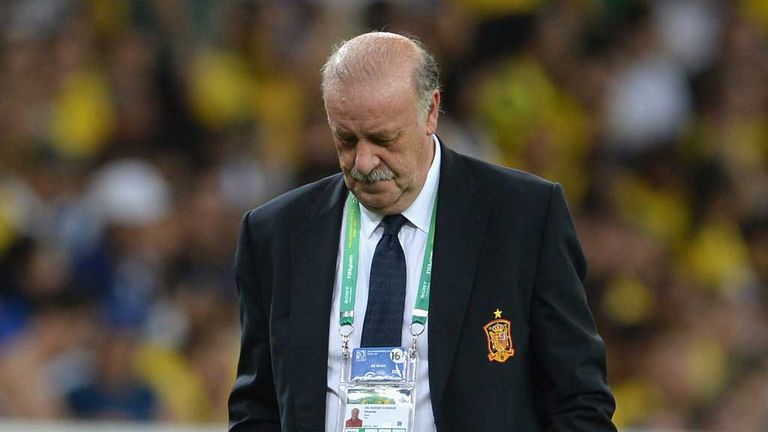 The reigning world and European champions had hoped for a happy return to Johannesburg's Soccer City stadium, where they won the World Cup title three years ago, but came unstuck as a second-half goal by Bernard Parker earned South Africa a 1-0 win.
It was only the seventh time in 83 matches Spain have tasted defeat under Del Bosque and the coach, who on Friday announced he had signed a contract extension to remain in charge until 2016, conceded South Africa were good value for their win.
Asked if it was one of the worst Spain displays in recent times, Del Bosque told Spanish television broadcaster Cuatro: "It could be.
"I think we can even say that we deserved the defeat. We started the game very well but little by little they started opening us up and we gave them time to play on the counter.
"We came out with good intentions, I can't complain about the attitude of my players. South Africa got better."
There was some controversy late on when Spain goalkeeper Victor Valdes, who replaced Iker Casillas at half-time, suffered a calf injury and had to come off.
Del Bosque had made all six of his permitted substitutions, but Jose Reina was allowed to come on and replace the Barcelona goalkeeper, despite protests from the South Africa dugout.
Del Bosque said of that: "We asked to make the goalkeeping change. We had made the six changes but it was a matter of 'fair play'. If not we wouldn't have put a player on the pitch.
"I'm always very cautious about making the final change and this time we did it ahead of time because we wanted to give a break to (Andres) Iniesta.
"I'm not getting into this discussion, we asked to make the change and we were allowed to."
He added: "If we talk of 'fair play', it's common sense to use a goalkeeper who hasn't played. It's 'fair play' and common sense, nothing more."
Meanwhile, South Africa President Jacob Zuma sent his congratulations to the team after Bafana Bafana recorded their first ever victory over Spain.
"Thank you very much for a fine win, you have made us proud as a nation. In my view you had more shots at goal and you could have scored more goals. You really deserve this victory. I am here to congratulate you because you have made the country proud," he said on South African Football Association website, www.safa.net.
"Thank you very much for this performance, well done. It was absolutely wonderful watching you, the country is very happy."