Ghana - Frimpong is ours
Arsenal midfielder Emmanuel Frimpong looks set to play international football for Ghana and not England.
Last Updated: 06/09/11 6:28pm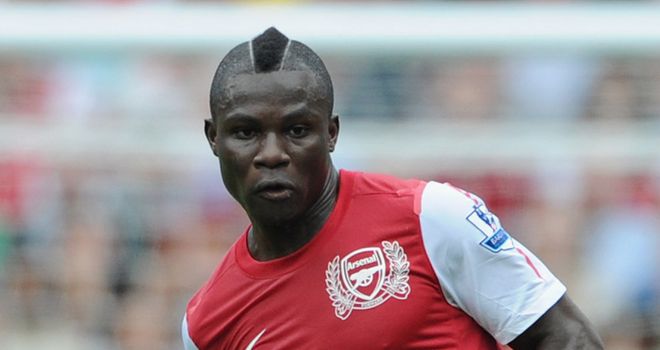 Arsenal midfielder Emmanuel Frimpong looks set to play international football for Ghana and not England.
The 19-year-old was born in the Ghana capital of Accra but moved to north London at the age of eight and has gone on to represent England at Under-16 and Under-17 level since joining the Gunners.
The midfielder was at Craven Cottage on Monday night to watch Ghana play Brazil, fuelling talk he was ready to commit to the Black Stars.
And Ghana Football Association president Kwesi Nyantakyi then met with Frimpong in a central London hotel after the 1-0 defeat.
Nyantakyi claims the Gunners player confirmed his intention to represent Ghana at the meeting.
"He will play for Ghana," Nyantakyi said. "We had a meeting and he told me he wants to play for Ghana.
Necessary paperwork
"We will send off all the necessary paperwork to Fifa now and we hope to have everything concluded within two or three months.
"I am very happy for this because he is a good player."
Ghana boss Goran Stevanovic revealed on Monday night that he had spoken with the player about his international future last week.
"I am very interested in him," Stevanovic said. "He is a good player. He plays for Arsenal. They are a good club.
"Everything is possible. I wanted to speak to him to give him my vision of the future of the game."
Improve
John Pantsil, who captained Ghana at Craven Cottage, thinks Frimpong will improve as a player if he plays for the Black Stars.
"If he decides to play for Ghana he will have a chance to come and improve. He is from Ghana. We have lots of young players coming up. Frimpong is one of those and he would be good for the team," Pantsil said.
"I haven't spoken to him about it. That will be up to the (Ghana) football association."
Frimpong starred for Arsenal in pre-season last year but had his campaign cut short by a serious knee injury.
The combative midfielder has made four appearances this term though and Arsenal manager Arsene Wenger rates him so highly that he has recommended that England secure his services quickly.
He was called up to Stuart Pearce's England Under-21 squad for their matches against Israel and Azerbaijan but withdrew from the party last week with a foot injury.