Burkina Faso coach Paul Put has blasted referee Slim Jdidi
Tunisian referee Slim Jdidi has been suspended over his handling of Wednesday's African Nations Cup semi-final.
Last Updated: 07/02/13 5:34pm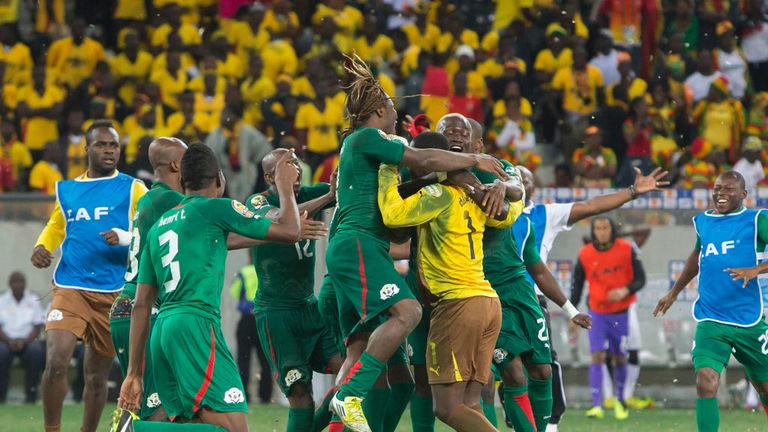 The Confederation of African Football (CAF) general secretary Hicham El Amrani revealed Jdidi has been sanctioned for a "period yet to be determined" in the wake of strong criticism.
Burkino Faso progressed to Sunday's final with a 3-2 penalty shoot-out win over Ghana - but afterwards victorious coach Paul Put described Jdidi's display as "scandalous".
The west Africans have launched an appeal against the sending-off of star midfielder Jonathan Pitroipa for diving late in extra-time, when it appeared he had been tripped.
That was one of a number of incidents to have courted criticism, with a legitimate Prejuce Nakoulma goal in extra time ruled out while Ghana were also given a debatable penalty.
CAF will hear Pitroipa's appeal on Friday when Jdidi's performance could also be further discussed.
"The CAF is not happy with the refereeing of the match," El Amrani told a media briefing.
"We know that they (the referees) can make mistakes but he would hope for a better level of officiating.
"The referees are graded in each performance and based on this grading the Tunisian referee is suspended for a period yet to be determined. There is a meeting on Friday."
El Amrani also suggested that Pitroipa's appeal was likely to fail unless Jdidi had owned up to his mistake in a written report immediately after the match.
The Rennes midfielder would therefore miss Burkina Faso's first ever African Nations Cup final against favourites Nigeria in Johannesburg on Saturday.
"The organising committee has no power to change an arbitral award," he said.
"If the referee has admitted a mistake in his report, the committee will consider and make a decision if necessary.
"But this report (the one made by the referee after the game) is final."
Following the game, Burkina Faso boss Put told the BBC: "The refereeing decisions were scandalous.
"We've lost Jonathan Pitroipa now for the final. He's very important to us, but we are 23 players and it's up to the technical staff to devise tactics to beat Nigeria without him and (the injured) Alain Traore."
Burkina Faso captain Charles Kabore also questioned the refereeing display.
"The referee is human, all humans make mistakes, but he happened to make too many tonight," he told the BBC.
"But we're not going to dwell on that. We've qualified."