Senegal disqualified from Africa Cup of Nations following crowd trouble
Senegal have been disqualified from the 2013 Africa Cup of Nations following crowd trouble against Ivory Coast.
Last Updated: 16/10/12 3:39pm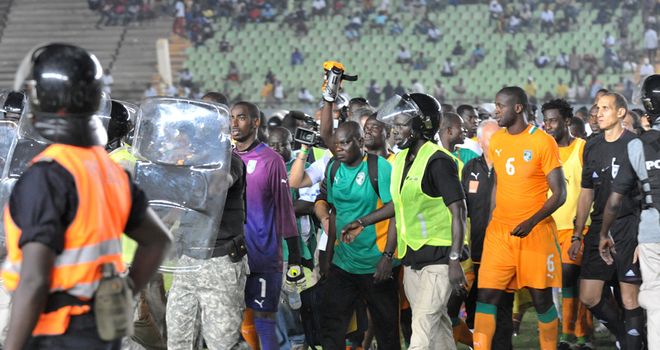 Ivory Coast had just gone 2-0 up in Dakar with Didier Drogba dispatching a penalty when the trouble started.
Home fans started fires in the stands and threw missiles including stones, firecrackers and bottles on to the pitch.
Ivory Coast fans escaped the stands and ran into the centre circle with their team's players whilst security guards used tear gas on the troublemakers.
The Confederation of African Football (CAF) announced that the Ivory Coast have been awarded the match 2-0 and will qualify for the finals next year courtesy of a 6-2 aggregate win.
The disqualification ensures Newcastle strike duo Demba Ba and Papiss Cisse will not be at the tournament which starts early next year.
CAF said in a statement: "We decided to officially confirm the result of the match as 2-0 in favour of Ivory Coast and to consider Senegal the loser of the said match and eliminated from the competition without prejudice to any other sanctions that may be imposed by CAF disciplinary board."
CAF rules state: "If the referee is forced to stop the match before the end of the regular time because of invasion of the field or aggression against the visiting team, the host team shall be considered loser and shall be eliminated from the competition, without prejudice to the sanctions existing in the regulations."