Brazil book final berth
Brazil's dream of a first Olympic title remains on track after a 3-0 victory over South Korea at Old Trafford.
Last Updated: 07/08/12 10:20pm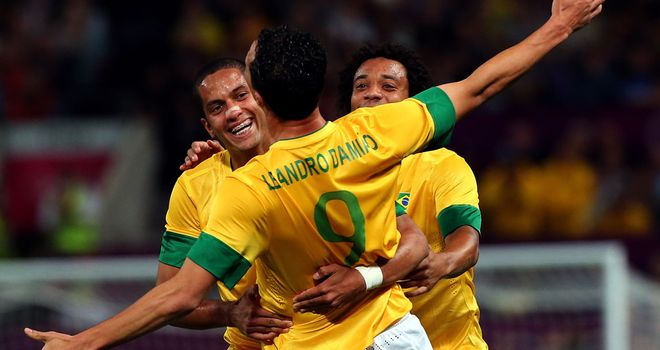 Brazil's dream of a first Olympic title remains on track after a 3-0 victory over South Korea at Old Trafford as a first-half Romulo effort and Leandro Damiao's brace set up a final showdown with Mexico.
South Korea produced a gutsy performance and were unlucky not to be given at least one penalty, but Team GB's conquerors lack the creativity Brazil are capable of around the penalty area and once the South Americans got into their stride, there was no holding them back.
It keeps the favourites on track for another major international honour with a squad it is envisaged will become the bedrock of their 2014 World Cup campaign on home soil.
And having extended a remarkable record of scoring three times in all five matches so far, with Damiao top of the charts with six, it is hard to see them being stopped at Wembley on Saturday.
With Manchester City boss Roberto Mancini and FIFA president Sepp Blatter amongst the interested spectators, Brazil took quite a while to get going, by which time they could easily have been a goal, and a man down.
Alex Sandro turned away Kim Hyunsung's far-post header, Thiago Silva booted Ji Dongwon's effort to safety and the Korean striker also whistled a long-range shot narrowly over.
It was the middle of those three chances that should have triggered a dismissal in addition to a penalty as Juan Jesus kicked Ji in the head with a woefully high tackle. Inexplicably, Czech referee Pavel Kralovec decided there had been no infringement.
Irresistible
Within minutes, a very noisy five-piece Brazilian band made their entrance to liven the whole occasion up and from that moment, the favourites were irresistible.
South Korea goalkeeper Lee Bumyoung twice failed to hold fierce strikes from Leandro Damiao before star duo Neymar and Oscar combined to set up Romulo, who drilled a low shot through a weak attempt to save.
Snapped up for £6million by Spartak Moscow last month, the 21-year-old was one of the few Brazilians on display who could not be of interest to Mancini.
The same is true of Oscar, whose performances in this tournament must have Chelsea fans licking their lips.
Damiao is available though, with Tottenham among the teams being linked with the 23-year-old.
He took his opportunity cleanly enough too after Marcelo had failed to turn home Neymar's cut-back.
Damiao had another soon afterwards, his fourth in two games, with Neymar again the architect, the ball breaking to the striker after Oscar's initial effort had been deflected.