Nicklas Bendtner suspended by Denmark after drink-driving arrest
Denmark have suspended Nicklas Bendtner from international football for six months after his drink-driving arrest.
By Nadia Carminati
Last Updated: 04/03/13 9:51pm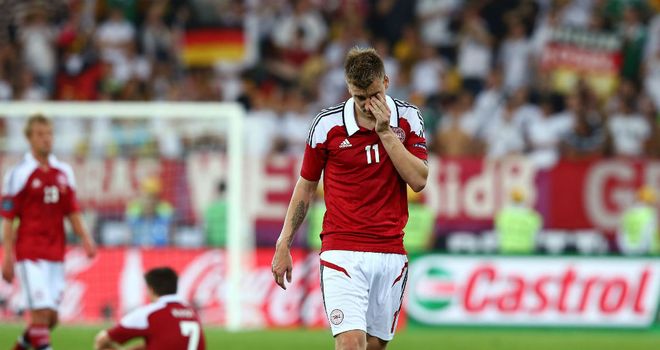 The 25-year-old, who is currently on loan at Juventus from Arsenal, was taken to a police station after being caught driving the wrong way down a street in downtown Copenhagen in the early hours of Sunday morning.
The Danish FA (DBU) have issued the penalty as a result, and in a statement they said: "The DBU have demanded that Nicklas Bendtner take six months off to think over his international future.
"The DBU respect the rights of all players to have a private life, but we also have certain rules that need to be met by international players in their public behaviour."
Bendtner is no stranger to controversy, he was fined heavily by UEFA after revealing a bookmakers name on his underpants after scoring a goal at Euro 2012.
He is currently sidelined with a thigh injury and has not played since December 17.
"Dear friends I was booked for a mild case of drink driving last night - it was a quiet night but I am very very sorry to all my friends and fans," Bendtner tweeted after the arrest.
"It is not ok to drink and drive. I take full responsibility," added Bendtner, who said he was "doing my absolute best to come back as soon as possible."
As a result of the suspension he will miss several crucial 2014 World Cup qualifiers including one later this month away to Czech Republic.
Denmark have made a disappointing start to their 2014 World Cup qualifying campaign, garnering just two points from their three matches in a group topped by Euro 2012 finalists Italy, who have 10 points.