Branislav Ivanovic believes Serbia can be happy with a point against Scotland
Serbia captain Branislav Ivanovic believes his side can be pleased with a point after a 'difficult' trip to Scotland.
Last Updated: 08/09/12 8:59pm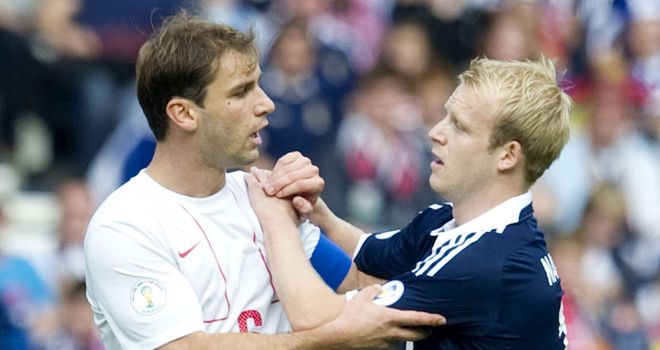 A lack of quality in front of goal meant both nations had to settle for a point in Saturday afternoon's 0-0 stalemate at Hampden Park.
The draw means both Serbia and Scotland are now in vital need of wins on Tuesday when they play Wales and Macedonia in their respective second Group A games.
But Ivanovic does not think the draw against Craig Levein's team is a negative, as he told Sky Sports: "It was a difficult game for us. Both teams had a good chance to win the game.
"Both teams wished and tried to win the game, that is why we saw an interesting game and a very difficult game with a lot of movement and a lot of runs.
"At the end of the day, we can be happy with a draw, because it is a hard away game."
Mistakes
The game was largely forgettable but there was a suggestion Scotland's Steven Naismith may have elbowed Srdan Mijailovic in an off-the-ball incident.
However, Serbia boss Sinisa Mihajlovic refused to be drawn too much on the incident, as he said: "This is football, not ballet."
Mihajlovic had been hopeful of leaving Glasgow with a win but, like Ivanovic, was satisfied with a point.
He said: "I would say that 0-0 is more or less an honest result. I expected honestly that we would win against Scotland but we made a few mistakes.
"Scotland had some chances in the first half and also two or three in the second half.
"I must be satisfied with the point at the start of this qualification round, although we have some things to change to be better in forthcoming matches.
"If you cannot win, it's important not to lose."