Savo Milosevic wants Serbia to take action in the wake of another racism row
Savo Milosevic has called on Serbia to follow England's lead in their efforts to rid football of racism.
Last Updated: 17/10/12 8:58pm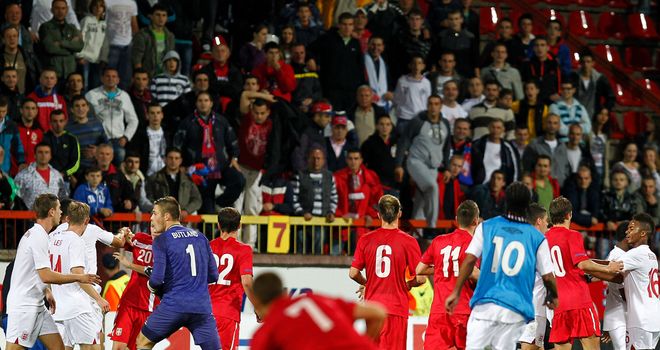 Former Aston Villa striker Milosevic is now technical director of the Serbian FA.
He was saddened by the events which greeted the full-time whistle in an U21 European Championship play-off on Tuesday.
England's 2-0 aggregate success was overshadowed by racist taunts from Serbia supporters and clashes between players and coaches from both sides.
The Football Association has confirmed that it is to report the matter to UEFA, calling for action to be taken, and Milosevic agrees that it is time for Serbia to stamp out such behaviour.
"To solve the problem of racism in football, I would do what England did with hooligans years ago," he told CNN.
"Unfortunately we have had a problem with supporters in our country for a very long time, not just the Serbian national team but the clubs as well. It's similar to the problems you had in England 20 years ago.
"It's not everything to do with our power. It's very much due to the government of Serbia and our police. We have no power to control our supporters, or individuals that are doing such things.
"I think we need more presence from UEFA officials here. One thing is punishment, it's acceptable to me that if you do something wrong you need to get punished. I'm OK with that, but before that we need support and help because we did everything in our power last night. Lots of people in this country are fighting really hard to improve the image that we have as a people and as a nation in Europe.
"We're giving everything in our power to make things better and because of a few individuals we are losing the battle. We need, I think, a little bit more support to fight those battles. It's difficult to control everything, especially in this country. I would be grateful for that kind of help from UEFA.
"Any help we can receive is more than welcome. I can only assure that those people that come to help us and show us how to do things will be recognised and received. We are ready to learn. We have a problem, that's a fact, but with small groups of people and we need to win that battle against the individuals.
"We will have to accept any punishment coming from UEFA. I cannot now predict what UEFA will do, I just know football right now in Serbia is at a very low level and I'm afraid if that punishment goes with the timeframe of three, four or five years we will disappear from the football map of Europe."