The Football Association considers appeal over Steven Caulker and Thomas Ince bans
The Football Association looks set to appeal bans given to England U21 duo Steven Caulker and Thomas Ince.
Last Updated: 14/12/12 10:37am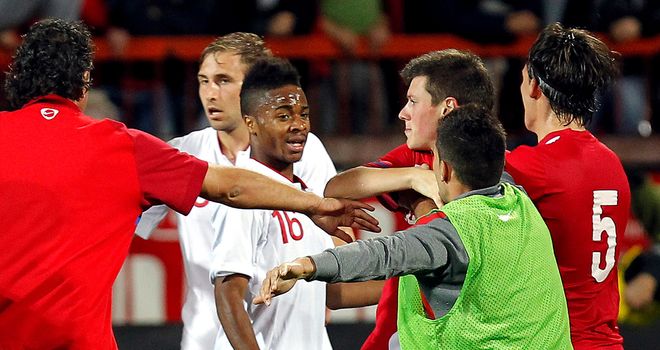 UEFA's disciplinary panel hit Blackpool midfielder Ince with a one-match suspension and Tottenham's Caulker a two-game ban for the post-match incidents that followed Stuart Pearce's side's victory in Serbia in October.
"This was an opportunity to send out a really strong message to a country where we have seen these scenes before," FA's general secretary Alex Horne told Sky Sports.
"These were horrible scenes. We are disappointed. Our players behaved exceptionally well under extreme provocation and we will be looking at the evidence.
"I support the players and I expect to be appealing the suspensions."
The FA has three days after receiving the reasons for the decision from Europe's football governing body to appeal.
"It is the FA's vehement belief that its players and staff acted correctly in the face of provocation, including racist abuse and missiles being thrown," Horne added.
"We are therefore surprised to see that two of our players have been given suspensions."
England's Danny Rose was cautioned and then shown a red card for his reactions to the crowd at the final whistle which sparked a mass brawl involving players and officials from both sides.
Pearce added: "I am concerned to see our players suspended by UEFA and we will continue to support them.
"I maintain that our players played no part in the aggression. From what I witnessed our players and staff were forced to protect themselves in the violent scenes that followed the game."
Manchester United's Rio Ferdinand tweeted: "Uefa are not serious at all on racism. Fines do not work at all. They have zero impact on federations/clubs/fans/players."
Another tweet by the centre-half read: "Uefa need to talk to this generation.....they don't seem to be up to date on this issue?? Harsh punishments needed as a deterrent #simple."
Sports minister Hugh Robertson, who had written to UEFA president Michel Platini demanding tough action for the racist abuse, expressed his frustration.
"I am disappointed in the punishment that has been awarded to the Serbian FA given the widespread racist abuse that England's Under-21 team suffered that night," Robertson said.
"Racism is completely unacceptable and we need tough sanctions to help combat it."