Sepp Blatter questions leniency of UEFA sanctions imposed on the Serbian FA
FIFA president Sepp Blatter says he plans to talk to Michel Platini about the punishments handed out to the Serbian FA.
Last Updated: 15/12/12 12:20pm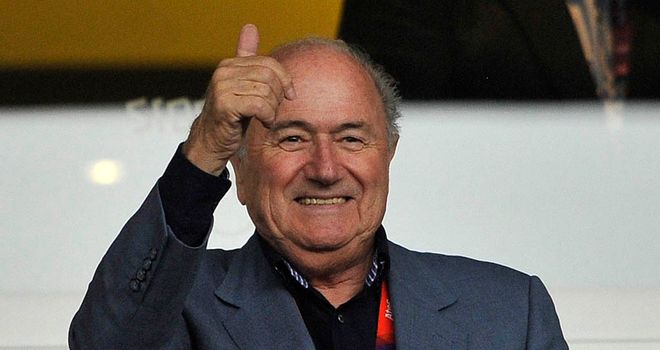 Concerns have already been raised that the sanctions meted out in response to the racist and violent abuse towards England U21 players during a match between the two sides were too lenient.
An independent UEFA disciplinary panel has ordered that Serbia's U21 side must play one match in front of no spectators while the Serbian FA was fined £65,000 following the incidents in Krusevac.
Platini has already hinted that he will appeal against the ruling while Blatter, speaking at a press conference in Japan, also voiced his concerns about the message the punishments send.
Blatter said: "I just learned yesterday what the (Serbia) decision was and I'm sure we will also take it up with UEFA at the level of governance, that there should be in all football, with every confederation and all national associations strong, harsh punishment when it comes to racism and discrimination.
"I will take up a discussion with the president of UEFA but I don't know if he has an influence on his disciplinary committee."
There have been comparisons drawn with the case of Nicklas Bendtner, whose fine for wearing a sponsor's logo at the European Championship was greater than the one imposed on the Serbian FA.
"I cannot intervene in the disciplinary committee of UEFA. Read between the lines and you have the answer," Blatter said when asked about that matter.
"I don't know the details of the file which has been dealt with by UEFA's disciplinary committee, only on FIFA's stance against racism and discrimination which is zero tolerance," he said.
"We will ask for details of the file but I repeat we have it in our organisation that there must be very, very strong punishment."