Inter admit Leonardo talk
Inter Milan admit Leonardo could leave and Marcelo Bielsa has been contacted as a possible replacement.
By Nadia Carminati
Last Updated: 15/06/11 3:05pm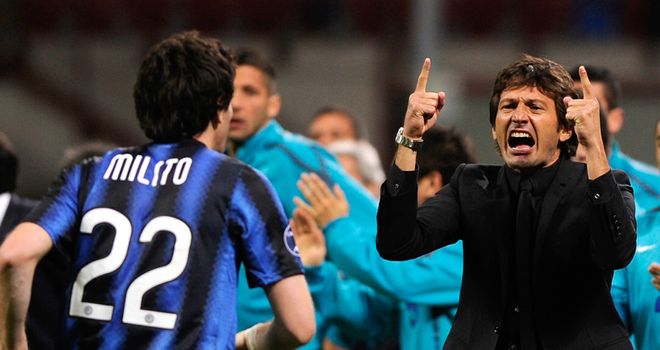 Inter Milan have confirmed coach Leonardo could leave this summer and Marcelo Bielsa has been contacted as a possible replacement.
Leonardo replaced Rafa Benitez at the Inter helm in December and led the side to a runners-up finish in Serie A and the Coppa Italia title.
But the former AC Milan boss has been linked with the sporting director role at Paris Saint Germain, with Gazzetta dello Sport on Wednesday claiming the Brazilian held talks in Doha with executives from Qatar Sports Investments, which owns a 70 per cent share of the French club.
Inter president Massimo Moratti initially denied the rumours but has now made a U-turn and confirmed Leonardo could be on his way out.
Moratti told the club's official website: "Leonardo has coached with so much willingness and passion. But it's certainly not his ambition for the future.
"It is the best thing that he follows his aim and that we look for a new coach.
"It could be that Leonardo changes his mind and so will we."
Moratti on Tuesday denied reports that Inter had approached Chile coach Bielsa as a possible candidate to succeed Leonardo but has now confirmed the club has been in touch with the former Argentina boss.
He added: "I believe there has been a first contact with Bielsa, but not from me."