World Cup: Premier League players react to draw
Players have been giving their reaction to Friday's draw for the World Cup in Brazil next summer.
Last Updated: 06/12/13 10:41pm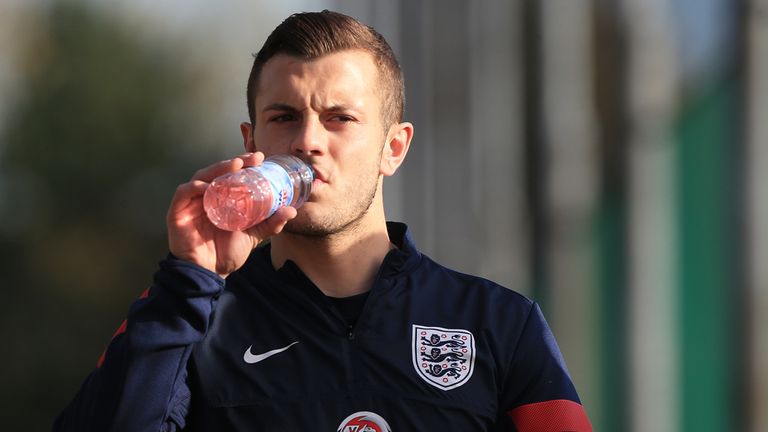 England will play Italy, Uruguay and Costa Rica in a tough-looking Group D while Chile and Australia are in Group B alongside Spain and Netherlands.
Germany face Portugal in Group G, which also contains Ghana and USA, while Argentina are in Group F with finals debutants Bosnia-Herzegovina, Iran and Nigeria.
Joey Barton, who made his sole England appearance against Spain six years ago, said: "Tough group for England. Cannot see them getting out of that."
Gary Lineker, who played such a prominent role in England's dramatic journey to the semi-finals in Italy in 1990, was more optimistic: "Tough draw, but a couple of 0-0's and a win against Costa Rica should see England through."
Michael Owen, who has experienced finals heartache on three occasions, was also upbeat: "Doom mongers out in force! Tough group but I'd still fancy us to qualify."
Jack Wilshere, perhaps taking his lead from his manager Roy Hodgson, said: "Tough group... but so what? If we want to win it, we will have to play the best teams anyway!!"
Michael Carrick said: "Was always gonna be a tough draw, great games tho. Got to earn a place on that plane now..."
The most expensive footballer in the world will not be at the World Cup, but
Gareth Bale said: "Tough looking group for England but some exciting games to look forward to..."
Manchester City's Vincent Kompany has set his sights on the second round, tweeting: "Belgium, Algeria, Korea Republic, Russia. Interesting but tricky because there is no hiding for us, next round is a must."
There was plenty of banter in the Stoke dressing room as the players assessed the draw, with Bosnia's Asmir Begovic in particular looking forward to his opening game - against Argentina.
"Buzzing about our draw! Opening game at the Maracana! Looking forward to it big time. Let's do it!" he said.
Thomas Sorensen said: "Interesting WC draw. Tough group for England and great opening game against Argentina for @asmir1. Something to look forward to."
After being paired with Ghana, Germany and Portugal, Aston Villa's Brad Guzan refused to be cowed.
"All games are tough at the World Cup, chance is there to progress! Never underestimate the Americans!" he said, while compatriot and fellow goalkeeper Brad Friedel said: "Just landed and saw WC draw for USA. Whoa!!! Difficult one for us."
Aston Villa's Dutch defender Ron Vlaar added: "Exciting draw for WorldCup2014 with Spain, Chile and Australia."
Southampton's Dejan Lovren has an opening game against the hosts Brazil to look forward too - and he is excited by the prospect.
"We've got a difficult group, but the opening match of the World Cup against Brazil will be spectacular. I can't wait!" the Croatian defender said.