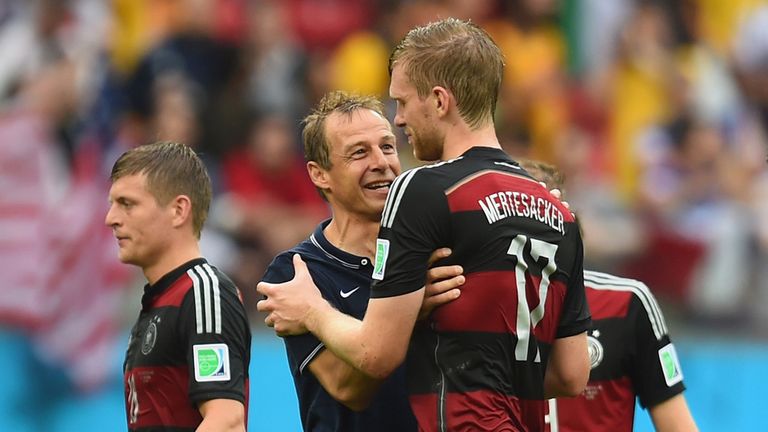 USA coach Jurgen Klinsmann was delighted to have guided his side into the last 16 of the World Cup finals.
The United States lost their final Group G match 1-0 to Germany, with tournament top-scorer Thomas Muller grabbing the only goal of the game in Recife.
But despite the defeat, Portugal's 2-1 win over Ghana meant it was USA who booked a last-16 spot.
With USA and his native Germany going through from the same game, it was extra special for Klinsmann.
"We created too few chances, but it's still fantastic to go through," said the man who led Germany to third place at the World Cup in 2006 before stepping aside to let Joachim Low take charge.
"Everybody said we had no chance, but we've taken it and we're now in the last 16.
"It's a great achievement to get out of this group and into the knockout rounds. It was a difficult game, both physically and mentally, because the knowledge that a draw would be enough was always at the back of our minds.
"We were a bit too nervous and showed them too much respect at the start but we calmed down as the match wore on. We've got a great team and we put in a superb performance.
"We could have created a few more chances but overall I'm satisfied. It was one of the most difficult groups at the tournament.
"Ghana and Portugal are good teams and Germany are one of the favourites to win the title. We're still learning and growing as a team. Now everything starts from scratch again because the knockout rounds are very different."