Jurgen Klinsmann tells USA that urgent attitude is needed to reach World Cup finals
Jurgen Klinsmann has told the USA that an urgent attitude will be key to ensuring they qualify for the 2014 World Cup.
Last Updated: 05/02/13 2:25pm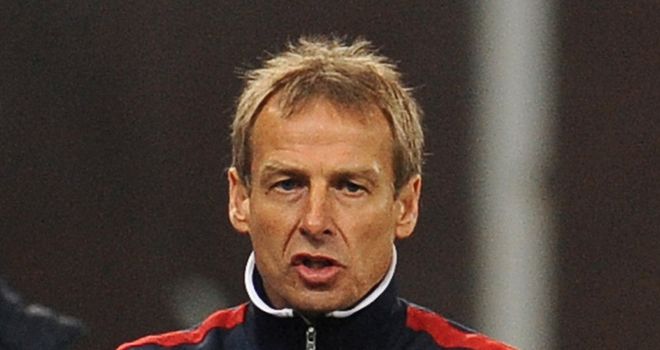 The USA begin their bid to reach Brazil with a tricky trip away to Honduras in San Pero Sula on Wednesday.
Klinsmann's side are widely expected to claim one of the three automatic places on offer in the six-team final round, but the Germany boss is preaching caution for now.
Klinsmann wants to avoid an early upset, which could pour pressure on his side, and is wary of under-estimating a Honduras team that qualified for the last World Cup.
"Going into World Cup qualifiers, there are not only the expectations and the pressure that you've got to qualify no matter what," he told US Soccer's official website.
"There's also a sense of don't let things slip through your hands, get the job done as early as possible, don't waste any opportunity right from the beginning.
"One of our key messages to the players is to have that sense of urgency to go into Honduras and give them a fight and go for three points.
"We aren't calculating anything. We want to go in there and start getting points with urgency because that builds more confidence for the next games.
"This is really important that the players understand that it's not going to be easy. It's World Cup qualifiers and if you want to go to Brazil, be ready for it right away."
The USA have never lost at the Estadio Olimpico, but Honduran duo Roger Espinoza and Maynor Figueroa - who both play for Premier League club Wigan - are confident they can spring a surprise.
"We must profit in our home conditions," Espinoza told reporters at the airport after flying home.
"We have played the United States a number of times, but we must be worried about ourselves."
Figueroa added: "It is going to be a very important match, as the remaining five will be too, but it is even more important to make a good start."
Mexico are the only unbeaten team in qualification so far and host Jamaica at the Azteca Stadium.
El Tri enjoyed a memorable 2012, when their Under-23 side were crowned Olympic champions, and nine players from that squad are joined in the team by Europe-based stars Javier Hernandez, Andres Guardado, Giovani Dos Santos and Hector Moreno.
Jamaica have lost their past three trips to the Azteca by an aggregate total of 12-0 and Moreno told reporters: "We think about winning. That's the main point. Obviously, we want to play good football and score lots of goals as a consequence.
"Each rival is difficult because they have won that respect. They are in the final round for a reason so we hope we can play a good game."
Panama will begin their quest to reach a first World Cup finals against newly-crowned Central American champions Costa Rica in Panama City.
Coach Julio Dely Valdes believes the upcoming qualifiers represent Panama's best chance of reaching the finals - thoughts echoed by veteran striker Blas Perez.
"I think he's right," he told www.fifa.com.
"We have every reason to believe that this is our year. We're trying to put it all together to achieve our dream, to put Panama into the World Cup."