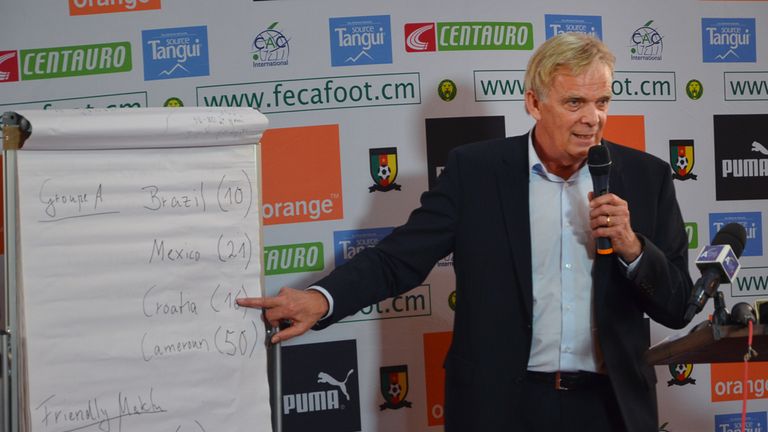 Cameroon coach Volker Finke has played down the effects of an ill-timed row over player bonuses ahead of the World Cup.
The 'Indomitable Lions' threatened not to board their scheduled flight to Brazil at the weekend if certain bonus demands were not met.
A deal was eventually struck, and ahead of their opening Group A game against Mexico in Natal on Friday, Finke said he did not blame his players for making their demands.                 
"For me, you have to respect some things. You can't judge people who do not have the same conditions as other people," said the German, who took charge last year following 16 years with Freiburg.                
"Here (in Africa) we have traditions, there are certain relationships with the football federation and the government. You have to respect certain ways.                 
"It's not like in France or Germany. From my point of view, I see a team that is working very hard. For everything else, I say we have to step back and respect their ways.                 
"We have found a solution, and that is the most important thing."
Chelsea striker Samuel Eto'o and Sevilla midfielder Stephane M'Bia are both fully fit and available to play for Cameroon.                 
"I'm happy that Stephane Bia and Eto'o are back in the team - that's very important for us," added Finke.                 
"They give a lot to the team and they're the kind of players that can make the difference."                 
Four years after collecting zero points from their three group games in South Africa, Cameroon are looking for redemption.                 
"We're coming here with a feeling of revenge, that's for sure," said Marseille defender Nicolas N'Koulou, one of 13 players in the current squad to have suffered the ignominy of 2010's premature exit.                 
"We totally failed in 2010, but things are different now. We're a cohesive group and have a good mix of experience with some younger players.                 
"We're like a family. We're in good spirits and determined to give it everything to make the nation proud."